Mongabay announces its first annual top contributor prizes for 2013.
Mongabay's internship program has benefited from the hard work and great environmental reporting of more than 30 writing interns since the program's inception in July 2012. This year, Mongabay asked this pool of contributing authors to submit their most compelling piece out of over 150 articles. The submissions were then reviewed by a panel.
The winning article is an investigative piece by Tanya Dimitrova, on the removal of eight nearly-extinct pygmy sloths from a Panamanian island earlier this year. The incident and piece weren't without controversy, but Dimitrova's excellent article highlighted the complicated and nuanced world of removing animals from their natural habitat for captive breeding. Dimitrova's award was accompanied by a $500 prize.
Second place, along with a prize of $300, goes to Mrinalini Erkenswick Watsa for her piece on mercury pollution from gold-mining in the Amazon. The article was meticulously researched by Erkenswick Watsa and included photographs taken by the author during her time in Peru. Erkenswick Watsa has a PhD in biological anthropology and is a founder of the long-term research group PrimatesPeru.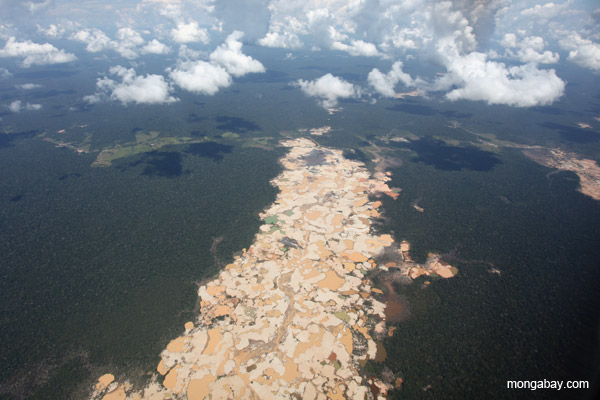 Illegal gold mine established in 2009 in the department of Madre de Dios. This mine encroaches on Tambopata Reserve. Photo by Rhett A. Butler.
There was a tie for third place, which comes with a prize of $200. The first is a moving piece by Shreya Dasgupta and Abhishek Madan about the rehabilitation of India's dancing sloth bears. Compellingly written and accompanied with beautiful photos, the piece paints not only an engaging portrait of these captive bears, but also a look at the socioeconomic conditions that kept bears dancing in India until recently. Based in India, Dasgupta and Madan spend their time as freelance environmental writers as well as doing scientific research.
The second entry to garner the 3rd place prize is titled Losing our monarchs: iconic monarch butterfly down to lowest numbers in 20 years and was written by Lacey Avery. The article takes a broad look at the crisis facing the great monarch migration across North America, which has become increasingly imperiled by habitat loss—linked to agricultural policy and GMO crops—in the U.S. and Canada. Avery holds a masters degree in journalism and mass communications and is currently a health communications specialist at the Centers for Disease Control and Prevention (CDC).
Monarch butterfly (Danaus plexippus). Photo courtesy of Kenneth Dwain Harrelson.
Runners up:
Honorable mentions:
Mongabay accepts applications to their internship program on a rolling basis. The commitment is generally 5-15 hours a week for six months. Internships are currently unpaid, however, Mongabay offers resume/cover letter workshops, Q&A calls with Mongabay staff, publishing experience and other opportunities for participating interns. If you are interested, please send a cover letter, resume, and writing sample to Tiffany Roufs at tiffany [at] mongabay [dot] org.
Related articles
Sri Lankan elephant amnesty will lead to poaching, warn conservationists
(12/03/2013) Environmentalists have responded with alarm to a proposed amnesty permitting the registration of illegally captured elephants in Sri Lanka. Recent reports in Sri Lankan media have outlined the proposal, stating that during the amnesty period it would be possible to register elephant calves for a fee of about $7,600. Elephants are closely linked with Sri Lankan history and culture, and are considered sacred in both Buddhism and Hinduism. But the situation for elephants in the country is complicated.
Where have all the dugongs gone?
(12/03/2013) Legend has it that lonely sailors mistook them for beautiful, mythical mermaids. But as it turns out, the muse behind these beguiling sea nymphs was instead the dugong – a rather ungainly, gentle and mini-bus sized marine mammal, cousin to the manatees and part of the sea cow family. However, while they may have once fuelled stories for fairytales and Disney movies, their far-from-glamorous life is currently under serious threat in many parts of the world.
Not all mangroves are created equal: new map reveals carbon storage hot-spots
(11/26/2013) Mangrove forests are one of the most important weapons in the fight against climate change. Not only do they directly store huge amounts of carbon, but they actively capture additional carbon dioxide from the atmosphere and sequester it in their soils. When mangroves are destroyed, huge quantities of carbon are released into the atmosphere, significantly contributing to greenhouse gas emissions.
Consumer report uncovers why people buy rhino horn
(11/26/2013) The rhinoceros is one of the largest and most iconic animals to roam the earth. However, poaching for their horn, erroneously believed to have medicinal value, has led the IUCN Red List to classify three of the world's five species as Critically Endangered. But, a new consumer report by the wildlife trade monitoring network, TRAFFIC, finds that rhino horn consumers in Vietnam buy the illegal product as much to raise their social status as to attempt to treat a fever or hangover.
Satellites reveal browning mountain forests
(11/22/2013) In a dramatic response to global warming, tropical forests in the high elevation areas of five continents have been "browning" since the 1990s. They have been steadily losing foliage, and showing less photosynthetic activity. Scientists analyzed the forest cover by using satellites to measure sunlight bouncing off the surface of the earth, then determining the different surface types via reflection patterns.
Canopy crusade: world's highest network of camera traps keeps an eye on animals impacted by gas project
(11/21/2013) Oil, gas, timber, gold: the Amazon rainforest is rich in resources, and their exploitation is booming. As resource extraction increases, so does the development of access roads and pipelines. These carve their way through previously intact forest, thereby interrupting the myriad pathways of the species that live there. For species that depend on the rainforest canopy, this can be particularly problematic.
The quicksilver demon: rogue gold-mining is the world's largest source of mercury pollution
(11/20/2013) In 1956, in the quiet seaside town of Minamata on the southwestern coast of Japan's Kyushu Island, cats began to behave very strangely. They convulsed, displayed excessive salivation, and gradually lost the ability to walk. Then, dead birds began to fall out of the sky. Shellfish opened and decomposed. Fish also displayed abnormal behaviors, eventually floating up to the surface of the Shiranui Sea. Many of the ailing cats wandered into the sea and drowned. Soon, there were no more cats alive in the area.
The swan song of India's dancing bears
(11/20/2013) India's last dancing bear has retired. As the stars of their cruel little roadshows, sloth bears danced to the piercing sounds of the damru for hundreds of years. Orphaned by poachers and trained by the Qalandars, a nomadic Muslim community, these bears trudged through towns and villages to earn their masters a meager livelihood.
Nearly half a million seabirds die in gillnets every year, but solutions exist
(11/18/2013) A recent study from the Biological Conservation journal brings shocking news: every year across the globe, an estimated 400,000 seabirds are killed by gillnets. Gillnets, a common term for any net used to entangle and catch fish, are used all over the world, and at any depth. These nets, whether used in subsistence or commercial fishing, trap anything that swims through them. When unintended marine wildlife, or "bycatch," is caught in these nets, the results can be significant.
New bat species discovered in Brazil leaves another at risk
(11/15/2013) A team of researchers has discovered a new species of bat in Brazil, which has put a previously known species, Bokermann's nectar bat (Lonchophylla bokermanni), at risk of extinction. Long thought to comprise one species, the bat populations of the Atlantic Forest and the Cerrado – the tropical savannah of Brazil's interior – are in fact distinct from one another, according to a new study in Zootaxa. Scientists now say the Atlantic Forest's population represents a newly described species, which they have dubbed Peracchi's nectar bat (Lonchophylla peracchii).
Newly discovered beetles construct private homes out of leaf holes and feces
(11/12/2013) Scientists have discovered two new species of leaf beetles in southern India that display a novel way of using leaf holes and their fecal pellets to build shelters – a nesting behavior previously not known among leaf beetles. Discovered in the forests of the Western Ghats in the states of Karnataka and Kerala, the scientists have named these pin-head sized leaf beetles Orthaltica syzygium and Orthaltica terminalia, after the plants they feed on: Syzygium species (e.g., the Java plum) and Terminalia species (e.g., the flowering murdah).