Deforestation mapping goes global with Stanford's free online training platform
Efforts to map and analyze deforestation and forest degradation got a boost today when Stanford University announced a new online course that provides training on how to use advance forest monitoring software. The course, which is freely available via Stanford University Online Learning, could immediately increase the capacity of environmentalists, forest managers, and researchers to track changes in forest cover.
The course offers training on CLASlite, a deforestation and forest degradation analysis software package that converts data from up to eight different satellite sensors into detailed deforestation and forest disturbance maps.
While CLASlite is already used by more than 180 organizations worldwide, making the training freely available online will help overcome a bottleneck that has slowed wider adoption, according to Carnegie Institution's Department of Global Ecology, whose researchers developed the platform.
"The idea for the CLASlite Classroom emerged when demand for the software began to exceed the capacity for Carnegie's scientists to host in-person training workshops," said Carnegie in a statement. "They have trained hundreds of organizations throughout Latin America and elsewhere, but future training will be done via the World Wide Web."

The CLASlite process


The training includes information on how to acquire data, prepare satellite imagery, and assess results, which can detect changes to forests in areas as small as 0.1 hectare (0.25 acre). It also provides case studies of CLASlite being used by officials and NGO's to monitor forests. For example, the software has been used to detect illegal logging and gold mining in the Peruvian Amazon.
"CLASlite represents for our country an improvement in the capacity of over 400 professionals who were trained in the software between 2010 and 2013," said Peruvian Minister of Environment Manuel Pulgar-Vidal. "With it, we are generating information about the state of the forest that supports the development of public policy for conservation and sustainable use of our Amazonia."
Until now, CLASlite training efforts have been primarily concentrated in Latin America, but the new course offers the potential to democratize forest monitoring on a global-scale, taking what was once the domain of experts and putting the capability into the hands of many, according to Greg Asner, the researcher who pioneered the development of CLASlite and its predecessor CLAS.
"When I was in graduate school in the 90s, a single satellite image could cost more than $2,000 and only a few elite groups could afford the data," Asner said. "Much has changed since then, but a means of empowering people to perform forest monitoring on their own is still missing. Launch of CLASlite Classroom aims to change that. My team and I believe in putting learning first so that forest monitoring will be undertaken with independence and transparency. Our forests depend on it because forest stewardship begins with personalized forest monitoring."
"CLASlite will empower thousands of new forest guardians," added Bruce Babbitt, former-Secretary of the Interior, in a statement. "A brilliant achievement."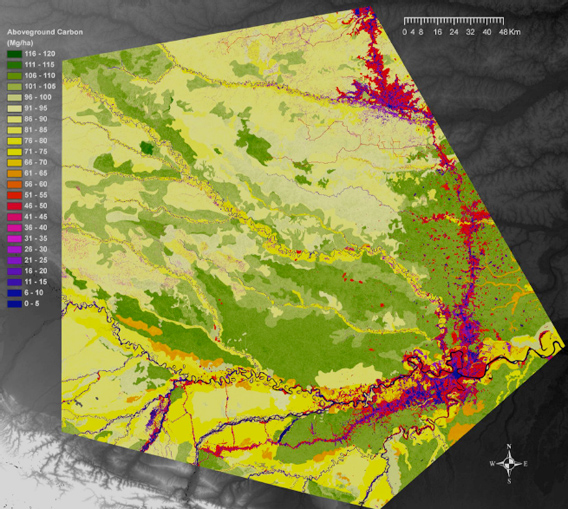 Biomass map of rainforests in Peru's Madre de Dios developed using CLASlite
CLASlite Classroom comes as interest in forest monitoring is surging. Last month, Google announced the first iteration of a global forest map developed by scientists from a range of institutions. Meanwhile Global Forest Watch, a near real-time deforestation detection system put together by the World Resources Institute, is expected to launch next year. Terra-i — a collaborative project between Colombia's International Center for Tropical Agriculture (CIAT), the Nature Conservancy (TNC), the School of Business and Engineering (HEIG-VD) in Switzerland, and King's College London — has a similar alert system already in place for Latin America.
Deforestation accounts for roughly a tenth of global greenhouse gas emissions from human activities. Forest loss is also a major threat to biodiversity and important ecosystem services.
Related articles
Powered by Google, high resolution forest map reveals massive deforestation worldwide

(11/14/2013) Researchers today released a long-awaited tool that reveals the extent of forest cover loss and gain on a global scale. Powered by Google's massive computing cloud, the interactive forest map establishes a new baseline for measuring deforestation and forest recovery across all of the world's countries, biomes, and forest types. The map has far-reaching implications for efforts to slow deforestation, which accounts for roughly ten percent of greenhouse gas emissions produced by human activities, according to the authors of the paper that describes the tool and details its first findings.
Conservation gets boost from new Landsat satellite



(04/03/2013) Efforts to monitor the world's forests and other ecosystems got a big boost in February with the launch of Landsat 8, NASA's newest earth observation satellite, which augments the crippled Landsat 7 currently orbiting Earth (technically Landsat 8 is still named the Landsat Data Continuity Mission (LDCM) and will remain so until May when the USGS turns control of the satellite over to NASA). Landsat 8/LDCM is the most advanced Earth observation satellite to date. It is the eighth Landsat since the initial launch in 1972.
Model airplane used to monitor rainforests – conservation drones take flight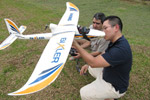 (02/23/2012) Conservationists have converted a remote-controlled plane into a potent tool for conservation. Using seed funding from the National Geographic Society, The Orangutan Conservancy, and the Denver Zoo, Lian Pin Koh, an ecologist at the ETH Zürich, and Serge Wich, a biologist at the University of Zürich and PanEco, have developed a conservation drone equipped with cameras, sensors and GPS. So far they have used the remote-controlled aircraft to map deforestation, count orangutans and other endangered species, and get a bird's eye view of hard-to-access forest areas in North Sumatra, Indonesia.
Breakthrough technology enables 3D mapping of rainforests, tree by tree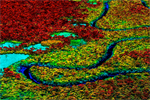 (10/24/2011) High above the Amazon rainforest in Peru, a team of scientists and technicians is conducting an ambitious experiment: a biological survey of a never-before-explored tract of remote and inaccessible cloud forest. They are doing so using an advanced system that enables them to map the three-dimensional physical structure of the forest as well as its chemical and optical properties. The scientists hope to determine not only what species may lie below but also how the ecosystem is responding to last year's drought—the worst ever recorded in the Amazon—as well as help Peru develop a better mechanism for monitoring deforestation and degradation.
How satellites are used in conservation



(04/13/2009) In October 2008 scientists with the Royal Botanical Garden at Kew discovered a host of previously unknown species in a remote highland forest in Mozambique. The find was no accident: three years earlier, conservationist Julian Bayliss identified the site—Mount Mabu—using Google Earth, a tool that's rapidly becoming a critical part of conservation efforts around the world. As the discovery in Mozambique suggests, remote sensing is being used for a bewildering array of applications, from monitoring sea ice to detecting deforestation to tracking wildlife. The number of uses grows as the technology matures and becomes more widely available. Google Earth may represent a critical point, bringing the power of remote sensing to the masses and allowing anyone with an Internet connection to attach data to a geographic representation of Earth.