Oil palm nursery in a Herakles Farm's concession area. Last year Herakles Farms said it had permission to set up three nurseries covering 100 hectares even before producing a Social and Environmental Impact Assessment (SEIA). Photo: © Greenpeace/Alex Yallop.
A controversial palm oil project set in the West African rainforest in Cameroon has won a three-year provisional lease to convert 20,000 hectares of land for plantations. The project, which is run by U.S.-based Herakles Farms, has been heavily opposed by environmental groups who say it will destroy blocks of wildlife-rich forest.
Under the provisional lease granted by the Cameroonian government, Herakles will be allowed to develop less than a third of the 73,000 ha it originally hoped to turn into oil palm plantations. The project had been halted by Cameroon's Ministry of Forestry and Wildlife last May due to environmental concerns.
Greenpeace, which together with the the Oakland Institute has led a campaign against the project, criticized the decision.
"A downsized project does not resolve the problems related to the palm oil project by Herakles Farms," said Irène Wabiwa, forest campaigner with Greenpeace Africa, in a statement. "It simply remains the wrong project in the wrong place, as the impact on communities' livelihoods and the forests remain unacceptable."
Greenpeace says the new lease shows that Herakles had moved ahead with the project despite having necessary permits
"The opaque and illegal manner in which the project has been carried out demonstrates the threats to Africa's forests if operations like this are allowed to proceed unchecked." said Wabiwa.
Environmentalists fear that projects like Herakles' plantation are just the first wave of large-scale industrial plantation development in the Congo, the world's second largest rainforest. Already plans are moving forward for new oil palm development in DRC, Gabon, Equatorial Guinea, and Cameroon.
Oil palm expansion is a major driver of deforestation in Southeast Asia. Palm oil is widely used as a cooking oil and in processed snack foods.

Villagers from Talangaye, an area neighboring the concession. © Jean-Pierre Kepseu/Greenpeace.
Related articles
Controversial oil palm company now accused of illegal logging in Cameroon rainforest
(09/18/2013) Environmental group, Greenpeace, has accused Herakles Farms of illegal logging in Cameroon after the company has already been lambasted by scientists and conservationists for its plan to build a 70,000 hectare palm oil plantation in one of Africa's most biodiverse rainforests. Herakles Farms has been under fire from green groups—both in Cameroon and abroad—for years over its oil palm plantation plans, including facing protests from locals who live in the forest to be cleared.
Endangered chimps and forest elephants found in rainforest to be logged for palm oil
(08/08/2013) A biological survey of forests slated for destruction for a palm oil project in Cameroon has uncovered 23 species of large mammals, including the world's most endangered chimpanzee subspecies, the Nigeria-Cameroon chimpanzee (Pan troglodytes ellioti). The project in question, operated by U.S.-based company Herakles Farms, has come under stiff criticism both locally and abroad for threatening one of Africa's most biologically rich forest lands and arguably undercutting local peoples' access to traditional lands.
Palm oil, poverty, and conservation collide in Cameroon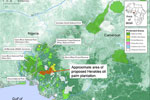 (09/13/2011) Industrial palm oil production is coming to Africa, its ancestral home. And like other places where expansion has occurred rapidly, the crop is spurring hope for economic development while generating controversy over its potential impacts. The world's most productive oil seed has been a boon to southeast Asian economies, but the looming arrival of industrial plantations in Africa is raising fears that some of the same detriments that have plagued leading producers Malaysia and Indonesia—deforestation, greenhouse gas emissions, biodiversity loss, conflicts with local people, social displacement, and poor working conditions—could befall one of the world's most destitute regions. While there is no question that oil palm is a highly lucrative crop that can contribute to economic development, there is also little doubt that conversion of native forests for plantations exacts a heavy toll on the environment. The apparent conflict seems to pit agroindustrial goliaths against greens, with communities falling somewhere in between. But Herakles, a New York-based investment firm planning to construct a 60,000-hectare plantation in the Central African country of Cameroon, says its approach will bridge this gap between economic development and the environment. Social and environmental campaigners are skeptical.
Greening the world with palm oil?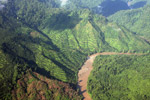 (01/26/2011) The commercial shows a typical office setting. A worker sits drearily at a desk, shredding papers and watching minutes tick by on the clock. When his break comes, he takes out a Nestle KitKat bar. As he tears into the package, the viewer, but not the office worker, notices something is amiss—what should be chocolate has been replaced by the dark hairy finger of an orangutan. With the jarring crunch of teeth breaking through bone, the worker bites into the 'bar'. Drops of blood fall on the keyboard and run down his face. His officemates stare, horrified. The advertisement cuts to a solitary tree standing amid a deforested landscape. A chainsaw whines. The message: Palm oil—an ingredient in many Nestle products—is killing orangutans by destroying their habitat, the rainforests of Borneo and Sumatra.