With deforestation pacing more than 90 percent ahead of last year's rate according to an estimate released today, Brazil said it has increased the number of environmental inspectors in the Amazon rainforest.
Speaking at a seminar last week, Environment Minister Izabella Teixeira said the federal government has sent a record number of inspectors into the Amazon region as part of an effort to combat surging deforestation. Authorities are working with the national police, intelligence agencies, the military, environmental police, and local forces to curb illegal forest clearing, according to Teixeira.
Teixeira added that some landowners appear to have adopted new strategies for avoiding detection, clearing patches of land too small to be tracked by the government's satellite-based deforestation monitoring system. DETER, as the near real-time deforestation alert system is known, uses 25-hectare-scale satellite images from NASA's MODIS sensors, missing small-scale forest loss. The government's higher resolution system, called PRODES, is only used on an annual basis.
Teixeira's remarks came a week after INCRA, Brazil's Institute of Colonization and Agrarian Reform, agreed to a plan to reduce deforestation in areas set aside for new settlements. Originally intended to relieve urban population pressure and poverty, research by Imazon — a Manaus-based NGO — has shown that INCRA project areas account for a disproportionate amount of deforestation in the Brazilian Amazon. The new plan requires INCRA to abide by the country's Forest Code, including restoring illegally deforested areas.
Data from both the national space agency and Imazon show that deforestation in the Brazilian Amazon has risen sharply over the past year after a steady and significant decline since 2004. Imazon's latest data, released today, suggests that more than 2,000 square kilometers of forest was cleared between August 2012 to July 2013, 92 percent more than the year-earlier period when the group's deforestation tracking system recorded 1,047 sq km of forest loss.
It's unclear why deforestation is on the rise, but environmentalists have cited last year's weakening of the Forest Code, which governs how much forest private landowners are required to preserve, as a possible factor. The weakening Brazilian real could also increase incentives for forest clearing by making agricultural exports more competitive in overseas markets.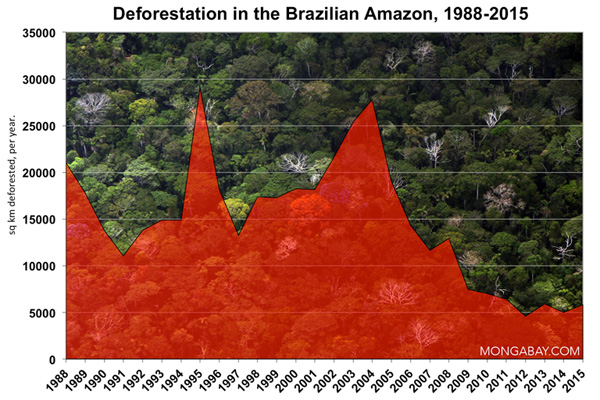 Related articles