The Congolese Supreme Court has ordered Ghislain Ngondjo (known as Pepito) to five years in prison for slaughtering dozens of elephants for their ivory tusks. The five year sentence is the maximum in the Republic of Congo for poaching. Ngondjo was considered the "kingpin" of an elephant poaching group; in addition to killing pachyderms, Ngondjo recruited new poachers and made death threats to park rangers and staff in Odzala National Park.
"Congo is ground zero for the fight to save Africa's forest elephants from extinction, and the arrest and successful prosecution of Pepito shows that we can win this war when governments and the NGO community work together in partnership," says James Deutsch, Director of the Wildlife Conservation Society's (WCS) Africa Program.
Conservationists have long called on governments to hand down stiffer penalties to poachers and other wildlife criminal, many of whom are released with little more than a slap on the wrist.
"The Republic of Congo's Minister of Justice and Congolese Supreme Court of the Republic of Congo and have sent a clear message that the theft and pillaging of Congo's wildlife heritage by criminal poachers and traffickers will not be tolerated," Deutsch added.
It took several years to catch and prosecute Ngondjo, according to WCS, which worked closely with the government and African Parks Network. A partnership between WCS and the Aspinall Foundation, PALF (Project for the Application of Law for Fauna Republic of Congo), proved instrumental to the outcome.
Ngondjo had run amok in the Cuvette-Ouest Department for a decade and had reportedly cultivated connections on high to avoid arrest and prosecution, but eventually his luck ran out.
Two other poachers were tried with Ngondjo: one received a five year sentence, the other two years.
Elephant poaching has hit record levels in recent years with elephant populations in Central Africa especially hard hit. Forest elephants, which are largely found in the Congo Basin, have been decimated: a recent study found that the population had been cut down by 60 percent in the last decade due to poaching. Experts estimate that 35,000 elephants were killed in 2012 for their tusks.
Related articles
Zoos call on governments to take urgent action against illegal wildlife trade (photos)
(07/24/2013) In a single night in March, a band of heavily-armed, horse-riding poachers slaughtered 89 elephants in southern Chad, thirty of which were pregnant females. The carnage was the worst poaching incident of the year, but even this slaughter paled in comparison to the 300 elephants killed in a Cameroon park in 2012. Elephant poaching is hitting new records as experts say some 30,000 elephants are being killed every year for their ivory tusks. But the illegal wildlife trade—estimated at $19 billion—is not just decimating elephants, but also rhinos, big cats, great apes, and thousands of lesser-known species like pangolins and slow lorises. This growing carnage recently led to representatives of over 40 zoos and dozens of wildlife programs to call on governments around the world to take immediate action on long-neglected wildlife crime.
Obama to take on elephant and rhino poaching in Africa
(07/03/2013) Barack Obama launched a new initiative against wildlife trafficking on Monday, using his executive authority to take action against an illegal trade that is fueling rebel wars and now threatens the survival of elephants and rhinoceroses. The initiative, announced as the president visited Tanzania on the final stop of his African tour, was the second time in a week Obama has used an executive order to advance environmental policy, after announcing a sweeping new climate change plan.
New forensic method tells the difference between poached and legal ivory
(07/01/2013) Forensic-dating could end a major loophole in the current global ban on ivory, according to a new paper in the Proceedings of the National Academy of Sciences (PNAS). Scientists have developed a method to determine the age of ivory, allowing traders to tell the difference between ivory taken before the ban in 1989, which is still legal, and recently-poached ivory.
African militias trading elephant ivory for weapons
(06/05/2013) The Lord's Resistance Army (LRA) is using lucrative elephant poaching for ivory to fund its activities, according to a report published on Tuesday. Eyewitness accounts from park rangers, Lord's Resistance Army (LRA) escapees and recent senior defectors report that the fugitive warlord Joseph Kony, who is wanted by the international criminal court for war crimes and crimes against humanity, ordered African forest elephants to be killed in Garamba national park in the Democratic Republic of Congo (DRC) and the tusks sent to him.
Gabon steps in to help protect elephants from ivory poaching at Central African Republic site
(05/18/2013) Gabon has agreed to help battle poaching in protected areas in the Central African Republic following an elephant massacre at a renowned World Heritage site, reports the Wildlife Conservation Society (WCS).
Elephants massacred for ivory in Central African Republic
(05/10/2013) Dozens of elephants have been slaughtered in the Dzanga Bai World Heritage Site in the Central African Republic just days after conservationists warned about an impending threat from the movement of 17 heavily armed poachers. The massacre occurred at a site renowned as 'village of elephants', where tourists and scientists have for decades observed wild elephants congregating at a large clearing to feed on minerals.
17 poachers allegedly enter elephant stronghold in Congo, conservationists fear massacre
(05/07/2013) Local researchers and wildlife guards say 17 armed elephant poachers have gained access to Dzanga Bai, a large waterhole and clearing where up to 200 forest elephants visit daily in the Central African Republic (CAR)'s Dzanga-Ndoki National Park. WWF, which works in the region but has recently evacuated due to rising violence, is calling on the CAR government to rapidly mobilize its military to stop another elephant bloodbath in central Africa. Elephants are being killed across their range for their ivory, which is mostly smuggled to East Asia.
A Tale of Two Elephants: celebrating the lives and mourning the deaths of Cirrocumulus and Ngampit
(05/07/2013) On March 21st, the organization Save the Elephants posted on their Facebook page that two African elephants had been poached inside a nearby reserve: "Sad news from the north of Kenya. Usually the national reserves are safe havens for elephants, and they know it. But in the last two weeks two of our study animals have been shot inside the Buffalo Springs reserve. First an 18 year-old bull called Ngampit and then, yesterday, 23 year-old female called Cirrocumulus (from the Clouds family)."
Emergency: large number of elephants being poached in the Central African Republic (warning: graphic image)
(04/25/2013) WWF and the Wildlife Conversation Society (WCS) are issuing an immediate call for action as they report that poachers are killing sizable numbers of forest elephants near the Dzanga-Sangha protected areas in the Central African Republic (CAR). The two large conservation groups have evacuated their staff from the area after a government coup, but local rangers are still trying to determine the scale of the killing while defending remaining elephants. In total the conservation groups believe the parks are home to over 3,000 elephants.
Infamous elephant poacher turns cannibal in the Congo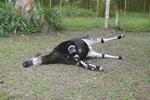 (04/03/2013) Early on a Sunday morning last summer, the villagers of Epulu awoke to the sounds of shots and screaming. In the eastern reaches of the Democratic Republic of the Congo, that can often mean another round of violence and ethnic murder is under way. In this case, however, something even more horrific was afoot.