Clare Rewcastle Brown, the editor of Sarawak Report and Radio Free Sarawak, has been deported from Sarawak reports the Bruno Manser Fund. Both the Sarawak Report and Radio Free Sarawak are known for high-profile and investigative journalism that is often critical of Sarawak's chief minister, Abdul Taib Mahmud or 'Taib', and his family for alleged corruption.
"I've been informed that I'm on the blacklist for Sarawak, which mean that I'll be turned away," Brown said in a video recorded today. "However, I feel compelled to make the effort to come to Sarawak because I wish of course to defend myself and to stand up against to accusations that have been made against me."
Brown, who's a former reporter with the BBC and the sister-in-law of former British Prime Minister Gordon Brown, is currently embroiled in a libel suit by the Taib family.
"One of the reasons why I have been carrying out the work I do […] is that it's impossible for people to operate freely in the media here and to report freely and openly about the situation in Sarawak," she says.
Abdul Taib Mahmud and members of his family have been accused widely of using Sarawak's vast natural resources for personal gain, including widespread logging of virgin rainforests and massive hydroelectric projects. The destruction of Sarawak's forests has also led to human rights abuses of the Malaysian state's indigenous people, many of whom have been pushed off of their traditional lands or have seen the forests they depend on razed. Last year, the Bruno Manser Fund estimated that Taib alone, who has headed Sarawak for 30 years, was worth $15 billion.
U.S. State Department cables revealed by Wikileaks have added further fuel to the fire.
"Taib and his relatives are widely thought to extract a percentage from most major commercial contracts—including those for logging—awarded in the state (Sarawak)," reads a cable to the State Department from 2006. "Embassy sources outside the government uniformly characterize him (Taib) as highly corrupt."
The Sarawak Report and Radio Free Sarawak are some of the only media outlets in the state that are openly critical of Taib and his family members.
"The Bruno Manser Fund protests against this latest barring of a human rights activist upon entering Malaysia," the NGO says in a statement. "Earlier this year, Australian Senator Nick Xenophon had been deported from the Malaysian capital, Kuala Lumpur, in a similar way. In 2011, Malaysian authorities deported French human rights lawyer William Bourdon who had been taken on by a local NGO in a high-profile corruption case. Under Chief Minister Taib Mahmud, Sarawak has become a prohibited zone for a number of Malaysian human rights activists, including Ambiga Sreenevasan, the co-chair of the Bersih movement for free and fair elections."
Related articles
Indigenous groups protest hydropower congress as controversy hits meeting in Malaysia
(05/22/2013) The opening of the International Hydropower Association (IHA) World Congress in the Malaysian state of Sarawak was marred today by indigenous protests and controversy after a local indigenous leader was barred from attending a pre-conference workshop. Over 300 people from local indigenous people protested the ongoing construction of around a dozen mega-dams in the state that threaten to flood traditional lands, force villages to move, and upend lives in the state. The Sarawak hydropower plans are some of the most controversial in the world—making the choice of Kuching, Sarawak for the IHA meeting an arguably ironic one—with critics contending that the dams are have been mired in political corruption, including kickbacks and bribes. IHA brings together dam builders, banks, and various related organizations worldwide every two years.
NGO says Malaysian regulators should shut down two Sarawak companies after damning video
(03/26/2013) The fallout from a video by Global Witness exposing widespread corruption in Sarawak continues, as the Bruno Manser Fund, a European NGO, has called on the Companies Commission of Malaysia to "dereigster" land corporations highlighted in the video. The video purports to connect the head of Sarawak, Chief Minister Taib Mahmud, to illegal land deals on indigenous territory.
Video uncovers top level corruption in Sarawak over indigenous forests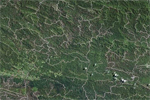 (03/20/2013) Tax evasion, kick-backs, bribery, and corruption all make appearances in a shocking new undercover video by Global Witness that shows how top individuals in the Sarawak government may be robbing the state of revenue for their own personal gain. Anti-corruption groups have believed that corruption has been rife in the Malaysian state of Sarawak for decades, but Global Witness says their investigation offers undeniable proof.
Malaysian candidate pledges to drop controversial dam in Sarawak if elected
(01/14/2013) Malaysia's current opposition leader, Anwar Ibrahim, has pledged to cancel the controversial Baram Dam in Sarawak if upcoming general elections sweep him into the office of Prime Minister. Ibrahim made the announcement while visiting the state of Sarawak, located on the island of Borneo, over the weekend, according to the indigenous rights NGO, Bruno Manser Fund.
Penan suspend dam blockade, give government one month to respond to demands
(11/15/2012) Members of the Penan tribe have suspended their month long blockade of the Murum dam in the Malaysian state of Sarawak, reports Survival International. However, according to the indigenous group the fight is not over: the departing Penan said the Sarawak government had one month to respond to demands for sufficient compensation for the dam's impact or face another blockade. Over 300 Penan people participated in the blockade, which stopped traffic leading to the construction site.
Indigenous blockade expands against massive dam in Sarawak
(10/08/2012) Indigenous people have expanded their blockade against the Murum dam in the Malaysian state of Sarawak, taking over an additional road to prevent construction materials from reaching the dam site. Beginning on September 26th with 200 Penan people, the blockade has boomed to well over 300. Groups now occupy not just the main route to the dam site, but an alternative route that the dam's contractor, the China-located Three Gorges Project Corporation, had begun to use.
NGO: Malaysian leader worth $15 billion despite civil-servant salary; timber corruption suspected
(09/19/2012) Abdul Taib Mahmud, who has headed the Malaysian state of Sarawak for over 30 years, is worth $15 billion according to a new report by the Bruno Manser Fund. The report, The Taib Timber Mafia, alleges that Taib has used his position as head-of-state to build up incredible amounts of wealth by employing his family or political nominees to run the state's logging, agriculture, and construction businesses. Some environmental groups claim that Sarawak has lost 90 percent of its primary forests to logging, while indigenous tribes in the state have faced the destruction of their forests, harassment, and eviction.
Sarawak tribe calls on German company to walk away from controversial dam
(06/19/2012) Indigenous people from the Malaysian state of Sarawak have sent a letter to the German company, Fichtner GmbH & Co. KG, demanding that the consulting group halt all activities related to the hugely-controversial Baram dam, reports the NGO Bruno Manser Fund. Critics of the dam and it parent project known as the Sarawak Corridor of Renewable Energy (SCORE) initiative, say the hydroelectric dam will displace 20,000 people and flood 40,000 hectares of primary rainforest.