Gone are the days where I can spend a week trekking in the forest without communication, letting Mongabay.com run itself. But the good news (or bad news, depending on how you see it), is it is easier and cheaper than ever to stay connected when traveling in rural areas thanks to the global proliferation of mobile networks.
One of the first things I do when I'm in a country where I plan to stay longer than a week is get a local SIM card and sign up for a pre-paid data plan to avoid paying the exorbitant rates my U.S. carrier charges overseas. The cost depends on the country and networks available, but generally a SIM card is less than $5, while basic Internet access — e.g. checking email and not downloading large attachments — is less than $10 per week.
For my hardware, I use an inexpensive GSM phone that runs Android. GSM is important — 95 percent of the world uses GSM (e.g. AT&T and T-Mobile in the U.S. also use GSM) rather than CDMA. If in doubt, do some web searches to determine the dominant system in your destination country.
It is critical that your phone is "unlocked" — not tied to a carrier/network — and has a removable SIM card. If you're using a U.S. phone, check with your carrier to see if it can be unlocked (technically it's now illegal to unlock a phone yourself in the United States, but most carriers will unlock it if asked).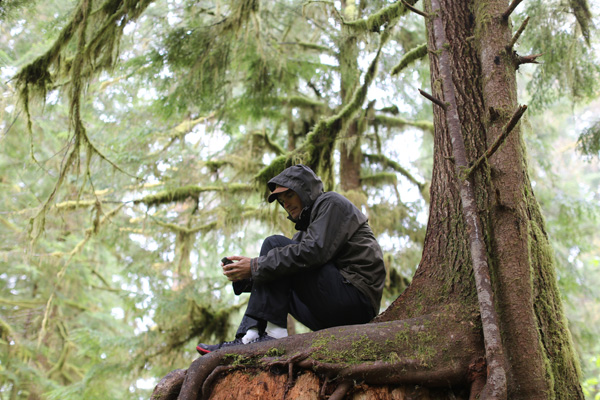 Checking email from atop a tree stump on the Olympic Peninsula.
In some countries it can be tricky or impossible to sign up for phone service as a foreigner, so ask a local to do it for you (be sure to offer them a tip for their help). To secure service, I've had help from fixers, guides, drivers, translators, receptionists, and concierges. Be sure you specify what service you want. If you're looking for Internet access, ask for a data plan. Often there are specific data plans that offer considerably less expensive service than a la carte data under a standard voice-only plan. For more information on a specific country, try targeted Web searches and visiting forums. Also be sure to ask what providers service the area where you'll be spending your time in country — for example in a place like Madagascar, carriers can be highly localized.
Once you're signed up for a plan, figure out how you re-up once you've used up your "minutes" or data allocation. You can usually refill by purchasing scratch-off from cards, which are typically widely available. Also be sure to understand how you go about renewing your data plan — typically this involves sending a code via text message to a phone number. The process should be laid out in whatever literature / instructions that came with the SIM card.
The data plan allows you to check email and surf the web with your phone, but you might also be able to use your phone as a modem for your laptop. The exact process for this depends on your phone, but with my Android phone, I usually set up a mobile hotspot (push of a button) or share an Internet connection via Bluetooth. There's also a wired option, where you connect your USB cable to the computer. This enables me to post stories, do server work, and communicate from the field. It can be quite amazing where you can find Internet these days via mobile networks.
However be prepared for the reality that there won't be any available networks in especially remote areas — you might try asking villagers or researchers (depending on the locale) where they go to pick up a signal. If a signal isn't available, once you emerge from the wilderness you might still be able to connect well before you reach an urban area.

Posting an article from a camping platform in the Heart of Borneo in 2012.
Of course internet doesn't do you much good if you don't have power. While many people use small solar systems to generate electricity for their equipment, sunshine can sometimes be a limited resource in the tropical rainforest, either due to weather or the canopy cover. Therefore I carry an external battery that provides up to 24 hours of charge for my laptop (which I run in power-saving mode when facing power constraints). This battery has proven to be a lifesaver in the forest as well as on long-haul flights when outlets aren't available.

Treehouse office in Southern Mexico after COP 16 in Cancun.
Both the battery and the mobile phone have become indispensable tools to enable me to stay connected and report from the field. And when I don't want to be connected, I just turn them off.