Peru has made its comprehensive deforestation data available to the public.
The data shows that while more than 100,000 hectares have been cleared in the Peruvian Amazon on annual basis since 2005, the rate of clearing has slowed in recent years. Between 2009 and 2010, some 108,571 ha of forest were lost in the region. Between 2010 and 2011, that number fell to 103,380 ha or 0.16 percent of the Peruvian Amazon's forest cover annually. Overall, more than 78 percent of the area is forested, down from 80 percent or about 63 million hectares in 2000.
Peru's deforestation monitoring system has been in development with several partners since late 2009. The system is based primarily on analysis of satellite data using CLASlite, a software tool that uses images from NASA's Landsat and MODIS sensors to generate maps revealing changes in forest cover, including deforestation and degradation. The data was checked by field sampling and the use of flyovers.
| | |
| --- | --- |
| | Click to enlarge. |
According to the Peru's ministry of environment, MINAM, the system can detect changes from forest to non-forest to a level of detail of 0.09 hectares or 30 meters by 30 meters. It tracks change across 95 percent of Peru's forest cover with 92 percent accuracy, an above-average degree of accuracy for such a large area.
Greg Asner, a research at the Carnegie Institution for Science who has been working with the Peruvian government on the project, says the system could be a model for other countries developing deforestation tracking platforms.
"This is a big deal," Asner told mongabay.com. "The Peruvian government is making their first estimates of deforestation available online for others to view. Perhaps more countries will install their own high-resolution mapping teams and make the results as transparent as Peru has done here."
Peru's new system will help it move forward on its program for reducing emissions on deforestation and degradation (REDD+). Peru is one of several countries participating in the Governors Climate and Forests Initiative, an effort to set up frameworks for REDD+ programs between states and provinces internationally.

Deforestation data from Killeen 2012, with MINAM data for 2011. Click to enlarge.

Related articles
Deforestation rate falls across Amazon rainforest countries
(12/06/2012) The average annual rate of deforestation across Amazon rainforest countries dropped sharply in the second half of the 2000s, reports a comprehensive new assessment of the region's forest cover and drivers of deforestation. While the drop in deforestation in the Brazilian Amazon has been widely reported, several other Amazon countries saw their rates of forest loss drop as well, according to the report, which was published by a coalition of 11 Latin American civil society groups and research institutions that form the Amazonian Network of Georeferenced Socio-Environmental Information (RAISG).
Indonesia, Brazil, Mexico, Peru get big boost in deforestation tracking, biomass measurement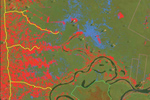 (07/11/2012) Efforts to rapidly and accurately track deforestation and forest degradation in Indonesia, Brazil, Mexico, and Peru got a boost this week with a special technical training session organized by the Governors Climate and Forest Task Force. The meeting, convened at Stanford University and Google's Silicon Valley campus, paired staffers from government agencies and NGOs in the four tropical countries with technical experts from the Amazon Environmental Research Institute (IPAM), the Carnegie Institution for Science, the Forum on Readiness for REDD, Woods Hole Research Center, and Google Earth Outreach. The participants received training to augment existing deforestation, forest degradation and biomass monitoring capabilities, which are highly variable both between countries and within sub-national agencies and jurisdictions.