The EU has banned three neonicotinoid pesticides (imidacloprid, clothianidin and thiamethoxam) linked to the decline of bees for two years. The ban will apply to all flowering crops, such as corn, rape seed, and sunflowers. The move follows a flood of recent studies, some high-profile, that have linked neonicotinoid pesticides, which employ nicotine-like chemicals, to the widespread decline of bees seen both in Europe and North America.
The ban was first proposed after the European Food Safety Authority (EFSA) released a report in January that found the scientific evidence pointed to neonicotinoid pesticides as an "unacceptable" threat to bees. Still, the vote on the ban was not unanimous: fifteen nations voted for the ban, eight voted against, and four abstained; but it was a large enough majority that the ban to the European Commission, which has signaled it will implement the ban as early as this summer.
Not surprisingly, pesticide companies have vociferously opposed the ban. They argue that bee colonies are collapsing from varroa, a parasitic mite, and that the pesticides have no impact on bee colonies, despite findings. Most scientists believe that bees are suffering from a combination of disease (such as varroa mites), habitat loss, and pesticides.
Research has shown that neonicotinoid pesticides do not kill bees outright, but instead impact their behavior by disrupting brain functioning. This appears to cause bees to lose their ability to navigate and successfully forage for the hive. One innovative study found that bees fed with high fructose corn syrup (a common practice) tainted with pesticides resulted in the collapse of 15 out of 16 hives over six months.
However, the pesticide industry has warned that banning the chemicals, which first came on the market in the early 1990s, will result in high food prices and lower yields. In addition, they saw that farmers will simply turn to older pesticides. But many environmentalists argue that there is enough good data now to link these pesticides to ongoing bee decline and that the ban is a positive first step.
"At last, the politicians are starting to listen to the science. This is a good start, but this ban will not be robust enough," Vanessa Amaral-Rogers, Pesticide Officer with NGO Buglife, said in a statement. "In reality, a two year suspension is not enough to see our bee populations recover. Neonicotinoids have a half-life (the time taken for half of the chemical to disappear) in soil of over three years, and will still be used on winter crops. The next step is to put a monitoring program in place which will assess how all pollinators, not just honeybees, are doing as a result of the ban."
Related articles
Domesticated bees do not replace declining wild insects as agricultural pollinators
(04/03/2013) Sprinkled with pollen, buzzing bees fly from one blossom to another, collecting sweet nectar from brilliantly colored flowers. Bees tend to symbolize the pollination process, but there are many wild insects that carry out the same function. Unfortunately, wild insect populations are in decline, and, according to a recent study, adding more honey bees may not be a viable solution.
Common pesticides disrupt brain functioning in bees
(03/27/2013) Exposure to commonly used pesticides directly disrupts brain functioning in bees, according to new research in Nature. While the study is the first to record that popular pesticides directly injure bee brain physiology, it adds to a slew of recent studies showing that pesticides, especially neonicotinoids, are capable of devastating bee hives and may be, at least, partly responsible for on-going Colony Collapse Disorder (CCD).
EU pushes ban on pesticides linked to bee downfall
(02/05/2013) Following a flood of damning research on the longterm impact of neonicotinoid pesticides on bee colonies, the EU is proposing a two year ban on the popular pesticides for crops that attract bees, such as corn, sunflower, oil seed rape, cotton. The proposal comes shortly after European Food Safety Authority (EFSA) released a report that found neonicotinoid pesticides posed a "number of risks" to bees.
New study adds to evidence that common pesticides decimating bee colonies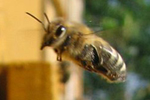 (10/24/2012) The evidence that common pesticides may be partly to blame for a decline in bees keeps piling up. Several recent studies have shown that pesticides known as "neonicotinoid" may cause various long-term impacts on bee colonies, including fewer queens, foraging bees losing their way, and in some cases total hive collapse. The studies have been so convincing that recently France banned the use of neonicotinoid pesticides. Now a new study finds further evidence of harm caused by pesticides, including that bees who are exposed to more than one chemical, i.e. neonicotinoid and pyrethroid, were the most vulnerable.
After damning research, France proposes banning pesticide linked to bee collapse
(06/04/2012) Following research linking neonicotinoid pesticides to the decline in bee populations, France has announced it plans to ban Cruiser OSR, an insecticide produced by Sygenta. Recent studies, including one in France, have shown that neonicotinoid pesticides likely hurt bees' ability to navigate, potentially devastating hives. France has said it will give Sygenta two weeks to prove the pesticide is not linked to the bee decline, known as Colony Collapse Disorder (CCD).
Researchers recreate bee collapse with pesticide-laced corn syrup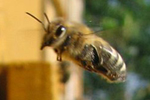 (04/05/2012) Scientists with the Harvard School of Public Health (HSPH) have re-created the mysterious Colony Collapse Disorder in several honeybee hives simply by giving them small doses of a popular pesticide, imidacloprid. Bee populations have been dying mysteriously throughout North America and Europe since 2006, but the cause behind the decline, known as Colony Collapse Disorder, has eluded scientists. However, coming on the heels of two studies published last week in Science that linked bee declines to neonicotinoid pesticides, of which imidacloprid is one, the new study adds more evidence that the major player behind Colony Collapse Disorder is not disease, or mites, but pesticides that began to be widely used in the 1990s.
Smoking gun for bee collapse? popular pesticides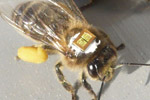 (03/29/2012) Commonly used pesticides may be a primary driver of the collapsing bee populations, finds two new studies in Science. The studies, one focused on honeybees and the other on bumblebees, found that even small doses of these pesticides, which target insect's central nervous system, impact bee behavior and, ultimately, their survival. The studies may have far-reaching repercussions for the regulation of agricultural chemicals, known as neonicotinoid insecticides, that have been in use since the 1990s.