England's dropping hog population begins to look dire.

European hedgehog. Photo by: Gaudete.
As hedgehogs all over the United Kingdom wake up from their winter hibernation, activists will be carefully counting their hogs.
Every year, the hedgehog population in Britain's rural towns declines by an estimated 5 percent. But between 2011 and 2012, a survey conducted by the People's Trust for Endangered Species (PTES), a UK-based animal activism group, saw the country's European hedgehog (Erinaceus europaeus) population fall a dismal 32 percent.
A ten-year long analysis by PTES and the British Hedgehog Preservation Society (BHPS) only underlined the grim evidence of Britain's hedgehog decline. In fact, PTES Surveys Officer David Wembridge likens the hog's decline to that of the tiger's: "Over the last twenty years or so, the world's tiger population is thought to have halved. Although they are very different animals…the fact that we are losing hedgehogs in Britain as quickly should ring alarm bells as loudly."
No one knows why the hedgehog population is falling so fast. Leading theories cite increased agriculture and use of pesticides, which may poison hedgehogs and their food, as well as a rise in road traffic.
"Tens of thousands of hedgehogs are killed by road traffic each year and road deaths might be an important cause of decline locally. Spines are little defense against wheeled predators," reads a report by PTES and BHPS.
Hedgehogs have also collided with unfamiliar, urbanized England. The BBC reported on multiple hedgehogs who found trouble in the big city. Most notable are the stories of a hedgehog found hiding in a chips bag in a walled-off area of the town of Weston-super-Mare, and a hedgehog found with its head stuck in a carrot can in a city near Norfolk. However, these instances are hardly rare: hedgehog population density is highest in the suburban areas, with its open grass and few natural predators. Both trapped hedgehogs were rescued by local animal clinics and released in a less populated environment.
Loss of the hedgehog in Britain could be disastrous. Biologists report in the UK Mammal survey that hedgehogs are a good indicator of the health of ecosystems such as hedges and meadows, as well as a good population indicator for bugs such as earthworms, slugs, and beetles (their main food source), and therefore a good indicator of soil health. The hedgehog's decline has sparked studies on other ecosystem residents in the UK, and concern is rising.
But it's not quite time to write off the hedgehog. Almost all the research on hedgehog population has come not from scientists, but from the public. PTES has organized citizen-powered programs such as HogWatch, Hedgehog Street, and Mammals on Roads. Collecting valuable data, thousands of hog-loving citizens have logged hedgehog sightings, recorded hedgehog corpses on the sides of local highways, and have begun to make "hedgehog-friendly gardens" at home. Online, PTES writes, "…surveys record species other than hedgehogs and together provide an insight into the changing fortunes of wild mammals in urban and rural habitats." And in the age of technology, activism has never been easier: the Mammals on Roads study comes with its own iPhone app, where participants log their hedgehogs.
"It is a popular species and draws the attention of the public to wildlife," writes Jessamy Battersby for the UK Mammals Species Status and Population Trends report. Although its future may look bleak, it seems that Britain's hedgehogs are not without friends.
Related articles
Despite deforestation worries, U.K. approves palm oil for power production
(03/07/2013) British Parliament has approved new government subsidies for biofuel use in U.K. power stations. Controversially the new measure would potentially subsidize fuels produced from palm oil, a move environmentalists warn could exacerbate deforestation in Africa and Southeast Asia.
UK authorizes guns for Madagascar despite threat of lemur extinctions
(01/27/2013) Britain has authorized the export of thousands of guns to Madagascar, according to TanaNews.com, sparking concerns that the firearms could be used for hunting endangered lemurs.
New study adds to evidence that common pesticides decimating bee colonies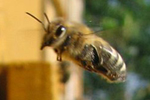 (10/24/2012) The evidence that common pesticides may be partly to blame for a decline in bees keeps piling up. Several recent studies have shown that pesticides known as "neonicotinoid" may cause various long-term impacts on bee colonies, including fewer queens, foraging bees losing their way, and in some cases total hive collapse. The studies have been so convincing that recently France banned the use of neonicotinoid pesticides. Now a new study finds further evidence of harm caused by pesticides, including that bees who are exposed to more than one chemical, i.e. neonicotinoid and pyrethroid, were the most vulnerable.
UK to require carbon emissions reporting by London Stock Exchange companies
(06/21/2012) The U.K. will require London Stock Exchange-listed companies to disclose their greenhouse gas emissions starting in April 2013, according to the British government. The rule may be extended to all large companies in 2016.
Animal photos of the day: elephants in the English countryside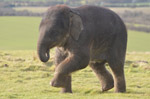 (03/14/2012) Elephants have been spotted roaming the pastoral fields of eastern England. Released for a jaunt from the Zoological Society of London's Whipsnade Zoo, a herd of Asian elephants (Elephas maximus), including a four-month-old calf named Scott, took in the scenic views of Aylesbury Vale from the Chiltern Hills. "Scott usually crashes out as soon as he's back from the walk. We put piles of hay down in the barn and he's out for the count."
Fact follows fiction: Watership Down land to make way for housing developments
(02/21/2012) In the classic novel, Watership Down, rabbits must flee their countryside home to make way for a new housing development. Now, the land that inspired author Richard Adams' much-beloved mythic tale is slated to bulldozed for 2,000 new homes. Located in the UK county of Berkshire, near the town of Newberry, the land in question is known as Sandleford Park.