With the number of Sumatran Rhinoceros (Dicerorhinus sumatrensis) now under 200 and declining rapidly, a group of conservationists have organized an emergency summit to discuss courses of action to save the world's smallest remaining rhino from extinction.
The Sumatran Rhino Crisis Summit is being convened by International Union for Conservation of Nature (IUCN) Species Survival Commission from 31 March to 4 April, 2013 in Singapore. The meeting, which is being hosted by Wildlife Reserves Singapore at Jurong Bird Park, aims to come up with a plan and funds to prevent the rhino's extinction.
Past efforts to protect the Sumatran Rhinoceros — including a disastrous captive breeding program — largely failed. The species, which clings to life in parts of peninsular Malaysia, Sumatra, and Malaysian Borneo, is most immediately threatened by its low population density in the wild, poaching for their horns, and habitat loss.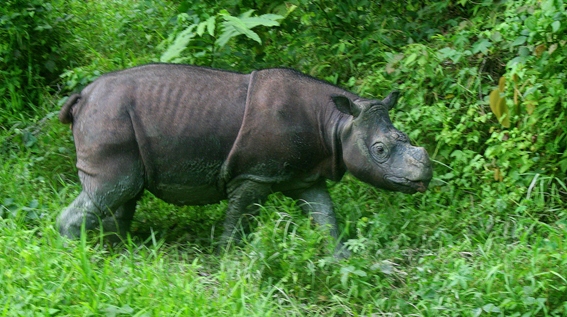 Tam. Photo by: Jeremy Hance
Organizers of the event include the Borneo Rhino Alliance (BORA, Malaysia), Land Empowerment Animals People (LEAP, Malaysia), Fauna and Flora International (FFI Indonesia), Rhino Foundation of Indonesia (YABI), Indonesian Zoo and Aquarium Association (PKBSI), International Rhino Foundation (IRF), Leuser International Foundation (LIF, Indonesia), Wildlife Conservation Society (WCS Indonesia), Wildlife Reserves Singapore, Taman Safari Indonesia (TSI), WWF and SOS Rhino US. Sime Darby Foundation, WWF, IUCN, IRF and TSI are providing funds and support for the event.
Related articles
Over 100,000 farmers squatting in Sumatran park to grow coffee
(11/06/2012) Sumatra's Bukit Barisan Selatan National Park—home to the Critically Endangered Sumatran rhinos, tigers, and elephants—has become overrun with coffee farmers, loggers, and opportunists according to a new paper in Conservation and Society. An issue facing the park for decades, the study attempted for the first time to determine the number of squatters either living in or farming off Bukit Barisan Selatan National Park, a UNESCO World Heritage Site; the rough census—over 100,000 people—shocked scientists.
Face-to-face with what may be the last of the world's smallest rhino, the Bornean rhinoceros

(12/01/2009) Nothing can really prepare a person for coming face-to-face with what may be the last of a species. I had known for a week that I would be fortunate enough to meet Tam. I'd heard stories of his gentle demeanor, discussed his current situation with experts, and read everything I could find about this surprising individual. But still, walking up to the pen where Tam stood contentedly pulling leaves from the hands of a local ranger, hearing him snort and whistle, watching as he rattled the bars with his blunted horn, I felt like I was walking into a place I wasn't meant to be. As though I was treading on his, Tam's space: entering into a cool deep forest where mud wallows and shadows still linger. This was Tam's world; or at least it should be.