Following the release of video footage apparently linking Sarawak Chief Minister Taib Mahmud to kickbacks for forestry concessions, anti-corruption watchdog Transparency International is calling for the Malaysian leader to immediately resign from his post.
"Those who are being investigated should resign first so that investigations can be carried out without any influence or interference by those in power," said Transparency International Malaysia Secretary-General Josie M Fernandenz on kiniTV. "We hope that Prime Minister Najib Razak will call upon the Chief Minister of Sarawak to resign as Chief Minister until investigations by MACC will be completed."
The video in question was released by Global Witness earlier this week. Posing as prospective palm oil developers, representatives from the NGO met with Chief Minister Taib's cousins, whose lawyers offer advice in tax evasion and asks for a ten percent kickback for Taib. The land in question is inhabited by indigenous people.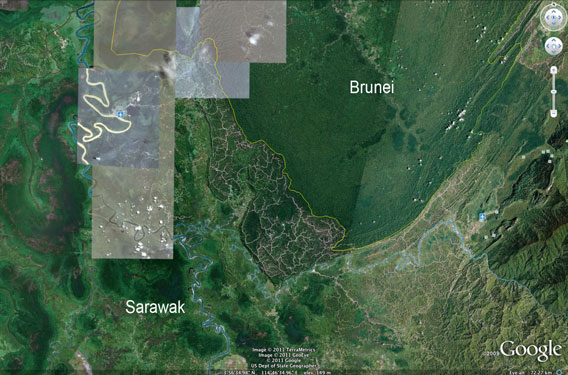 Logging roads and damaged forest in Sarawak compared with the healthy forest of Brunei. Photo courtesy of Google Earth.
Taib denied the charges, calling the video a set up
"I saw the so-called proof. Could it not be someone trying to promote themselves to become an agent to get favors from me?" he told journalist Liza Bong when asked about the video. "It has nothing to do with me right? I think it is a bit naughty of them for using their big power to blacken my name."
"They are trying to frame me."
Taib has been under investigation by Malaysian Anti Corruption Commission (MACC) since June 2011.
Taib has been accused by human rights groups and environmentalists of selling off Sarawak's forests for personal gain — his family's fortune is estimated at $15-21 billion.
More than 90 percent of the state's forests have been logged. Overharvesting has led to large-scale conversion of forest lands and peatlands for oil palm plantations. Meanwhile protected areas cover less than 5 percent of Sarawak.
Related articles