In an unusually bold statement catalyzed by the deaths of 14 rare elephants, six Malaysian NGOs today called on the Sabah state government to pursue "a more conservation focused agenda" in managing the state's forests.
The call-to-action, addressed to Sabah's chief minister Musa Aman, focuses on three core recommendations: setting aside more forest areas for strict protection within the state's main forest reserve; bringing plantation management practices on existing timber and palm oil plantations in-line with Forest Stewardship Council (FSC) and Roundtable on Sustainable Palm Oil (RSPO) certification standards; and "reviewing all policies, practices and plans within the critical elephant ranges of Sabah". The demand comes shortly after the death of 14 endangered pygmy elephants — thought poisoned by an oil palm plantation developer — thrust Sabah's environmental problems into the international spotlight.

"The recent tragic deaths of at least 14 Borneo pygmy elephants is a wake-up call for us all in Sabah," read the statement issued by the Borneo Rhino Alliance (BORA), the Danau Girang Field Centre, HUTAN, Land Empowerment Animals People (LEAP), The Royal Society SE Asia Rainforest Research Program (SEARRP), and WWF-Malaysia. "Despite the best efforts of the Sabah State Government in establishing protected areas and implementing sustainable practices, the current forest conversion plans might be accelerating the loss of biodiversity and particularly threaten the lowland and flat land habitats that are critically important for the conservation of elephants and many other rare and/or iconic species."
"The intense media, civil society and international scrutiny of the elephant issue serves as a timely reminder for the Sabah State Government to pursue a more conservation focused agenda with respect to forest conservation in the state," continued the statement. "We are willing partners of the government in this transitionary process."

Rainforest in Sabah. All photo by Rhett A. Butler.
The statement is unusually bold for Malaysian conservation NGOs, which typically don't confront the government. Nonetheless the chief minister responded positively to the recommendations, according to a joint press release issued by his office and the environmental coalition.
"I take note of your recommendations. Actually some of the steps have been taken or are in the process of implementation" Musa said. "We will study the rest in further detail to see their viability and we are also keen to work with you in seeing the recommendations through."
Sabah, the eastern-most state in Malaysian Borneo, lost most of its old-growth lowland forest cover since the 1970s. About a fifth of the state's land mass has been converted to oil palm plantations, while most of its remaining natural forest is heavily degraded by logging. Yet the state has moved aggressively in recent years to protect high conservation value forest that survives within the million-hectare Yayasan Sabah concession, a zone that was originally intended to be managed into perpetuity for the benefit of all Sabahans but was instead largely decimated by overharvesting. However Yayasan Sabah still contains some of the last tracts of primary lowland forest on the island of Borneo, which has suffered from large-scale forest degradation and conversion.

Clearing of hillsides for oil palm in Sabah.
Within the most heavily degraded parts of Yayasan Sabah, where commercial timber resources are so stripped that logging is no longer financially viable, the Sabah Forestry Department is encouraging better management practices in hopes that stocks can eventually recover. Should forests regenerate and be restored, the long-term plan is to selectively log these areas under FSC standards. In areas already planted with acacia and oil palm, the government is pushing for plantations to meet certification standards to distinguish them from plantations on newly deforested lands. The coalition of NGOs is now asking for the government to accelerate and codify this process as well as other moves in response to the elephant deaths.
"We want to take the crisis to address the systemic issues, and we worked hard to come up with a three point call to action, which we were able to personally hand over to the Sabah Chief Minister," LEAP Executive Director Cynthia Ong. "The Chief Minister was positive, and said the State will require our help in realizing what we have proposed."
Related articles
14 Bornean elephants found dead, likely poisoned
(01/31/2013) Wildlife officials in the Malaysian state of Sabah have found the bodies of 14 Bornean elephants in Gunung Rara Forest Reserve, and suspect that more may be found dead. While tests are pending, they believe the elephants were likely poisoned due to damage in the animals' digestive tracts. Only around 2,000 Bornean elephants (Elephas maximus borneensis) are left on the island of Borneo with the vast bulk found in Sabah.
Learning to live with elephants in Malaysia
(09/18/2012) Humans and elephants have a lot in common: both are highly intelligent, intensely social, and both are capable of having a massive impact on their local environments. Given their similarities, it might not be surprising that elephants and human have often run afoul of one another. Conflict between these two great species has probably been going on for thousands of years, but as human populations have grown dramatically, elephant populations have been crippled and forced into smaller-and-smaller pockets. No-where is this more true than in Southeast Asia.
Sabah protects 700 sq mi of rainforest in Borneo
(08/30/2012) Sabah, a state in Malaysian Borneo, has reclassified 183,000 hectares (700 sq km) of forest zoned for logging concessions as protected areas.
Industrial logging leaves a poor legacy in Borneo's rainforests
(07/17/2012) For most people "Borneo" conjures up an image of a wild and distant land of rainforests, exotic beasts, and nomadic tribes. But that place increasingly exists only in one's imagination, for the forests of world's third largest island have been rapidly and relentlessly logged, burned, and bulldozed in recent decades, leaving only a sliver of its once magnificent forests intact. Flying over Sabah, a Malaysian state that covers about 10 percent of Borneo, the damage is clear. Oil palm plantations have metastasized across the landscape. Where forest remains, it is usually degraded. Rivers flow brown with mud.
Scientists propose a new way forward on orangutan conservation
(07/16/2012) Orangutans are in dire need of a revised conservation approach, according to a new study in the Annals of the New York Academy of Sciences. While the plight of the species is widely recognized within the conservation community—receiving international attention in the form of scientific research, funding, and NGO efforts—the authors argue that "there has been frustratingly little progress."
Charts: deforestation in Indonesia and Malaysia, 2000-2010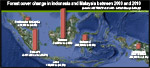 (07/15/2012) Indonesia and Malaysia lost more than 11 million hectares (42,470 square miles) of forest between 2000 and 2010, according to a study published last year in the journal Global Change Biology. The area is roughly the size of Denmark or the state of Virginia. The bulk of forest loss occurred in lowland forests, which declined by 7.8 million hectares or 11 percent on 2000 cover. Peat swamp forests lost the highest percentage of cover, declining 19.7 percent. Lowland forests have historically been first targeted by loggers before being converted for agriculture. Peatlands are increasingly converted for industrial oil palm estates and pulp and paper plantations.
In pictures: Rainforests to palm oil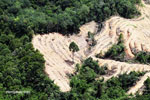 (07/02/2012) In late May I had the opportunity to fly from Kota Kinabalu in Malaysian Borneo to Imbak Canyon and back. These are some of my photos. Historically Borneo was covered by a range of habitats, including dense tropical rainforests, swampy peatlands, and natural grasslands. But its lowland forests have been aggressively logged for timber and then converted for oil palm plantations.