The March 2013 issue of Smithsonian magazine features an account of the flight that confirmed the presence of an isolated indigenous tribe in a remote part of the Colombian Amazon.
In 2011 Colombian anthropologist Roberto Franco and photographer Cristóbal von Rothkirch went in search of an "uncontacted" tribe rumored to live in a tract of rainforest between the Caquetá and Putumayo rivers in the Colombian Amazon. During a flyover they spotted a maloca — an indigenous hut — in a region with no other human habitation, confirming the existence of the group. A subsequent flyover found four more indigenous structures.
The thatch longhouses are thought to be belong to two indigenous groups, the Yuri and the Passé. The groups, which are believed to have sought refuge from the outside world to escape the abuses of the early 20th century rubber trade, may represent the last isolated tribes in the Colombian Amazon.


Isolated and uncontacted indigenous people in Colombia are afforded the right to isolation, the right to their traditional territories, and reparations in case of violence under legal decree #4633 signed by Colombian President Santos in December 2011. That measure specifically protects such groups — which may be voluntarily isolated — from unwanted contact
For the full story, check out The Lost Tribes of the Amazon by Joshua Hammer.
Related stories
Colombia to double the size of massive Amazon reserve to include uncontacted tribes' land
(01/10/2013) Colombia may more than double the size of the remote and poorly-known Chiribiquete National Park to make it the biggest protected area in the Colombian Amazon, reports El Espectador. Chiribiquete best known for its unusual rock formations, including mesa-like tepuis and dramatic waterfalls, but also features at least 32 cave painting sites with some 250,000 drawings, making it a key center for indigenous culture.
Photos: Uncontacted Amazon tribes documented for first time in Colombia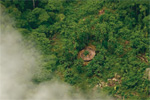 (04/19/2012) Aerial surveys of a remote area of rainforest along the Colombia-Brazil border have produced the first photographic evidence of uncontacted tribes, according to a conservation group that works to safeguard indigenous territories and culture. The photos, released by the Amazon Conservation Team (ACT), show five long houses or malokas thought to belong to two indigenous groups, the Yuri or Carabayo and Passé, some of the last isolated tribes in the Colombian Amazon. The images provide confirmation that uncontacted communities still exist within the Rio Puré National Park, which protects a million hectares (2.47 million acres) of mostly pristine rainforest between the Caquetá and Putumayo River basins along the Brazilian border.