The Amazon Basin, showing the main river sub-basins, including the Araguaia-Tocantins. Numbers indicate Llanos de Moxos savannas (1),Maranon-Ucayali palm swamps (2), Bananal savannas (3), Negro campinas (4), Roraima savannas (5), and campos marajoaras (6). Courtesy of Castello et al (2013).
The world's largest river system is being rapidly degraded and imperiled by dams, mining, overfishing, and deforestation, warns a study published last week by an international team of scientists.
Writing in the journal Conservation Letters, researchers led by Leandro Castello, a research associate at the Woods Hole Research Center, catalog the litany of threats facing the Amazon river and its tributaries. They note that existing terrestrial protected areas may not be enough to protect river ecosystems affected by both upstream and downstream activities, including oil extraction, gold mining, over-harvesting of plants and animals, forest clearing and conversion, and dam-building.
"Existing management policies—including national water resources legislation, community-based natural resource management schemes, and the protected area network that now epitomizes the Amazon conservation paradigm—cannot adequately curb most impacts. Such management strategies are intended to conserve terrestrial ecosystems, have design and implementation deficiencies, or fail to account for the hydrologic connectivity of freshwater ecosystems," the authors write. "There is an urgent need to shift the Amazon conservation paradigm, broadening its current forest-centric focus to encompass the freshwater ecosystems that are vital components of the basin."
Threats

The main drivers of wetland degradation for which basin-wide data are available, and the protected area network. Courtesy of Castello et al (2013).
The authors say a dam-building spree across the Amazon basin is one of the most immediate threats to region's river ecosystems, potentially interfering with the basin's hydrological cycle and nutrient flows. Large dams further restrict or block access to breeding and feeding grounds for migratory fish species, while areas inundated with water can generate substantial greenhouse gas emissions and dramatically alter habitats.
"There is a total of 154 hydroelectric dams in operation, 21 in construction, and plans to construct 277 additional dams in the future. There are also thousands of small dams located in small streams to provide water for cattle," said co-author Marcia Macedo of the Woods Hole Research Center in a statement. "These infrastructure projects, together with deforestation-induced changes to regional rainfall, could fundamentally change the hydrology of Amazon freshwater systems."
Number of hydropower by country of the Amazon, by type and phase

Planned
Current
Country
< 30MW
> 30MW
Total
< 30MW
> 30MW
Total
Total
Brasil
176
55
231
87
22
109
340
Perú
2
9
11
31
2
33
44
Bolivia
1
3
4
1
9
10
14
Ecuador
10
10
10
Venezuela
6
6
6
Colombia
1
1
1
Guyane Française
1
1
1
Suriname
1
1
1
total
179
67
246
120
51
171
417
Amazon riverine ecosystems are also suffering from overfishing, which affects the food web as well as human populations that are highly dependent on fish as a source of protein. The study, which notes that "current per capita fish consumption in the Brazilian Amazon averages 94 kg/yr in riverine populations, which is almost six times the world average", reports that the average body length of the most frequently harvested species have fallen more than 60 percent in the past century. Several species are approaching commercial extinction in some areas.
Meanwhile deforestation is exacerbating the adverse impacts on the Amazon's rivers. An estimated 56 percent of the floodplains along the mainstream of the lower Amazon were deforested between 1970 and 2008, spurring soil erosion, which alters water quality and clarity and triggers sedimentation. Deforestation can also increase the variability of water levels between the dry and rainy seasons, affecting plant and wildlife communities.
Finally, pollution from agricultural plots (chemical fertilizers, pesticides, and herbicides), oil and gas extraction (drilling waste and crude oil), and mining (mercury and heavy metals) is affecting freshwater ecosystems in the Amazon. Runoff from industrial soy farms and cattle ranches is particularly acute in the southern Amazon.
Solutions

The major Amazon river basins. Courtesy of Castello et al (2013).
To address these issues, the researchers recommend broadening traditional terrestrial-focused conservation approaches to include aquatic ecosystems. They suggest using existing protected areas as a starting point for the transition, developing an integrated "river catchment-based conservation framework that protects both aquatic and terrestrial ecosystems". Given that many catchments cross national boundaries, the effort should be transnational in scope.
"There are environmental issues everywhere, but the case with Amazon freshwater ecosystems is different, because no one talks about it. Their problem has been concealed," said Castello. "Significant strides in Amazon conservation have been on deforestation because deforestation has been studied and monitored year after year. We now need to do the same for these aquatic ecosystems."
Castello, L., McGrath, D.G., Hess, L.L., Coe, M.T., Lefebvre, P.A., Petry, P., Macedo, M.N., Reno, V., Arantes, C.C. 2012. The vulnerability of Amazon freshwater ecosystems. Conservation Letters DOI: 10.1111/conl.12008
Related articles
Dams are rapidly damning the Amazon
(12/08/2012) Dam-builders seeking to unlock the hydroelectric potential of the Amazon are putting the world's mightiest river and rainforest at risk, suggests a new assessment that charts the rapid expansion of dams in the region.
Dams are 'centerpiece of greenwashing' in the Amazon
(06/25/2012) Brazil's ambitious plans to build 30 dams in the Amazon basin could trump the country's efforts to protect the world's largest rainforest, said a leading Amazon scientist speaking at the annual meeting of the Association for Tropical Biology and Conservation (ATBC) in Bonito, Brazil.
Tropical dams are a false solution to climate change
(05/27/2012) Tropical dams emit considerably more greenhouse gas emissions than their temperate counterparts yet are being treated as a solution to climate change, warns a report published in Nature Climate Change.
Will mega-dams destroy the Amazon?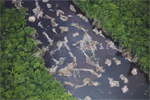 (04/18/2012) More than 150 new dams planned across the Amazon basin could significantly disrupt the ecological connectivity of the Amazon River to the Andes with substantial impacts for fish populations, nutrient cycling, and the health of Earth's largest rainforest, warns a comprehensive study published in the journal PLoS ONE. Scouring public data and submitting information requests to governments, researchers Matt Finer of Save America's Forests and Clinton Jenkins of North Carolina State University documented plans for new dams in Bolivia, Brazil, Colombia, Ecuador, and Peru.
Belo Monte Dam: A spearhead for Brazil's dam-building attack on the Amazon?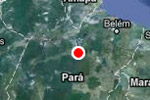 (03/23/2012) Brazil's Belo Monte Dam on the Xingu River is now under construction despite its many controversies. The Brazilian government has launched an unprecedented drive to dam the Amazon's tributaries, and Belo Monte is the spearhead for its efforts. Brazil's 2011-2020 energy-expansion plan calls for building 48 additional large dams, of which 30 would be in the country's Legal Amazon region1. Building 30 dams in 10 years means an average rate of one dam every four months in Brazilian Amazonia through 2020. Of course, the clock doesn't stop in 2020, and the total number of planned dams in Brazilian Amazonia exceeds 60.
Brazil's plan to cut protected areas for dams faces constitutional challenge
(02/17/2012) Federal public prosecutors in Brazil have challenged a plan to strip protected status from 86,288 hectares of land to make way for five new dams, reports International Rivers. The challenge is set to be heard by Brazil's Supreme Court.