'Gorilla of Indonesia' staging a comeback in Sulawesi
Black macaque in Tangkoko Nature Reserve. Photo by Rhett A. Butler
An important population of critically endangered Sulawesi black macaques (Macaca nigra) is showing signs of recovery after years of decline in an Indonesian forest reserve, reports a study published in the January issue of the American Journal of Primatology.
According to the research, which was led by Randall Kyes of the University of Washington, the number black macaques per square kilometer in North Sulawesi's Tangkoko Nature Reserve increased from 32.4 in 1999 to 53.8 in 2005 to 61.5 in 2011. The number of groups of macaques per square kilometer rose from 3.6 in 1999 to 3.9 in 2005 and to 4.3 in 2011.
Kyes says the findings provide evidence that the population in Tangkoko is on the rebound.
"Fifteen years ago it looked like this macaque population would continue its decline and eventually disappear," he said in a statement, adding that "[it] doesn't mean that everything is fine now and that we no longer need to worry about the fate of these animals, but it is good news compared with what we've seen over the past 30-plus years in this reserve."
The numbers however are still markedly lower than historical levels. For example, a 1978 study found 10 groups and 300 individuals per square kilometer.
"We've found that the progressive decline has slowed," Kyes said. "Somewhere over the last 10 years the trend has started to turn. We're seeing the population in the balance now, but without the sustained efforts by local and international groups working in the reserve and the support and involvement of the local people, the macaques will likely face further decline."
Hunting and habitat destruction are the biggest cause for the population decline. The species — which other conservationists have likened to the "gorilla of Indonesia" even though macaques are monkeys, not apes — is seen as a delicacy by local people. However that view may be changing in some areas around the reserve due to the influx of tourists who come to see the macaques along with tarsiers and other charismatic species found in the rainforests of Sulawesi. Nature-based tourism has emerged as an important source of income in several communities, enforcing the idea that macaques may be worth more alive than in the cooking pot.
CITATION: RANDALL C. KYES et al (2013). Long-Term Population Survey of the Sulawesi Black Macaques (Macaca nigra) at Tangkoko Nature Reserve, North Sulawesi, Indonesia. American Journal of Primatology (pages 88–94). Article first published online: 15 NOV 2012 | DOI: 10.1002/ajp.22088
Related articles
Saving Indonesia's monkey with a heart-shaped bottom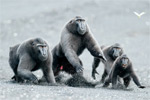 (06/05/2012) North Sulawesi is one of the world's most beautiful places. Verdant forests and stunning coral reefs, combined with high levels of species endemism, make it a top biodiversity hotspot. But pressure on the region's natural resources is mounting. Mining projects, conversion of forests for plantations, overfishing, and the expansion of a commercial bushmeat trade is endangering some of Sulawesi's most charismatic animals, including the distinctive Sulawesi crested black macaque. Found only in North Sulawesi, the crested black macaque could be one of Indonesia's most iconic conservation symbols, but relatively few people know of its existence. And the locals who do may be inclined to eat it as a delicacy.