The 3rd Annual New York Wildlife Conservation Film Festival (WFCC.org) runs from January 30 – February 2, 2013. Ahead of the event, Mongabay.com is running a series of Q&As with filmmakers and presenters. For more interviews, please see our WCFF feed.

Jimmy, an orphan whose mother was rundown by a car, is the star of the documentary Koala Hospital. Image courtesy of Susan Kelly.
According to Susan Kelly, koalas have become "urban refugees," under siege by expanding cities that bring with them deforestation, dogs, traffic, and other ills for native wildlife. Director of Global Briefing, and writer, producer and director of the new documentary Koala Hospital, Kelly has spent 3 years working to understand the rising threats to one of the world's most beloved marsupials.
While Koala Hospital highlights the many perils facing koalas, including climate change due to record fires across Australia, it also looks at the efforts of individuals who work to save koalas one—by—one at Port Macquarie Koala Hospital, taking in patients who have been orphaned, hit by cars, scarred in fires, or attacked by dogs.
Koala Hospital is making its New York City premiere Saturday, February 2 at the 3rd Annual New York Wildlife Conservation Film Festival. Ahead of its premiere, Kelly answered some questions from Mongabay.com about the film and her career. The film has already made waves in Australia where the government recently listed koalas as Vulnerable to extinction.
AN INTERVIEW WITH SUSAN KELLY
Mongabay.com: What is your background?
| | |
| --- | --- |
| | Susan Kelly filming in the hospital. Photo courtesy of Susan Kelly. |
Susan Kelly: A degree in Communications led me to work in the news media as a journalist/producer, producing media for various organizations such as SkyNews, ABC, CNN, National Geographic and the United Nations. I'm now an independent video journalist and producer with a focus on the environment and natural heritage—filming "urban frontlines" where the intersection between people and wildlife is the most problematic.
Mongabay.com: How long have you been making films? What are some other examples of your work?
Susan Kelly: KOALA HOSPITAL is my first independent documentary film, which I filmed, produced, wrote and edited.
Mongabay.com: Why did you choose the koala as the topic of your film?
Susan Kelly: I came to film koalas when I realized that despite being an Australian, a journalist, and an animal lover, I really knew nothing about them—except their reputation for sleeping most of the time. To my surprise, when I began researching there was very little information available, and when I began interviewing Australians about what they knew about koalas, it seemed few had ever seen one outside a zoo. I thought it was a shame that not much was widely known about Australia's adorable icon, so I set about telling their story through film over the next several years. What I learned in the process was devastating. The cutting down of trees for new houses and roads is rapidly destroying koalas' wild habitat, and many that live near expanding suburbs are hurt and killed by dog attacks, car accidents, or stress—related disease.
Ultimately, this journey of discovery led me to the Port Macquarie Koala Hospital—the setting for the documentary. Through my work, I hope to shed light on the issues koalas (and most wildlife now face) and along the way, share the delight I feel when I'm with koalas. To me, there is no greater joy than seeing a wild koala at home in the trees.
Mongabay.com: What is the plot of the film?

Burnt koala. Image courtesy of Susan Kelly.
Susan Kelly: Koala Hospital is a one hour TV documentary that presents the poignant and surprising life of koalas. For almost 40 years, the Koala Hospital and its community of volunteers have been caring for sick and injured wild koalas, giving them a second chance at life. Life at the hospital was documented over 3 years, capturing unprecedented footage of koala communication, dramatic rescues, heartfelt emotion and amusing koala antics.
Jimmy is the heart of the story. His tiny injured body is taken to the hospital's emergency room, after he's knocked unconscious by a car. His mother is killed in the accident and Jimmy becomes an orphan. We marvel at his new life there, being raised by loving human carers, on a unique journey back to the wild. They nurture this colorful character until he's able to look after himself and through Jimmy's life, we come to understand the many obstacles koalas face. Koalas are now confronted by a maze of roads and human mayhem and with fewer places to live, they're becoming urban refugees.
Four wounded souls, Jimmy, Farida, Kaylee and Twinkles arrive abruptly, at what has now become a koala refugee camp—this extraordinary hospital in Port Macquarie, a few hours north of Sydney. We share the captivating journeys of Jimmy and these 3 other displaced individuals throughout the film.
Staff are on 24—hour call to rescue animals from dangerous situations, and meet the stream of patients suffering various ailments from living in the modern world. Their problems are as diverse as their distinct personalities. Disease, car accidents and pet dog attacks are the main reasons for admission. Cancer, AIDS, flu and arthritis have to be dealt with too, and now koalas face a growing threat—climate change. With warmer temperatures, the world's forests are drying out and large—scale fires are now becoming frequent in many countries. In recent years, Australia has seen massive forest areas destroyed by infernos, with entire koala communities vanishing in the flames.
During the film, we witness Australia suffer the most devastating fires in its history. The hospital team have had to become expert at search and rescue missions across the country, to save koalas from their burning forest homes. Staff race victims into treatment at the fire—grounds, risking their lives to rescue koalas and gently treat their burned bodies. We come to realize why the work at the Koala Hospital is so critical, as fires, development and human encroachment radically alter the landscape.
It's hard to know exactly how many koalas there are in the wild, but the Australian Koala Foundation who track the population, estimate the number could have fallen to as low as around 40,000 koalas. Alarmed by the drastic decline, an army of protesters fight back on the koalas behalf, taking over the city with political confrontations and a display of koalas in coffins—real life victims of dogs, cars and deadly logging machines, that remove the koalas home and kill them in the process.
A safe life in the bush is the ultimate goal for the hospital's many hundreds of patients, and to increase our understanding of koalas in the wild, we explore this unknown and fascinating world. Traveling across the koalas home range of eastern Australia, we meet scientists who reveal the remarkable natural history of this curious marsupial, the only one of its kind. The koalas life is not what you'd expect.
In an emotional final scene, after a long and uncertain road to recovery, Jimmy passes all the tests and is set free in his wild and natural home in the gum trees. He's just one small koala in a very big world, with many challenges ahead of him, but his success story is a victory for a little hospital making a difference—one koala at a time.
Mongabay.com: What was the most exciting or interesting part of making the film?

Jimmy in the hospital. Image courtesy of Susan Kelly.
Susan Kelly: I'm not sure I'd call it exciting or interesting exactly, but one of the most profound moments of my life, was being witness to the effects of global warming firsthand. I was on the fire frontline filming koalas being rescued during the worst fires in Australia's history, and seeing the horrific impact it had on people, koalas and other wildlife had me in tears too many times to count. There was nothing left of the forest. It looked like Hiroshima. 200 foot trees had vanished into ash 3 feet deep.
On a more positive note, aside from working closely with koalas who I think are the real life fairies of the forest — the best part of the process was working with all the brave and dedicated folks at the Koala Hospital. Their work is critically important in helping to save our furry global treasure. It's a special place with incredible people.
Mongabay.com: What draws you to the natural world?
Susan Kelly: I feel the most at home when surrounded by nature. It reminds me that I'm part of the fabric of life, and I hike in the forest with my dog Jordan most days to get a nature fix. I liken it to a walking meditation. This quiet time in the forest helps me think about the big picture and what steps I can take as an individual to help stem the loss of the natural world. The film was an outcome of this reflection.
Mongabay.com: What impact do you hope this film will have?
Susan Kelly: Thankfully and most importantly, the film has had a positive impact for koalas. Soon after KOALA HOSPITAL was broadcast on Nat Geo Wild in Australia and the subsequent media coverage that followed of the koalas plight, the Australian Government moved to list the koala as Vulnerable under the countries national threatened species legislation. For my National Geographic NewsWatch coverage on the issue, please see: http://newswatch.nationalgeographic.com/2012/05/07/will—australia—save—its—koalas—again/
Individuals can also make a difference to koalas by getting involved with the Koala Hospital directly, by way of koala adoptions and tree planting, or volunteering there as well.
Mongabay.com: Is this the debut? Are you planning to show it elsewhere?
Susan Kelly: The film first went to air in Australia, and is currently on cable broadcast on National Geographic Wild, Discovery and Animal Planet globally. It has been nominated for various awards, including the prestigious Jackson Hole Wildlife Film Festival. It also won the 2012 WCFF Best Feature Film in Washington DC and now, the Best Conservation Film at the 2013 Wildlife Conservation Film Festival in New York, which is exciting news. The Koala Hospital Documentary Facebook page which gives updates on scheduling at festivals or broadcast information.
Mongabay.com: How did you come to work with WCFF?

Koala suffering from cancer. Image courtesy of Susan Kelly.
Susan Kelly: WCFF President Christopher Gervais kindly got in touch asking whether the film could be shown at the WCFF festival. It was an absolute honor to be included in such an important festival, which dedicates itself to promoting wildlife issues. Thank you Christopher.
Mongabay.com: What's next on your agenda?
Susan Kelly: I've just finished authoring a photographic documentary childrens book on koalas — "Jimmy the Joey" — for National Geographic Kids, which will be available in July 2013 and am now focused on developing a KOALA HOSPITAL television series. To watch the film trailer, or for more information on the book and how to help koalas, please go to www.koalahospital.com
Koala Hospital
Susan Kelly, Producer & Director
52 minutes
Country: Australia
* New York City Premiere
** Appropriate for children
*** Award Winner for Best Conservation Category
February 2, 4:00-6:00 PM – Purchase tickets
Koalas are now confronted by a maze of roads and human mayhem and with fewer places to live, they are becoming refugees. Koala Hospital presents the poignant and surprising life of koalas. For 40 years, the "Koala Hospital" has been caring for sick and injured wild koalas, giving them a second chance at life.

Staff member picks up sick koala. Image courtesy of Susan Kelly.

Injured koala mom. Image courtesy of Susan Kelly.

Koala walking past car. Image courtesy of Susan Kelly.

Susan Kelly with koala. Image courtesy of Susan Kelly.
Related articles
Forgotten species: the endearing Tenkile tree kangaroo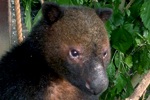 (05/03/2011) With their long snout, furry body, soft eyes, and, at times, upright stance, tree kangaroos often remind me of the muppets. Of course, if there were any fairness in the world, the muppets would remind me of tree kangaroos, since kangaroos, or macropods, have inhabited the Earth for at least 5 million years longer than Jim Henson's muppets. But as a child of the 1980s, I knew about muppets well before tree kangaroos, which play second fiddle in the public imagination to their bigger, boxing cousins. This is perhaps surprising, as tree kangaroos possess three characteristics that should make them immensely popular: they are mammals, they are monkey-like (and who doesn't like monkeys?), and they are desperately 'cute'.
Australian mammals in steady decline even in large National Park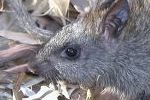 (07/19/2010) Kakadu National Park, one of the Australia's "largest and best-resourced" protected areas, is experiencing a staggering decline in its small mammal population, according to a new study published in Wildlife Research. Spanning nearly 2 million hectares—larger than Fiji—the park lies in tropical northern Australia. 'This decline is catastrophic,' John Woinarski, lead author of the study and expert on Australian mammals, told mongabay.com. 'We know of no comparable case in the world of such rapid and severe decline of a large proportion of native species in a large conservation reserve.'
A cure for the Tasmanian devil's strange and fatal cancer?
(11/21/2008) Researchers have announced that two Tasmanian devils have survived a cancer devastating their species after receiving inoculations of dead tumor cells, according to the International Herald. However, the inoculations have not worked on every devil – despite being inoculated four devils died from the cancer during the work.
Extinct since 1963, wild eastern quolls discovered in Australia
(10/16/2008) Two eastern quoll have been found as roadkill on the Australian mainland. Although considered extinct in Australia since 1963, these carnivorous marsupials remain abundant on the island of Tasmania.