Coral species in the Indian Ocean: Ctenela chagius. Photo by: © David Obura.
The western Indian Ocean, especially the waters between Madagascar and mainland Africa, may be among the world's most biodiverse for coral species, according to a new study in PLOS ONE. Conducting dive surveys in the region for nearly a decade, David Obura with the Coastal Oceans Research and Development in the Indian Ocean (CORDIO) identified 369 coral species in the western Indian Ocean and predicts there may be nearly another 100 unidentified. If so, this would make the region as biodiverse as the Great Barrier Reef, but still behind the Coral Triangle which has over 600 species.
"The [western Indian Ocean] region's reefs have a unique heritage, and contain many unique and old lineages of corals found nowhere else on Earth," Obura explains in a press release. "The evolutionary lineage of the Indian Ocean fauna predates the Southeast Asia and Coral Triangle fauna, inherited from earlier marine biodiversity hotspots of 20-50 million years ago."
Around 10 percent of the species are known only from the Indian Ocean.
Coral diversity in the Mozambique Channel, which sits between Madagascar and the African mainland, was especially high. In the northern portion of the channel, Obura estimated between 250-300 distinct coral species.
"This study suggests a central (or 'core') ecoregion defined by the northern Mozambique Channel with an extension northwards to Mafia Island in Tanzania," he writes in the study. Although he did not survey the southern portion of the channel, past surveys have found depleted coral diversity there.
Many of the coral reefs in the region are threatened by local pressures, such as population growth, overfishing, fossil fuel exploitation, mining, and tourism. In addition, like almost all of the world's coral reefs, they are also imperiled by warming temperatures due to climate change and ocean acidification.
"This research shows how incredibly diverse these [coral reefs] are, that they supply important benefits to fishermen and the tourism sector, provide protein for local communities and protect coastlines from storms, and that they are under threat," says Keith Lawrence, senior director in Conservation International's (CI) marine program.
CITATION: Obura D (2012) The Diversity and Biogeography of Western Indian Ocean Reef-Building Corals. PLoS ONE 7(9): e45013. doi:10.1371/journal.pone.0045013
Related articles
Coral reefs in Caribbean on life support
(09/11/2012) Only 8 percent of the Caribbean's reefs today retain coral, according to a new report by the International Union for Conservation of Nature (IUCN). With input and data from 36 scientists, the report paints a bleak picture of coral decline across the region, threatening fisheries, tourism, and marine life in general.
Deforestation is killing Madagascar's coral reefs
(09/05/2012) Sediment carried by rivers draining deforested areas in Madagascar is smothering local coral reefs, increasing the incidence of disease and suppressing growth, report new studies.
Coral calcification rates fall 44% on Australia's Great Barrier Reef
(09/04/2012) Calcification rates by reef-building coral communities on Australia's Great Barrier Reef have slowed by nearly half over the past 40 years, a sign that the world's coral reefs are facing a grave range of threats, reports a new study published in the Journal of Geophysical Research – Biogeosciences.
Strangest island in the Caribbean may be a sanctuary for critically endangered coral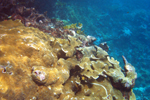 (07/16/2012) Don't feel bad if you've never heard of Navassa Island, even though it's actually part of the U.S. according to the Guano Islands Act of 1856. This uninhabited speck between Haiti and Jamaica, barely bigger than New York City's Central Park, has a bizarre and bloody history—and may be a crucial refuge for endangered coral in the Caribbean.
Indonesia green news: 70% of Indonesia's coral reefs damaged; Authorities exploring corruption charges in Tripa
(07/15/2012) 70 percent of Indonesia's coral reefs have some degree of damage found an assessment by the Indonesian Institute of Sciences (Lembaga Ilmu Pengetahuan Indonesia or LIPI). Coral reef monitoring carried out in 77 regions across Indonesia found only 30 percent of the archipelago's coral reefs are in good condition. 37 percent have low levels of damage, while a third are severely damaged. Reef damage is caused by a variety of factors including explosive fishing, mining waste, and bleaching driven by global warming.