The Peruvian government is looking into making large-scale changes to its Environment Impact Assessments (EIA) after a review found significant problems with the vast majority of past reviews, reports the Inter Press Service. The news comes a few weeks after protests over a proposed gold and copper mine in the Andes left five people dead, including a 17-year-old boy.
Reviewing just over 200 random EIAs, the Peruvian government found that 86% lacked necessary information. Nearly three-quarters did not address whether or not studies included in the EIAs were actually admissible.
Environmental-related protests are a major problem in Peru as many citizens feel corporations are given free-reign.
"Unfortunately, the public does not trust in the impartiality of the government and believes that these ministries will always take the side of the companies," lawyer Isabel Calle told Tierramérica. Calle, who has recently published a book on the issue, argues that EIAs should be reviewed by Peru's Ministry of Environment and not the industry ministries, as is the current practice.
The $4.8 billion Conga mining project is set to destroy four Andean mountain lakes, which locals depend on the lakes for agriculture and livestock. The majority of the project is owned by the U.S.-based, Newmont Mining Company, which says it will create reservoirs for the lakes' water, but critics fear the water will be contaminated by mine waste. Newmont also runs the nearby Yanacocha gold mine, the world's second largest, which locals say has polluted local water sources.
Large-scale protests, which have been met with government troops, have failed to stop the Conga project.
Related articles
Thousands protest giant gold mine in Peru's mountains
(11/29/2011) Fearing water contamination and pollution, over ten thousand people in Cajamarca, Peru are taking part in protests against mining plans by US-company Newmont Mining Corporation. In its sixth day, the growing protests have caused flights in and out of Cajamarca to be cancelled. According to Reuters, police also clashed with protestors today, injuring two dozen.
Vietnam buys stakes in controversial oil blocks threatening Peru's most vulnerable indigenous people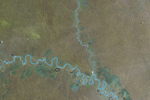 (07/11/2012) Vietnam's state oil and gas company, PetroVietnam Exploration and Production (PVEP), has announced its intention to acquire a major stake in controversial oil operations in the remote Peruvian Amazon. This area, known as Lot 67, is one of the most biodiverse in the world and home to indigenous people living without regular contact with outsiders, sometimes dubbed 'isolated' or 'uncontacted', who could be decimated by contact with oil company workers because they are highly vulnerable to disease.
Over 700 people killed defending forest and land rights in past ten years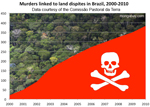 (06/19/2012) On May 24th, 2011, forest activist José Cláudio Ribeiro da Silva and his wife, Maria do Espírito Santo da Silva, were gunned down in an ambush in the Brazilian state of Pará. A longtime activist, José Cláudio Ribeiro da Silva had made a name for himself for openly criticizing illegal logging in the state which is rife with deforestation. The killers even cut off the ears of the da Silvas, a common practice of assassins in Brazil to prove to their employers that they had committed the deed. Less than a year before he was murdered, da Silva warned in a TEDx Talk, "I could get a bullet in my head at any moment…because I denounce the loggers and charcoal producers."
Gold mining in the Peruvian Amazon: a view from the ground
(03/15/2012) On the back of a partially functioning motorcycle I fly down miles of winding footpath at high-speed through the dense Amazon rainforest, the driver never able to see more than several feet ahead. Myriads of bizarre creatures lie camouflaged amongst the dense vines and lush foliage; flocks of parrots fly overhead in rainbows of color; a moss-covered three-toed sloth dangles from an overhanging branch; a troop of red howler monkeys rumble continuously in the background; leafcutter ants form miles of crawling highways across the forest floor. Even the hot, wet air feels alive.