A new species of moth has been named after one of the world's most popular movie blockbusters: Avatar. Discovered on New Zealand's Denniston Plateau during a biodiversity survey by local NGO Forest & Bird this March, the new moth species is imperiled by plans for a coal mine on the plateau. The name—Avatar moth (Arctesthes avatar)—was chosen by its discoverers from a list of almost 100 entries by the public.
"It was by far the best one. It's a novel name and the movie is about a mining company that threatens to devastate a human-like species that's living in harmony with nature," explains entomologist Brian Patrick, whose son, Hamish, caught the moth. "It's just a really good analogy,"
| | |
| --- | --- |
| | The Avatar moth. Photo courtesy of Forest & Bird. |
Set on an alien moon, the James Cameron film Avatar depicts a humanoid race living in a wild rainforest environment, but struggling to survive the onslaught of an Earth-mining company.
According to Forest & Bird, the Avatar moth will be imperiled if Australian mining company, Bathurst Resources, begins an open-cast coal mine on the Denniston Plateau. The Avatar moth is a day-flying insect that is in the geometer moth family.
In addition to the Avatar moth, Forest & Bird says it likely found a number of other new insects and spiders during their biodiversity survey.
"All the scientists agree that the [Denniston] plateau harbors life, especially little life, that is either not known or is relatively uncommon elsewhere. Denniston Plateau provides a mainland island habitat that we're only just discovering," Debs Martin with Forest & Bird says.
Related articles
World's smallest dolphin: only 55 left, but continue to drown in nets
(03/22/2012) The world's smallest dolphin is also the closest to extinction. New Zealand government figures show that Maui's dolphin (Cephalorhynchus hectori maui) are down to just 55 mature individuals, falling from 111 in 2005. The small cetaceans, measuring up to 1.7 meters (5.5 feet), are imperiled due to drowning in gillnets with the most recent death by a fisherman's net occurring in January.
Photos: New Zealand oil disaster kills over 1200 birds to date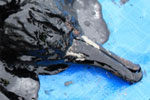 (10/16/2011) According to the New Zealand government an oil spill from a grounded container ship in the Bay of Plenty has killed 1,250 seabirds with hundreds of others in rescue centers. However, conservationists say the avian death-toll is far higher with most contaminated birds simply vanishing in the sea. "The number of birds being found washed up on the beaches will be a very small proportion of the birds being affected," explained Karen Baird, Seabird Conservation Advocate with NGO Forest & Bird.
Bird-killing oil spill New Zealand's 'worst environmental disaster'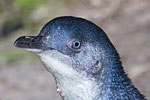 (10/12/2011) An oil spill from a grounded container ship in New Zealand's Bay of Plenty is threatening to worsen as authorities fear the ship is breaking up. Already, 350 tons of oil from the ship, the MV Rena, has leaked out with some reaching nearby beaches including a popular holiday spot, Papamoa Beach. To date the spill has killed over 200 birds, including little blue penguins, shags, petrels, albatrosses and plovers. If the ship breaks up and sinks, authorities fear it could release its remaining 1,400 tons into the marine ecosystem.
Following public outcry, New Zealand drops plan to mine protected areas
(07/20/2010) The New Zealand government has caved to public pressure, announcing that it is dropping all plans to mine in protected areas. The plan to open 7,000 hectares of protected areas to mining would have threatened a number of rare and endemic species, including two frogs that are prehistoric relics virtually unchanged from amphibian fossils 150 million years old: Archey's frog (Leiopelma archeyi) and Hochstetter's frog (Leiopelma hochstetteri).
World's 'number one frog' faces extinction from New Zealand government

(05/26/2010) Archey's frog is a survivor: virtually unchanged evolutionarily for 150 million years, the species has survived the comet that decimated the dinosaurs, the Ice Age, and the splitting of continents. Seventy million years ago New Zealand broke away from Australia, essentially isolating Archey's frog and its relatives from all predatory mammals. Yet, if the New Zealand government has its way this species may not survive the century, let alone the next few decades. The New Zealand government has put forward a controversial proposal to begin opening three of the nation's protected areas to mining: Great Barrier Island, Paparoa National Park, and Coromandel Peninsula where the last populations of Archey's frogs live. According to critics, the government's proposal could push Archey's frog toward extinction, while negatively impacting a number of other endangered species, beloved wild lands, and a nation driven by tourism.