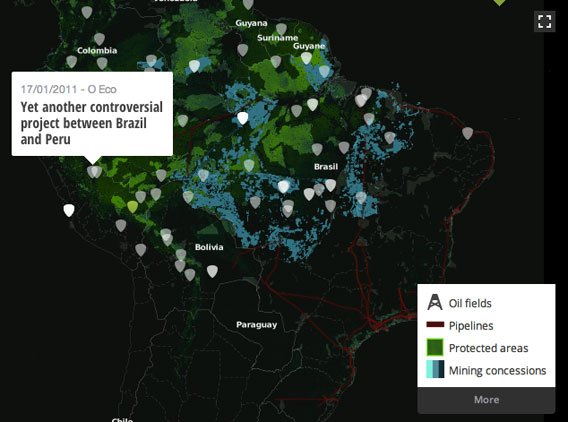 Oil development map for the Amazon basin
A new mapping platform combines georeferenced environmental news articles with data on deforestation, fires, protected areas, and oil and gas concessions in the Amazon.
InfoAmazonia.org, which was developed by the non-profit Internews and O Eco, a Brazilian environmental news agency, aims to inform the public and journalists on threats to the world's largest rainforest. The site allows both uploading and downloading of environmental news and data about the Amazon basin, facilitating expansion through participation.
"InfoAmazonia happens at a time when there is a lot of talk about open source data. There are many institutes and NGOs which have collected data about the Amazon region for many years. But they have not made this data available to the general public," said Gustavo Faleiros, editor of O Eco and creator of InfoAmazonia. "This project will provide a platform to share this data together with other open source data such as on deforestation provided by Brazil's government and on forest fires from NASA satellites."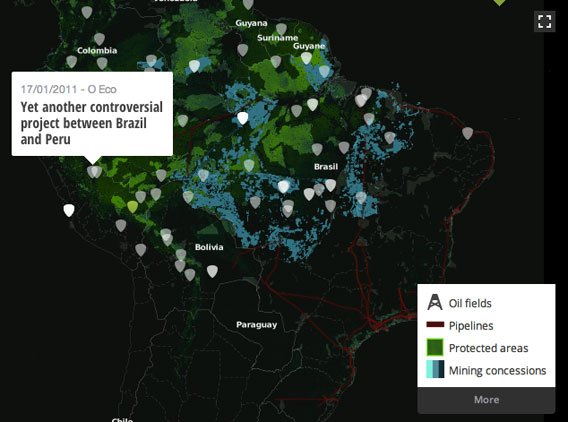 Fires in the Amazon basin
James Fahn, the Executive Director of Internews' Earth Journalism Network, says the project aims to expand the platform in other parts of the world
"We hope to work with other partners around the world to expand this mapping platform to other regions, as well," he said in a statement.
Related articles