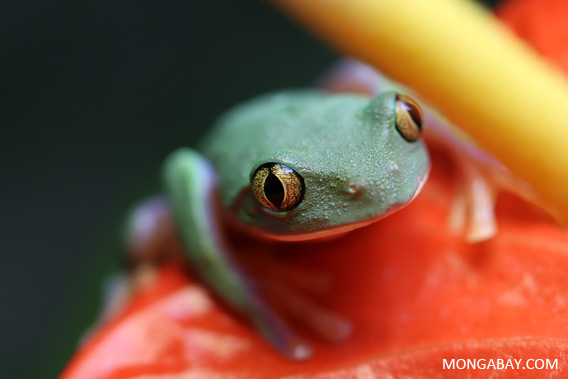 Juvenile Agalychnis annae tree frog


The Environmental Protection Agency (EPA) will weigh a ban on Atrazine, a widely used herbicide linked to sex reversal and other reproductive problems in amphibians and fish. The chemical, which is manufactured by Syngenta, has been banned in the European Union since 2004 but some 80 million pounds Atrazine are applied to corn, sugarcane, sorghum and rice in the United States each year.
Environmentalists say the effects of Atrazine on wildlife make its use unacceptable and are pushing the EPA to ban the chemical. The agency will be holding a Scientific Advisory Panel public meeting June 12th to discuss the ecological risks of Atrazine.
Save The Frogs, a group that works to protect amphibians, welcomed the move.
"Atrazine weakens amphibians' immune systems, and can cause hermaphroditism and complete sex reversal in male frogs at concentrations as low as 2.5 parts per billion," Kerry Kriger, Founder & Executive Director of SAVE THE FROGS! told mongabay.com in an interview last year.
"Epidemiological studies have found high rates of breast and prostate cancer, as well as impaired fertility, in humans living or working in areas with high Atrazine usage. Atrazine induces prostate and mammary cancer in laboratory rodents as well."
Amphibians are among the most endangered group of animals on the planet. Roughly a third of all species are at risk of extinction due to habitat destruction, introduced predators and disease, over-consumption, pollution, and the effects of climate change.

Biologist and herpetologist Tyrone Hayes talks about the effects of Atrazine at TEDxYouth@Castilleja 2010.
Related articles