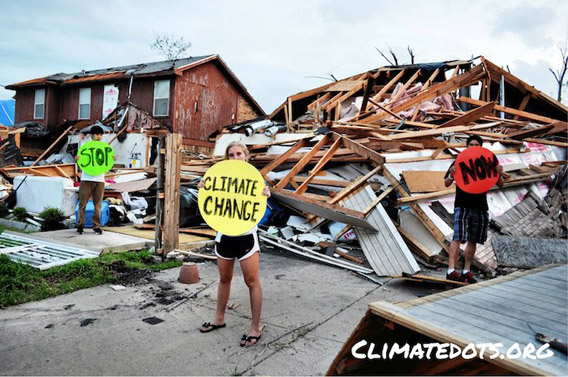 High school students in Texas connect the dots between climate change and tornados that appear earlier and earlier ever year. Scientists are just beginning to explore whether or not there is a connection between climate change and tornadoes. Photo courtesy of 350.org.
On Saturday, May 5th vulnerable populations from the United States to Bangladesh will "connect the dots" between devastating extreme weather and climate change in a global day of action organized by 350.org. The nearly 1,000 events occurring in over half of the world's nations are meant to highlight to governments, media, and the public that climate change is impacting lives through an increase in number and intensity of devastating weather events, such as droughts, heatwaves, and floods.
"We just celebrated Earth Day. May 5 is more like Broken Earth Day, a worldwide witness to the destruction global warming is already causing," said founder of 350.org, Bill McKibben, in a press release. "People everywhere are saying the same thing: our tragedy is not some isolated trauma, it's part of a pattern."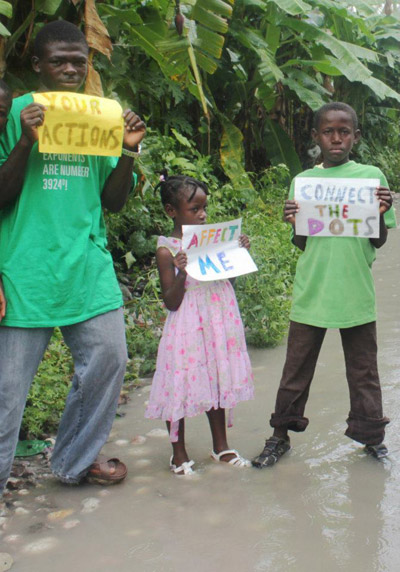 Haiti's youth stand in flooded streets to connect the dots between climate change and severe floods. Photo courtesy of 350.org.
While scientists have long predicted that climate change will increase the number and the severity of particular types of extreme weather, recent research is increasingly finding that climate change has already "loaded the dice" for certain extreme weather events. In fact, a paper this year in Nature Climate Change found "strong evidence" of climate change worsening flooding, droughts, and heatwaves.
"Global warming can generally not be proven to cause individual extreme events—but in the sum of events the link to climate change becomes clear. It is not a question of yes or no, but a question of probabilities," explained lead author, Dim Coumou, with the Potsdam Institute for Climate Impact Research (PIK), in a press release.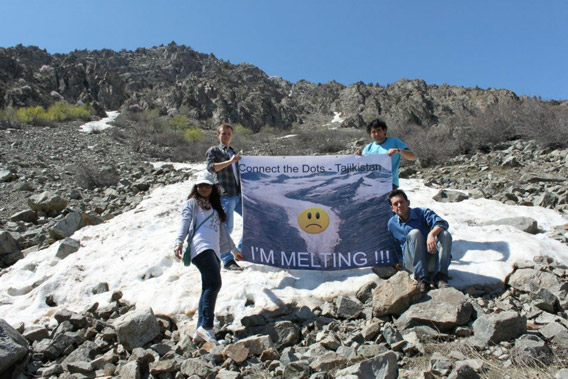 Tajikistan's water supplies are dwindling as glaciers melt and are not renewed by snowfall as in the past. Photo courtesy of 350.org.
Beyond the science, the rise in extreme weather events brings real human suffering. Last year, the U.S. suffered 12 weather events that caused a billion dollars each, including several that were probably exacerbated by a warmer world. Also in 2011, Thailand experienced its worst flooding on record with total damages exceeding $45 billion according to the World Bank, and South Korea experienced its wettest summer yet with floods killing 69 people in Seoul. But the greatest human toll last year was in East Africa. Failed rains pushed anarchic Somalia into famine, killing between 50,000 and 100,000 people, half of whom were likely children under five.
The last ten years has also seen Europe's worst heatwave in at least 500 years (2003); England's wettest summer since 1766 (2007); Russia's warmest summer on record including unprecedented droughts and fires (2010); Pakistan's worst flood disaster impacting 20 million people (2010); two record droughts in the Amazon rainforest (2005 and 2010); and meanwhile sea levels continue to rise, Arctic sea ice continues to decline, and most of the world's glaciers are diminishing.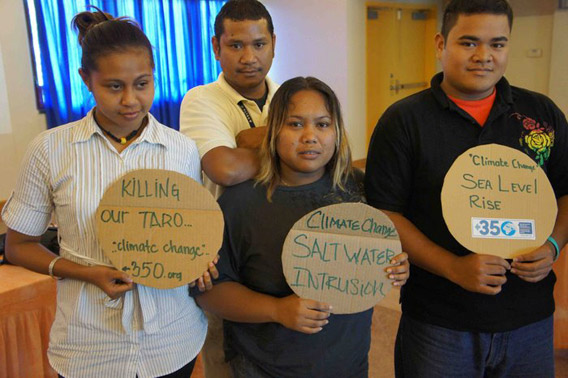 The island of Palau is seeing salty sea water swamp taro patches and erode beaches. Photo courtesy of 350.org.
Despite this, world governments have been slow to act on climate change with greenhouse gas emissions continuing to rise year after year. In addition, critics say that many in the media have ignored or obfuscated the issue. In the U.S., at least, coverage has dropped sharply since 2009, the year of the UN Climate Summit in Copenhagen, according to Media Matters. In addition, stories covering the politics of climate change far outnumber those covering the science.
Since the early 20th Century, global temperatures have risen approximately 0.8 degrees Celsius (1.44 degrees Fahrenheit) due to greenhouse gas emissions, which trap heat in the atmosphere. The past decade (2000-2009) was the warmest on record, while 2010 and 2005 are generally considered the warmest years on record (not 1998 as is often cited). In fact, the Earth hasn't experienced a single year below the 20th Century average since 1975. While governments have pledged to keep global temperatures rising above 2 degrees Celsius (3.6 degrees Fahrenheit), the International Energy Agency warned last month that global society was on track to raise temperatures "at least" 6 degrees Celsius (10.8 degrees Fahrenheit), a rise that scientists warn would cataclysmic for Earth's ecosystems and human society.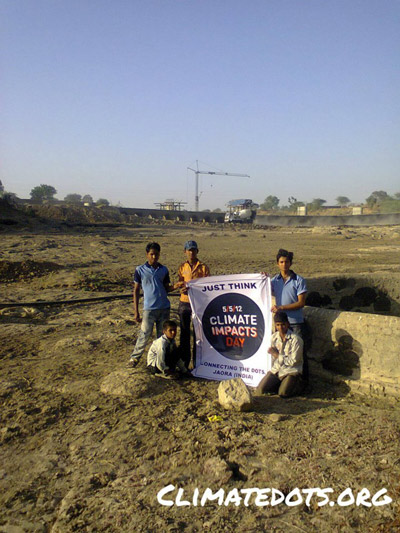 In Jaora, India, key water supplies are running dry during longer and longer periods of drought. Photo courtesy of 350.org.
Related articles
U.S. suffers warmest March, breaking over 15,000 record temperatures
(04/11/2012) March was the warmest ever recorded in the U.S. with record-keeping going back to 1895, according to new data by the National Oceanic and Atmospheric Administration (NOAA). But the month wasn't just a record-breaker, it was shockingly aberrant: an extreme heatwave throughout much of the eastern and central U.S. shattered 15,272 day and nighttime records across the U.S. In all March 2012 was 0.5 degrees Fahrenheit above the previous warmest March in 1910, and an astounding 8.6 degrees Fahrenheit above the 20th Century average for March in the U.S.
"Strong evidence" linking extreme heatwaves, floods, and droughts to climate change
(03/28/2012) As North America recovers from what noted meteorologist Jeff Masters has called "the most incredible spring heatwave in U.S. and Canadian recorded history," a new paper argues that climate change is playing an important role in a world that appears increasingly pummeled by extreme weather. Published in Nature Climate Change, the paper surveys recent studies of climate change and extreme weather and finds "strong evidence" of a link between a warming world and the frequency and intensity of droughts, floods, and heatwaves—such as the one that turned winter into summer in the U.S.
Tornado season likely to expand due to climate change
(03/06/2012) Last Friday, around a hundred tornadoes left a wake of destruction in the U.S., killing 39 people to date and destroying entire towns. The tragedy hit hardest in Kentucky and Indiana and experts predict the weather-disaster will cost over $1 billion. But isn't this early for tornado season? Yes, say experts, and climatologists add that while research on tornadoes and climate change is currently in its infancy, it's possible, probably even likely, that climate change is expanding tornado season in the U.S. due to the earlier arrival of spring.
Earth systems disruption: Does 2011 indicate the "new normal" of climate chaos and conflict?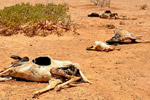 (12/21/2011) The year 2011 has presented the world with a shocking increase in irregular weather and disasters linked to climate change. Just as the 2007 "big melt" of summer arctic sea ice sent scientists and environmentalists scrambling to re-evaluate the severity of climate change, so have recent events forced major revisions and updates in climate science.
Texas loses half a billion trees to epic drought
(12/21/2011) A punishing drought in Texas has not only damaged crops, killed cattle, and led to widespread fires, but has also killed off a significant portion of the state's trees: between 100 and 500 million trees have perished to drought stress according to preliminary analysis. The estimate does not include tree mortality caused by fires. The drought has been linked to La Niña conditions, which causes drying in the Southern U.S., and has likely been exacerbated by global climate change.
Philippines disaster may have been worsened by climate change, deforestation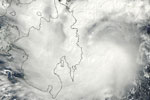 (12/20/2011) As the Philippines begins to bury more than a 1,000 disaster victims in mass graves, Philippine President Benigno Aquino has ordered an investigation into last weekend's flash flood and landslide, including looking at the role of illegal logging. Officials have pointed to both climate change and vast deforestation as likely exacerbating the disaster.
Another record breaker: 2011 warmest La Niña year ever
(11/30/2011) As officials meet at the 17th UN Climate Summit in Durban, South Africa, the world continues to heat up. The UN World Meteorological Organization (WMO) has announced that they expect 2011 to be the warmest La Niña year since record keeping began in 1850. The opposite of El Nino, a La Niña event causes general cooling in global temperatures.
Climate change already worsening weird, deadly, and expensive weather
(11/02/2011) Unprecedented flooding in Thailand, torrential rains pummeling El Salvador, long-term and beyond-extreme drought in Texas, killer snowstorm in the eastern US—and that's just the last month or so. Extreme weather worldwide appears to be both increasing in frequency and intensity, and a new report from the Intergovernmental Panel on Climate Change (IPCC) connects the dots between wilder weather patterns and global climate change.
Chart: US suffers record drought
(08/01/2011) An exceptional drought is still scorching major parts of Texas, New Mexico, Oklahoma, and Louisiana. A new report from the National Drought Mitigation Center finds that over July, nearly 12 percent of the US saw exceptional drought conditions, the highest record since monitoring began a dozen years. Exceptional drought is the worst possible on a 5-scale drought scale.
Adaptation, justice and morality in a warming world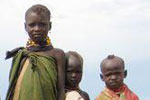 (07/28/2011) If last year was the first in which climate change impacts became apparent worldwide—unprecedented drought and fires in Russia, megaflood in Pakistan, record drought in the Amazon, deadly floods in South America, plus record highs all over the place—this may be the year in which the American public sees climate change as no longer distant and abstract, but happening at home. With burning across the southwest, record drought in Texas, majors flooding in the Midwest, heatwaves everywhere, its becoming harder and harder to ignore the obvious. Climate change consultant and blogger, Brian Thomas, says these patterns are pushing 'prominent scientists' to state 'more explicitly that the pattern we're seeing today shows a definite climate change link,' but that it may not yet change the public perception in the US.