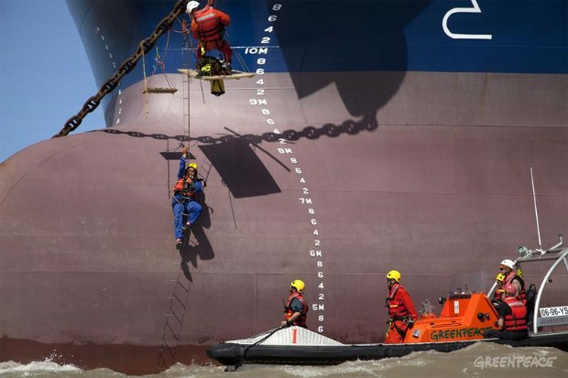 Actress Q'orianka Kilcher climbs from a makeshift platform on the anchor chain of the "Clipper Hope" cargo ship and returns to the Greenpeace ship "Rainbow Warrior" near the port of São Luis do Maranhão, Brazil. The day protest is currently stopping the ship from loading pig iron which is a key ingredient in the steel making process. Greenpeace research has linked pig iron to deforestation, abusive labor practices and the invasion of indigenous land. The steel is eventually bought by major car companies including Ford, GM, BMW and Mercedes. Image courtesy of Greenpeace.
Greenpeace suspended its blockade of a pig iron shipment in the Brazil after industry representatives and authorities agreed to meet to resolve issues raised in a recent report by the activist group.
According to Greenpeace, Sarney Filho, the President of the environmental commission of the Chamber of Deputies, is currently meeting with representatives from the pig iron industry to discuss charges that pig iron producers are associated with deforestation and abusive labor practices in the Brazilian Amazon. Representatives from the Federal Prosecutor, Ibama, Imazon and Greenpeace are also attending, according to the group.
"We are giving time so that the politicians and the pig iron industry can act. But we will remain here, waiting for concrete results", says Paulo Adario. "The pig iron companies that buy charcoal from the Amazon must act. They need to have a traceable system that make sure that their charcoal suppliers are not involved with environmental or labor crimes."
For ten days Greenpeace activists, including actress Q'orianka Kilcher of The New World and Princess Kaiulani fame, have blocked the loading of a shipment of pig iron in Sao Luis, Brazil.
Greenpeace is calling upon pig iron producers to implement measures to demonstrate their supply chain is free of deforestation and abusive labor practices. It is asking eucalyptus plantations that fuel pig iron production to commit to a deforestation-free policy and adopt free, prior and informed consent in dealing with local communities.
Related articles