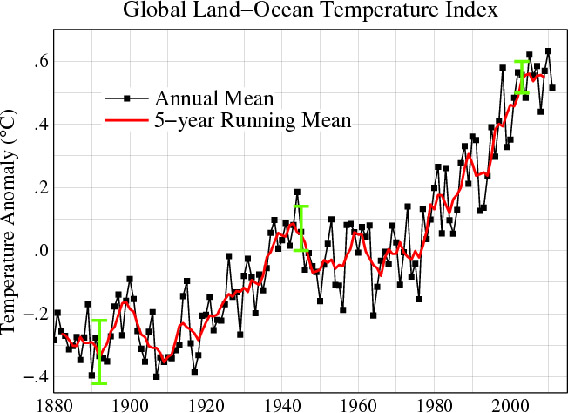 Line plot of global mean land-ocean temperature index, 1880 to present, with the base period 1951-1980. The black line is the annual mean and the red line is the five-year running mean. The green bars show uncertainty estimates. Graph by NASA Goddard Institute for Space Studies. Click to enlarge.
In 1872 the HMS Challenger pulled out from Portsmouth, England to begin an unprecedented scientific expedition of the world's oceans. During its over three year journey the HMS Challenger not only collected thousands of new species and sounded unknown ocean depths, but also took hundreds of temperature readings—data which is now proving invaluable to our understanding of climate change.
Utilizing the temperature data from the HMS Challenger expedition and comparing it to contemporary temperatures, researchers writing in Nature Climate Change found that the oceans' surface— where marine warming is most intense—saw temperature rise on average by 0.59 degrees Celsius (1.1 degrees Fahrenheit) over the past 135 years or so. This implies that oceanic temperatures have been rising for at least a century.
"The significance of the study is not only that we see a temperature difference that indicates warming on a global scale, but that the magnitude of the temperature change since the 1870s is twice that observed over the past 50 years," explains lead author Dean Roemmich, University of California San Diego physical oceanographer. "This implies that the time scale for the warming of the ocean is not just the last 50 years but at least the last 100 years."
Prior research has shown that 90 percent of the heat added to the atmosphere has ended up in the oceans, at least since the 1960s. Roemmich told LiveScience that this implies, "the ocean temperature is probably the most direct measure we have of the energy imbalance of the whole climate system."
While the HMS Challenger took temperatures at over 300 stations with mercury, pressure, and resistance thermometers, today some 3,500 free-floating Argo robotic probes roll through the seas gathering temperature data.
Temperatures globally, including both land and sea, have risen about 0.8 degrees Celsius (1.44 degrees Fahrenheit) since the first decade of the 1900s. The rate of warmth has doubled since 1950. Scientists overwhelmingly agree that climate change is occurring due to greenhouse gas emissions from burning fossil fuels.
CITATION: Dean Roemmich, W. John Gould, John Gilson. 135 years of global ocean warming between the Challenger expedition and the Argo Programme. Nature Climate Change, 2012.
Related articles
"Strong evidence" linking extreme heatwaves, floods, and droughts to climate change
(03/28/2012) As North America recovers from what noted meteorologist Jeff Masters has called "the most incredible spring heatwave in U.S. and Canadian recorded history," a new paper argues that climate change is playing an important role in a world that appears increasingly pummeled by extreme weather. Published in Nature Climate Change, the paper surveys recent studies of climate change and extreme weather and finds "strong evidence" of a link between a warming world and the frequency and intensity of droughts, floods, and heatwaves—such as the one that turned winter into summer in the U.S.
NASA image shows decline in maximum sea ice extent
(03/28/2012) Data released by the National Snow and Ice Data Center (NSIDC) shows that Arctic sea ice for the winter of 2011-2012 reached its maximum extent on March 18 at 15.24 million square kilometers (5.88 million square miles). The mark is well below the 1979–2000 average, but was above the record low of the 2010–2011 winter.
NASA image: records shattered across U.S. as summer arrives before spring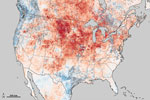 (03/22/2012) Central U.S. and parts of Canada have seen over a thousand record temperatures shattered over the past week and a half, as an abnormally-long and bizarrely-hot warm spell moves across portions of North America. The direct cause of the weird weather is a blocked high pressure system, but as the U.S. experiences what may be the warmest March on record, meteorologists say climate change may be playing a role in the severity of the heatwave.
2010, not 1998, warmest year on record
(03/20/2012) An updated temperature analysis by the Met Office and the University of East Anglia's Climatic Research Unit has confirmed that 2010, not 1998, was the warmest year since record keeping began in the late 19th Century. The new analysis adds in temperature data from 400 stations across northern Canada, Russia, and the Arctic, which had been left out of the previous analysis.
Climate change could increase fires, logging, and hunting in rainforests
(03/13/2012) The combined impacts of deforestation and climate change will bring a host of new troubles for the world's tropical rainforests argues a new study in Trends in Ecology and Evolution. Drying rainforests due to climate change could lead to previously inaccessible forests falling to loggers, burning in unprecedented fires, or being overexploited by hunters.
Arctic warms to highest level yet as researchers fear tipping points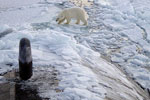 (02/13/2012) Last year the Arctic, which is warming faster than anywhere else on Earth due to global climate change, experienced its warmest twelve months yet. According to recent data by NASA, average Arctic temperatures in 2011 were 2.28 degrees Celsius (4.1 degrees Fahrenheit) above those recorded from 1951-1980. As the Arctic warms, imperiling its biodiversity and indigenous people, researchers are increasingly concerned that the region will hit climatic tipping points that could severely impact the rest of the world. A recent commentary in Nature Climate Change highlighted a number of tipping points that keep scientists awake at night.