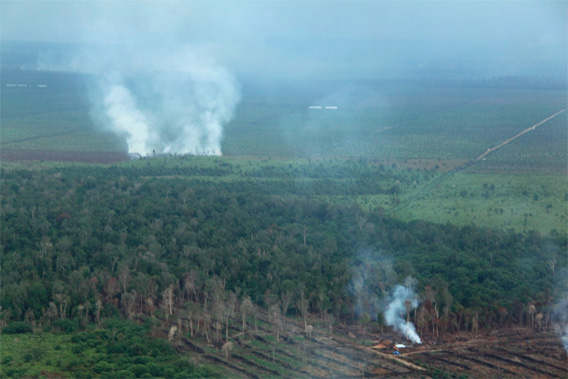 Fires in Tripa peatforest. Cortesy of the Sumatran Orangutan Conservation Programme (SOCP).
A high ranking Indonesian official is investigating the controversial grant of an oil palm concession within an area of protected peat forest in Aceh on the island of Sumatra, reports the Jakarta Globe.
Kuntoro Mangkusubroto, head of Indonesia's REDD+ (Reducing Emissions from Deforestation and Forest Degradation) Task Force, told the newspaper he has asked the National Land Agency (BPN) to provide a map of the Tripa area so he can investigate violations alleged by environmental groups and local communities. Critics of the oil palm concession, which is run by PT Kallista Alam, say it was granted in violation of a national moratorium on peat forest conversion and is opposed by locals. Conservationists argue that the area is also protected as part of the Leuser Ecosystem.
Kuntoro agreed that the circumstances around the concession are irregular.
That plantation is inside the protected forest. It's strange that they can get a permit. I suspect something behind the issue of the permit," he was quoted as saying.
Last week Aceh Governor Irwandi Yusuf admitted that the concession was "morally wrong". He added that his aim in granting the permit was to raise awareness that the world has been slow to make good on a commitment to support efforts to protect Aceh's forests.
"The international community think our forest is a free toilet for their carbon," he told the Sydney Morning Herald. "Every day they are saying they want clean air and to protect forests…but they want to inhale our clean air without paying anything."

A large portion of the remaining Tripa peat swamp forests photographed in August 2008. In the foreground are
planted and unplanted oil palm blocks, with further blocks being drained before clearing. These blocks have now already been cleared. Image courtesy of Tim Koalisi Penyelematan Rawa Tripa.
Irwandi however lost his re-election bid for governor Monday. The impact on his election loss on Aceh's forests in uncertain. Until the Tripa controversy, Irwandi had been a champion of forest preservation efforts. He unilaterally established a moratorium on deforestation on 2007 and emerged as a leader within the Governors' Climate and Forest Task Force, an initiative which aims to create interim financial incentives between states and provinces in rich and tropical nations ahead of the REDD+ (Reducing Emissions from Deforestation and Degradation) program.
Biological surveys in the 1990s showed that Tripa once contained some of the highest densities of Sumatran orangutans in the world, which are considered critically endangered due to habitat loss. But the population has rapidly declined as the areas peat forests have been drained and cleared for oil palm plantations.
Sumatra's rainforests and peatlands have been rapidly destroyed in recent decades. During the 1990s the island lost 3.7 million hectares, mostly a consequence of agricultural expansion, pulp and paper plantations, and palm oil production. Sumatra is the last refuge for several charismatic and highly endangered species, including Sumatran tigers, rhinos, elephants, and orangutans.
Forest fires resulting from the destruction of Sumatra's forests have in some years cast a pall over neighboring countries — especially Singapore — and released millions of tons of carbon into the atmosphere.
Related articles