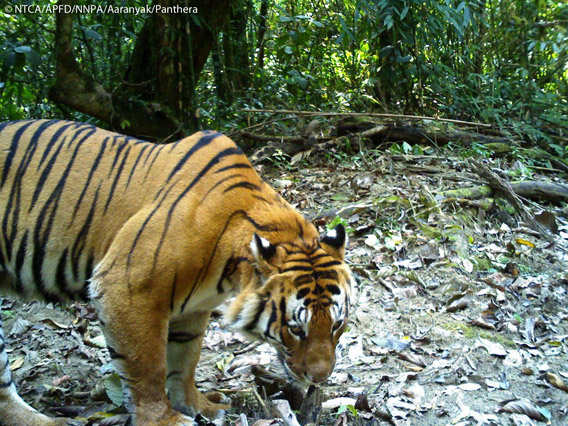 Male Bengal tiger caught on camera trap in Namdapha Tiger Reserve. Photo © Panthera, NTCA, APFD, NNPA, and Aaranyak.
Although it's named Namdapha Tiger Reserve, conservationists had long feared that tigers, along with most other big mammals, were gone from the park in northeast India. However, an extensive camera trap survey has photographed not only Bengal tigers (Panthera tigris tigris), but also Asian elephants (Elephas maximus), which were also thought extirpated from the park. Once dubbed an "empty forest" due to poaching, the new survey shows that Namdapha still has massive conservation potential.
"[This] is a clear sign that Namdapha is not a lost cause and that with robust protection the park and its wildlife could be revived," Dr. Joe Smith, Panthera's Tiger Program Director, told mongabay.com. "The team behind this study increased their chances of detecting tigers and other elusive species by covering a large proportion of the park and placing camera traps in a number of very remote locations."
Wild cat NGO, Panthera, worked with India's National Tiger Conservation Authority (NTCA), the Arunanchal Pradesh State Forest Department (APFD), the Namdapha National Park Authority (NNPA), and local conservation NGO Aaranyak to conduct the survey.
In all, 80 camera traps photographed over 30 mammals in the park proving that while poaching remains a major problem in the area, rich wildlife still survives. But conservationists stress that scaled-up protection efforts are needed to ensure this good news doesn't turn quickly into bad. Researchers were particularly surprised to find Asian elephants in the park, which they thought had vanished 15 years ago. The camera traps also documented six species of wild cat: tiger, leopard (Panthera pardus), clouded leopard (Neofelis nebulosa), marbled cat (Pardofelis marmorata), Asian golden cats (Pardofelis temminckii), and leopard cats (Prionailurus bengalensis).
Researchers also gathered tiger pug marks (footprints) and scat, but Smith says its too early to estimate how many tigers roam the park.
"Reliable estimates of tiger numbers require a considerable amount of data collected according to specific protocols. We must wait to see what the current data set can tell us and then decide on the best way to proceed with population monitoring in Namdapha."
The organizations hope that the findings of the camera trap survey will attract more notice for Namdapha.
"This news from Namdapha should certainly encourage the authorities, civil society and all those interested in saving wildlife to put their full support behind Namdapha," Smith said. "The actions of poachers, targeting tigers and their principal prey species, have severely impacted Namdapha in recent years and so proactive protection at ground-level must be an immediate priority now."
In order to protect the tigers and other species in the park, Smith says it's vital to get more boots on the ground. He recommends immediately filling any wildlife ranger vacancies, improving anti-poaching infrastructure, increasing the area that rangers patrol, and ensuring that there are sufficient staff on duty twenty four hours a day.
"Combined, these actions would quickly increase both the intensity and coverage of the protection measures required to safeguard Namdapha's tigers and other magnificent wildlife," he notes.
Not only did the survey record mammals, but researchers also discovered frog species that may be new to science.
Spanning nearly 200,00 hectares, Namdapha Tiger Reserve is located in the state of Arunachal Pradesh, near the border with Myanmar. Tigers are listed as Endangered by the IUCN Red List with the world's total wild population estimated at around 3,000 individuals. Six subspecies survive today with three having gone extinct in the past century.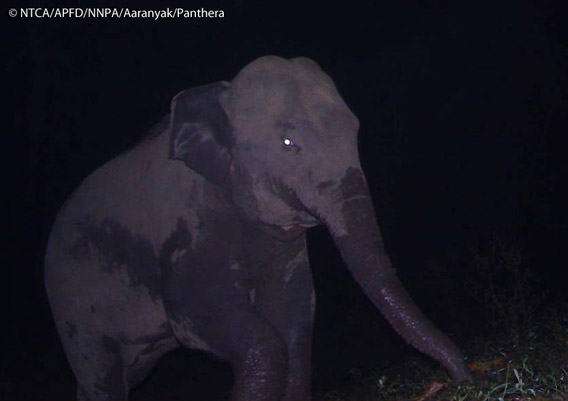 Asian elephant in Namdapha. The Asian elephant is listed as Endangered by the IUCN Red List. Photo © Panthera, NTCA, APFD, NNPA, and Aaranyak.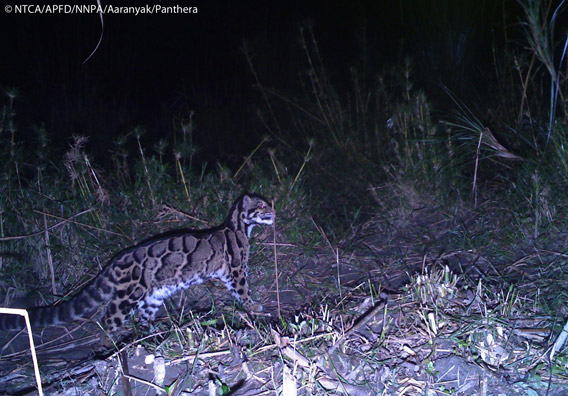 Clouded leopard in Namdapha. The clouded leopard is listed as Vulnerable by the IUCN Red List. Photo © Panthera, NTCA, APFD, NNPA, and Aaranyak.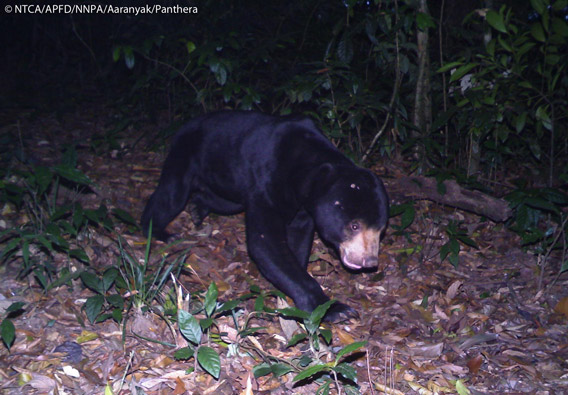 Sun bear (Ursus malayanus) in Namdapha. The sun bear is listed as Vulnerable. Photo © Panthera, NTCA, APFD, NNPA, and Aaranyak.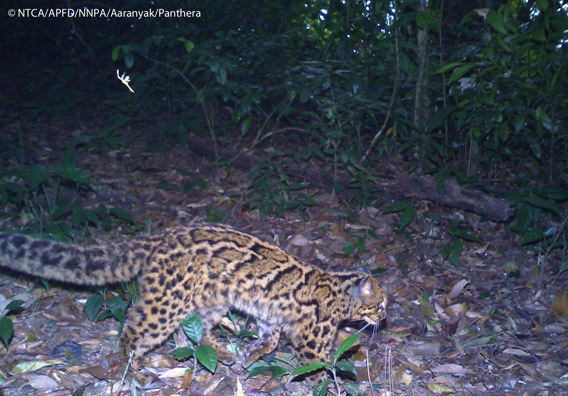 Marbled cat in Namdapha. The marbled cat is listed as Vulnerable. Photo © Panthera, NTCA, APFD, NNPA, and Aaranyak.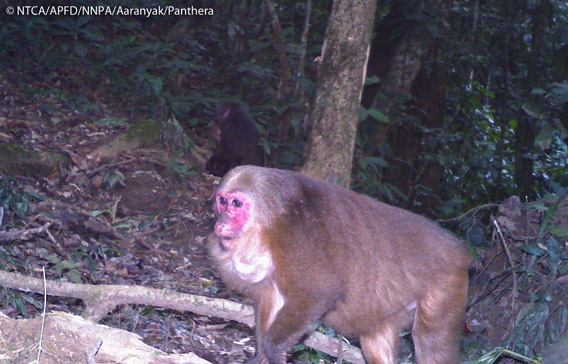 Stump-tailed macaque (Macaca arctoides) in Namdapha. The stump-tailed macaque is listed as Vulnerable. Photo © Panthera, NTCA, APFD, NNPA, and Aaranyak.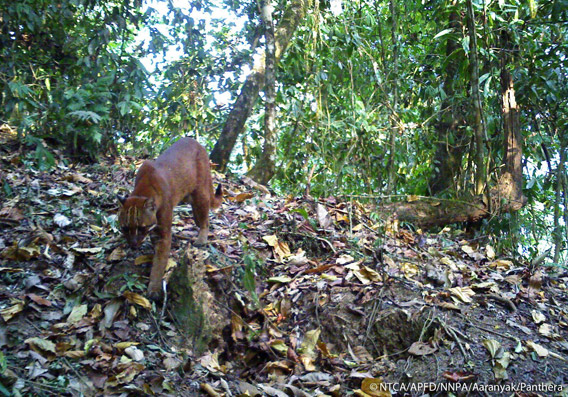 Asiatic golden cat in Namdapha. The Asiatic golden cat is listed as Near Threatened. Photo © Panthera, NTCA, APFD, NNPA, and Aaranyak.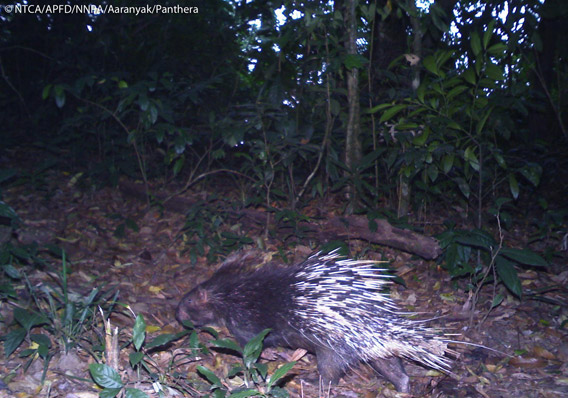 Indian crested porcupine (Hystrix indica) in Namdapha. The Indian crested porcupine is listed as Least Concern. Photo © Panthera, NTCA, APFD, NNPA, and Aaranyak.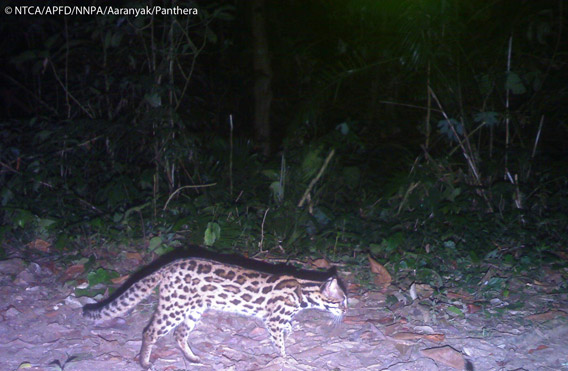 Leopard cat in Namdapha. The leopard cat is listed as Least Concern. Photo © Panthera, NTCA, APFD, NNPA, and Aaranyak.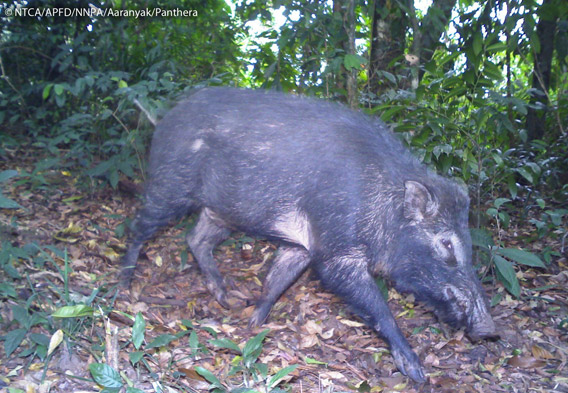 Wild boar (Sus scrofa) in Namdapha. The wild boar is listed as Least Concern. Photo © Panthera, NTCA, APFD, NNPA, and Aaranyak.
Related articles
Russia creates massive park for rare cats
(04/13/2012) Russia has created a massive national park to protect some of the world's rarest big cats, the critically endangered Amur tigers and leopards, reports the Wildlife Conservation Society (WCS).
Wildlife corridor key to conserving tigers, rhinos in Nepal
(03/19/2012) A single forest corridor links two of Nepal's great wildlife areas: Chitwan National Park and the Mahabharat mountain range, also known as the "little Himalayas." The Barandabhar Forest Corridor (BFC) has become essential for the long term survival Nepal's Indian rhinos (Rhinoceros unicornis) and Bengal tigers (Panthera tigris tigris). Yet, according to a new paper published in mongabay.com's open access journal Tropical Conservation Society (TCS), the corridor is imperiled by deforestation, a highway, and inconsistent management policies.
Javan officials employ camera traps to find extinct tiger
(03/13/2012) Although officially declared extinct in 2003, some people believe the Javan tiger (panthera tigris sondaica) is still alive in the island's Meru Betiri National Park. To prove the big cat has not vanished for good, wildlife officials have installed five camera traps in the park, reports Antara News.
New analysis supports claim that paper giant cleared part of its tiger sanctuary in Indonesia

(12/21/2011) Asia Pulp & Paper (APP)'s supplier PT Ruas Utama Jaya has indeed cleared an area of forest it pledged to set aside as a tiger conservation reserve in Sumatra reports a legal analysis by Greenomics, an Indonesian environmental group. The Greenomics' analysis supports allegations originally set forth in a report published last week by Eyes of the Forest, a coalition of green groups, and seems to refute a press release issued by APP that called the deforestation allegations 'fiction'.
Camera trap videos capture stunning wildlife in Thailand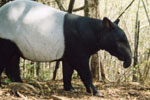 (12/20/2011) A year's worth of camera trap videos (see photos and video below) are proving that scaled-up anti-poaching efforts in Thailand's Western Forest Complex are working. Capturing rare glimpses of endangered, elusive animals—from clouded leopards (Neofelis nebulosa) to banteng (Bos javanicus), a rarely seen wild cattle—the videos highlight the conservation importance of the Western Forest Complex, which includes 17 protected areas in Thailand and Myanmar.
Little to show for tens of millions spent on tiger conservation, says new National Geographic story.
(12/05/2011) This month's National Geographic features the work of photographer Steve Winter, who spent months on the trail of one of earth's most majestic and endangered beasts 𔃐 the tiger. Winter worked extensively in some of tigers' last strongholds in India, Thailand and Indonesia, capturing rare moments in the daily lives of wild tigers.
Photos: five wild cat species documented in Sumatran forest imperiled by logging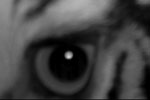 (11/16/2011) A single forest corridor in Sumatra has yielded camera trap photos of five wild cats species, including the Critically Endangered Sumatran tiger (Panthera tigris sumatrae). Photos were also taken of the Sunda clouded leopard (Neofelis diardi), the marbled cat (Pardofelis marmorata), the Asian golden cat (Pardofelis temminckii), and the leopard cat (Prionailurus bengalensis). The five species were all filmed by a WWF camera trap survey in a single forest corridor linking the forest of Bukit Tigapuluh and the Rimbang Baling Wildlife Sanctuary in Riau Province. Unfortunately this forest remains unprotected.
First ever survey shows Sumatran tiger hanging on as forests continue to vanish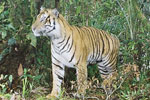 (11/10/2011) The first-ever Sumatran-wide survey of the island's top predator, the Sumatran tiger (Panthera tigris sumatrae), proves that the great cat is holding on even as forests continue to vanish. The study, carried out by eight NGOs and the Indonesian government, shows that the tiger is still present in 70 percent of the forests surveyed, providing hope for the long-term survival of the subspecies if remaining forests are protected.