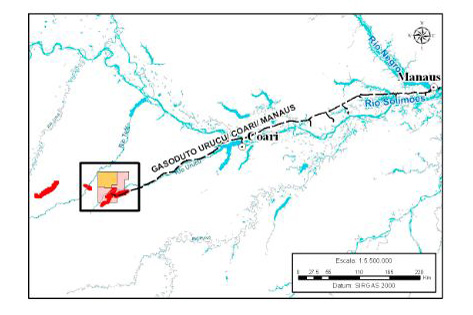 Click image for expanded view.
BP has acquired a stake in on exploration block in the heart of the Amazon rainforest, reports MarketWatch.
On Tuesday Brazilian legislators approved BP's acquisition of a 45 percent stake in a project run by HRT Participacoes em Petroleo SA, a Brazilian startup. BP is operating under TNK-Brasil Exploracao de Producao de Oleo e Gas Natural Ltda., a joint venture with Russia's TNK. The stake is work about $1 billion.
The 21 exploration blocks are located near Coari, a town in the Brazilian state of Amazonas. HRT says the blocks contain 4-6 billion barrels of light crude oil and 10-20 trillion cubic feet of natural gas.
High energy prices have spurred a surge in oil and gas exploration and development in the Amazon region, including Brazil, Colombia, Peru, and Ecuador. As much as 70 percent of the Peruvian Amazon, including parts of indigenous reserves and protected areas, is now under concession.
Google Map
Related articles