Batang River and rainforest in Sumatra. Photo by: Rhett A. Butler.
French food company, Danone, has suspended all purchases from Asia Pulp & Paper (APP) following a Greenpeace investigation that linked APP to illegal logging of ramin, a protected tree species, on the Indonesian island of Sumatra. Danone is only the most recent company to publicly sever ties with APP following the Greenpeace report, including National Geographic and Xerox among others.
"Danone's purchasing policy requires full compliance with prevailing law in countries where our contracts are performed and stipulates that our suppliers must comply with the standards set out in our corporate Respect policy, particularly where social and environmental issues are concerned. Against this backdrop […] Danone group has decided to suspend all purchases from this supplier wherever possible under law," the company wrote in an online statement.
Danone added that it now planned to pursue a zero deforestation initiative in its sourcing policies with details to come later.
Greenpeace applauded the decision by Danone and took aim at APP in their blog: "APP's reputation is in tatters, their brand is toxic, their greenwash campaigns have failed and their customers are leaving in droves."
They noted that most of the companies named in their investigation have taken action to drop APP from their supply line. But two companies, Barnes and Noble and New Zealand retailer, Countdown/Progressive, have not yet responded to the report released early last month. Barnes and Noble has also not responded to inquiries from mongabay.com.
Logging ramin trees (in the genus Gonystylus) has been banned in Indonesia since 2001. But a year-long undercover investigation by Greenpeace collected evidence of ramin trees waiting to be milled at an APP mill.
A spokesperson for APP told mongabay.com, "APP is also taking this allegation very seriously, and is fully co-operating with the Ministry of Forestry (MoF) of the Government of Indonesia's investigation which is now underway. It will be the responsibility of the Ministry to announce the findings of the investigation. Until that time, APP won't be making any more public statements on the matter."
The paper brand also noted that deforestation was an issue that needed more attention.
"While it is true to say that significant progress has been made over the past few years in advancing the sustainability of the Indonesian forestry and pulp & paper industries—particularly on the vital issue of wood legality, biodiversity and social investment—APP is the first to concede that much work still needs to be done, especially in the areas where NGOs have raised concerns, such as deforestation," the spokesperson said.
Despite its words, APP has failed to keep two past pledges to forgo rainforest destruction for its paper products. This has made the brand a relentless target of NGOs like Greenpeace and WWF. The groups say the brand is imperiling Sumatra's unique biodiversity, including tigers and orangutans, as well as producing significant greenhouse gas emissions. Due to continued reliance on native rainforest, APP also lost Forest Stewardship Council's (FSC) certification in 2007. Green groups have long accused APP of focusing more on slick PR campaigns and disinformation instead of actually cleaning up its operation on the ground.
Related articles
Our ability to transform commodity markets will determine nature's fate
(04/01/2012) The success of governments and big corporations in eliminating environmental degradation from the products we consume will play a critical role in determining the fate of the world's remaining wild places, said a group of experts speaking at a panel during the Skoll World Forum on Social Entrepreneurship.
Ongoing deforestation puts APP in breach of debt restructuring agreements, finds report
(03/27/2012) Asia Pulp & Paper (APP) has broken "legally binding" debt restructuring agreements by continuing to clear native forests in Sumatra, alleges a new report from Eyes on the Forest, a coalition of Indonesian environmental groups.
Xerox: we no longer buy from Asia Pulp & Paper
(03/21/2012) Xerox no longer buys paper products from Asia Pulp & Paper (APP), a Singapore-based paper giant under fire for its forest management practices in Indonesia, according to a statement published on the company's official blog late last week.
APP affiliates in U.S., Australia, pledge to drop controversial pulp supplier linked to deforestation
(03/17/2012) Two affiliates of Asia Pulp & Paper (APP) have announced they are severing at least some ties with the beleaguered paper giant, according to the Northern Virginia Daily and Greenpeace, an environmental group whose recent undercover investigation found ramin, a protected species, at APP's pulp mill in Sumatra.
Ministry of Forestry signed off on clearing of forest with protected species in Indonesia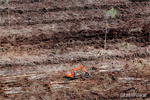 (03/15/2012) Indonesia's Ministry of Forestry signed off on a plan by Asia Pulp & Paper (APP) suppliers to log areas of forest that contained protected ramin species, according to documents released by Greenomics-Indonesia, an activist group. The micro-delineation documents, which are required to win approval for forestry projects in Indonesia, confirm that APP suppliers were aware that ramin trees were present in the concessions, which have since been converted to wood-pulp plantations.
Investigation links APP to illegal logging of protected trees
(03/01/2012) A year-long undercover investigation has found evidence of Asia Pulp and Paper (APP) companies cutting and pulping legally protected ramin trees, a practice that violates both Indonesian and international law. Found largely in Sumatra's peatswamp forests, the logging of ramin trees (in the genus Gonystylus) has been banned in Indonesia since 2001; the trees are also listed under Appendix II of the Convention on International Trade in Endangered Species (CITES) and thus require special permits to export. The new allegations come after APP, an umbrella paper brand, has lost several customers due to its continued reliance on pulp from rainforest and peatland forests in Sumatra.