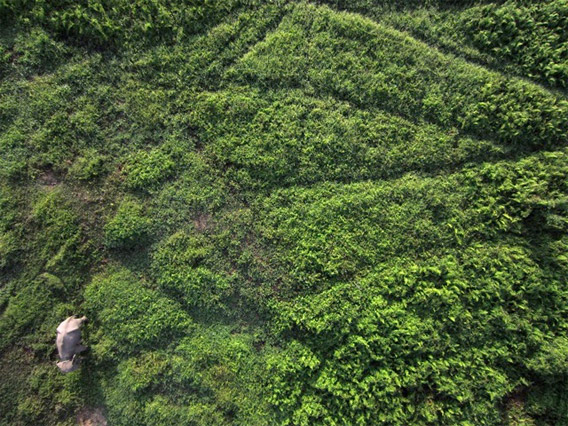 Sumatran elephants as photographed from the conservation drone.
Mongabay.com provides a quick review of forest-related news for February 2012.
Environmental law enforcement actions
During the month of February there were several significant wildlife trafficking developments. The Department of Justice took action against a rhino horn smuggling ring, arresting seven people in Los Angeles, Newark, and New York. In Indonesia, authorities successfully prosecuted — for the first time in Sumatra — an orangutan-trafficking case. It was only the third time a prison sentence had been handed down for such an offense in Indonesia, even though orangutans have been officially protected since 1924. Meanwhile notorious reptile smuggler Anson Wong was freed nearly three-and-a-half years early from prison sentence for attempting to illegally export nearly 100 snakes. Conservationists said the release, combined with lack of further investigation into Wong's activities, cast doubt on Malaysia's commitment to reducing its illegal wildlife trade. Malaysia is seen by wildlife experts as a wildlife trafficking hub.
Commerce
Greenomics, an Indonesian activist group, revealed that a subsidiary of agribusiness giant Cargill has paid a $1 million fine for clearing land for oil palm outside its concession. The group said Cargill's move could serve as an important example for palm oil developers operating in Indonesia.
A report released by Forest Footprint Disclosure Project (FFD) showed that more companies than ever are reporting on the impact of their operations on global forests. The survey asks companies to report on their impact on forests based on their use of five commodities: soy, palm oil, timber and pulp, cattle, and biofuels.
Amazon Japan, a subsidiary of Amazon.com, pulled all whale meat products (and possibly dolphin meat) from its site after a new report by the Environmental Investigation Agency (EIA) and the Humane Society International highlighted the issue. Last December the organizations recorded 147 whale products on sale at Amazon Japan despite an international whaling moratorium since 1986.
Beleaguered paper giant Asia Pulp & Paper (APP) was sharply criticized in a pair of reports issued by WWF. The first took aim at two U.S. tissue brands that source fiber from APP, which has been long criticized by environmentalists and scientists for its forestry practices on the Indonesian island of Sumatra. The second report revealed that APP's certification claims don't stand up to scrutiny. In a surprising break from its past PR strategy, APP expressed contrition and said it would work to do better.
Applicants for forest concessions in Indonesia will soon be required to prove there aren't overlapping claims on their holdings. The move, which offers the potential to reduce land disputes between forest developers and local communities, could complicate investments in the forestry sector in Indonesia.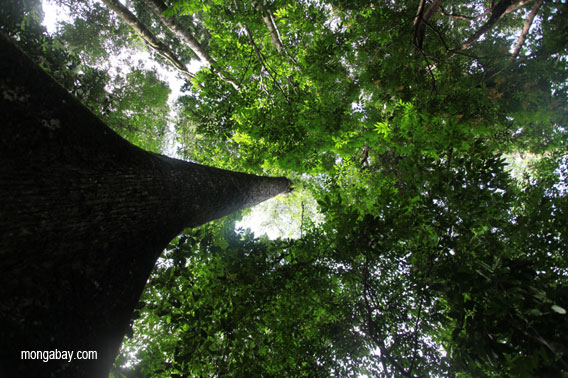 Biodiversity
Unsustainable hunting and poaching is decimating tropical forest species in the Amazon, the Congo, Southeast Asia, and Oceana, leaving behind "empty forests," places largely devoid of any mammal, bird, or reptile over a few pounds, reported a paper published in Bioscience.
Research published in Biological Conservation warned that climate change and habitat loss could drive 600 to 900 bird species to extinction in the tropics by the end of century. The figure represents 10-14 percent of tropical birds, excluding migratory species.
The Republic of the Congo announced it has expanded Nouabalé-Ndoki National Park by 37,295 hectares (144 square miles) to include a dense swamp forest. Known as the Goualougo Triangle, the swamp forest is home to chimps, forest elephants (Loxodonta cyclotis) and western lowland gorillas (Gorilla gorilla gorilla). The expansion of the park to include the Goualougo Triangle makes good on a government pledge from 2001.
Bangladesh declared three new sanctuaries to help protect the south Asian river dolphin (Platanista gangetica) in the Sundarbans, the world's largest mangrove forest.
The Peruvian government, working with an indigenous group and California-based Nature and Culture International, created Maijuna Reserve in the Amazon. Located in northeastern Peru, the 390,000 hectare (970,000 acres) reserve is larger than California's Yosemite National Park and over three times the size of Hong Kong.
Scientists announced the discovery of four tiny chameleons in Madagascar. The smallest of the new species, Brookesia micra, is found only on the small island of Nosy Hara and has been dubbed the smallest chameleon in the world, measuring from nose to tail 29 millimeters (1.14 inches) at its largest.
Researchers published the description of a new species of river-dwelling lizard high in the Peruvian Andes. The lizard is notable for the bright coloration of males.
Climate politics
The Heartland Institute, a conservative advocacy group, was embarrassed by disclosure of its fundraising efforts and plan to launch a curriculum designed to instill doubt on climate science. The group immediately threatened legal action against journalists, bloggers, and activists who reported on the internal documents, which were deceptively obtained by climatologist Peter Gleick of the Pacific Institute. Heartland attempted to spin the fiasco into a fundraising opportunity, while Gleick was widely condemned for his conduct.
Climate scientists struck back at The Wall Street Journal after it published an op-ed authored by 16 mostly non-climatologists arguing that global warming was not an urgent concern. The response letter, entitled Check With Climate Scientists for Views on Climate, recommended that the Wall Street Journal should seek input on global warming from climate scientists. Frustration over the Wall Street Journal's editorial policy, which has long published op-eds by climate change deniers, was heightened by the fact that the journal recently turned down an op-ed by 225 scientists with the U.S. National Academy of Sciences outlining the basic science behind climate change, including that the Earth is warming due to human activities which have "overwhelmed" natural climate impacts.
The U.S. announced a new six nation initiative to target non-carbon greenhouse gases, including soot (also known as "black carbon"), methane, and hydro-fluorocarbons (HFCs) as a simple and cost-effective means for slowing climate change.
Other news
The United Nations honored five "Forest Heroes" for their contributions toward protecting forests. Winners of the Forest Heroes Awards included individuals from five regions: Africa, Asia, Europe, North America, and Central and South America. The youngest winners were Rhiannon Tomtishen and Madison Vorva, two Girl Scouts who challenged their organization for its use of palm oil in Girl Scout cookies. By highlighting deforestation and threats to endangered species like orangutans from oil palm plantations, Tomtishen and Vorva catalyzed a movement that eventually forced Girl Scouts USA to commit to sourcing palm oil from less damaging sources.
Biologists tested a conservation drone (UAV) equipped with cameras, sensors and GPS in the rainforest of Sumatra. They showed the remote-controlled aircraft can be used to map deforestation, count orangutans and other endangered species, and get a bird's eye view of hard-to-access forest areas.
The producer of Born to be Wild 3D, an IMAX documentary about the plight of orphaned and injured Bornean orangutans (Pongo pygmaeus), said he will screen the film for orphaned orangutans in Borneo to thank them for their role in the film.
Most popular mongabay.com news articles – February 2012
Italicized titles represent news articles posted during the month
Related articles