Scientists in Australia have discovered a species of sea snake in estuaries of the Gulf of Carpenteria in northern Australia. The snake is described in the current issue of Zootaxa.
The species, dubbed Hydrophis donaldii after the discover's boat captain David Donald, is distinguished from other related sea snakes by its "raised" scales. Its common name is the rough-scaled sea snake.
Bryan Fry, Associate Professor at the University of Queensland, who together with colleagues from the the University of Adelaide discovered the reptile, said the snake was found in an area that is poorly surveyed and isn't exploited by commercial fishermen.
"Weipa really is one of the last sea snake 'Serengetis'. We can see over 200 sea snakes in a single night's hunting, whereas sea snake populations have really crashed elsewhere through over-fishing removing their prey and also the snakes drowning in trawling nets," Fry said in a statement.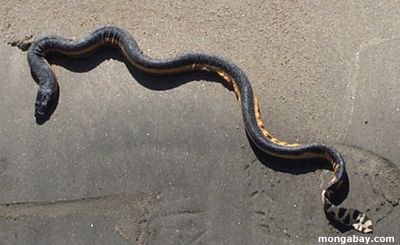 An unrelated species of sea snake in Costa Rica.
He added that like all venomous creatures, the new snake could potentially benefit mankind.
"All venomous animals are bio-resources and have provided sources of many life-saving medications, such as treatments for high-blood pressure and diabetes," he said.
"This reinforces why we need to conserve all of nature as the next billion dollar wonder-drug may come from as unlikely a source as sea snake venom."
Sea snakes are the most venomous of snakes, but they generally pose little threat to humans.
CITATION: KANISHKA D. B. UKUWELA, KATE L. SANDERS & BRYAN G. FRY. Hydrophis donaldi (Elapidae, Hydrophiinae), a highly distinctive new species of sea snake from northern Australia. Zootaxa 3201: 45–57 (2012)
Related articles