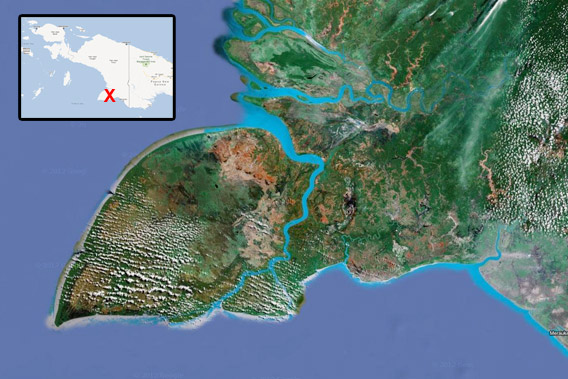 The MIFEE area as seen on Google Earth.
More than 400,000 hectares (1 million acres) of land — including 350,000 hectares of peatland — in Indonesian New Guinea lost their protected status during a November 2011 revision of Indonesia's moratorium on new forest concessions, reports a new analysis by Greenomics-Indonesia, a Jakarta-based NGO.
The report, Peatland and forest at serious risk from Merauke food and energy estate development, focuses on The Merauke Integrated Food and Energy Estate (MIFEE), a giant agricultural project in southwestern New Guinea. Backers say the 1.2 million hectare project will improve food and energy security in the region, but critics contend the scheme will primarily enrich agribusiness developers. MIFEE will result in the conversion of large areas of peatlands and forests for industrial farming and plantations.
| | |
| --- | --- |
| | The MIFEE area under the first moratorium indicative map (top) and the November revision (bottom) |
Greenomics says its analysis of the most recent indicative map, which lays out which areas are off-limits to development during a national two-year moratorium on new forestry concessions, shows that 406,718 hectares have been excised for MIFEE. The area includes 349,678 hectares of peatland and 88,818 hectares of primary forest.
The forest moratorium includes exemptions for some food and energy crops, including sugar cane and rice, as well as mining and fossil fuels development. But Greenomics says some of the MIFEE area is allocated for corn, sago, livestock, and oil palm plantations, which aren't specifically exempted. It fears that the program will be used to expand oil palm development in areas that should be off-limits under the moratorium.
Indonesia's moratorium has been in flux since it was officially defined in May 2011 following five months of debate which substantially limited restrictions on forest conversion. The original intent of the moratorium was to provide a window for Indonesia to develop a plan to reduce emissions from deforestation and forest degradation under its one billion dollar pact with Norway, but loopholes have slowed progress on the program. Nevertheless there are signs that elements within the Indonesian government are beginning to weigh some of the reforms necessary to curtail forest destruction. Indonesian President Susilo Bambang Yudhoyono has made the "7/26" plan, which calls for seven percent annual economic growth and a 26 percent reduction in greenhouse gas emissions from a project 2020 baseline, the centerpiece of his presidency. The plan includes incentives for developing degraded non-forest area instead of forests and peatlands, a pledge to turn more land management decisions over to local communities, and efforts to improve transparency around land use and allocation.
Indonesia has one of the world's highest deforestation rates and ranks among the planet's top five greenhouse gas emitters. Deforestation, degradation of forests by logging and fire, and peatlands destruction account for more than three-quarters of the country's carbon emissions.
Related articles