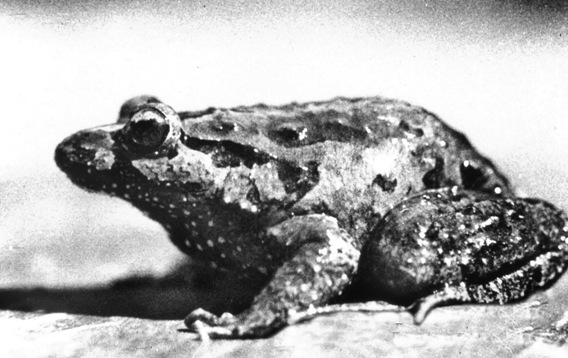 The Hula painted frog (Discoglossus nigriventer) was last seen in 1955. Photo by Professor Heinrich Mendelssohn/Conservation International.
After its marshland was drained, researchers thought the Hula painted frog (Discoglossus nigriventer) had vanished for good. However a patrol at the Ha-Hula lake in Israel recently discovered a single female amphibian that turned out to be the long-lost, and long-sought, Hula painted frog.
"The species now has another chance to survive," Israel's Nature and Parks Authority said last week. However, this is only the sixth specimen ever collected of the Hula painted frog, and its likely the species remains highly endangered.
Not recorded since 1955, the Hula painted frog vanished after 95 percent of its wetland habitat was drained to fight malaria and grow crops. The draining also led to the extinction of the ray-finned fish (Acanthobrama hulensis) and the cichlid fish (Tristramella intermedia).
The Hula painted frog was listed by Conservation International as #9 in the Top Ten Lost Frogs—a list of species researchers hoped most to find during a global search last year to determine the status of 100 missing amphibians. With the rediscovery of the Hula painted frog, two of the top ten have been rediscovered.
Amphibians worldwide are currently undergoing an extinction crisis. While amphibians struggle to survive against habitat loss, climate change, pollution, and overexploitation, they are also being wiped out by a fungal disease known as chytridiomycosis. Currently experts estimate that over 40 percent of the world's amphibians are threatened with extinction, and well over a hundred species have vanished in the last three decades alone.
Related articles
New site is a match-maker for world's endangered frogs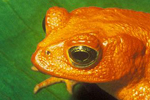 (11/03/2011) A new initiative by the conservation group, Amphibian Ark, hopes to match lonely, vanishing frogs with a prince/princess to to save them. Dubbed FrogMatchMaker.com after online dating sites, the program is working to connect supporters and donors with amphibian conservation programs in need. Currently, amphibians are among the world's most imperiled species with 41 percent threatened with extinction according to the IUCN Red list.
Saving Ghana's vanishing frogs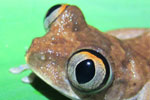 (11/02/2011) Frogs need all the help they can get. With the IUCN Red List estimating that 41 percent of amphibians are endangered, frogs are currently the world's most imperiled animal family. Scientists estimate that around 200 amphibian species have been lost to extinction in recent decades to habitat loss, pollution, and a devastating fungal disease. Yet as the frog emergency worsens, there have been positive movements in conservation. The most recent comes from the small West African country of Ghana. Partnering with the enthusiastic US-based organization, SAVE THE FROGS!, two Ghanaian herpetologists, Gilbert Baase Adum and Caleb Ofori, have started a sister branch in their country: SAVE THE FROGS! Ghana.
Pictures: 12 new species of frog discovered in India
(09/15/2011) Scientists have discovered 12 new species of frogs in the rainforests of India's Western Ghats, according to a paper published in the latest issue of ZooTaxa.