Río Huepetuhue gold mine in Peru. Photo by Rhett A. Butler
As the price of gold inches upward on international markets, a dead zone is spreading across the southern Peruvian rain forest. Tourists flying to Manu or Tambopata, the crown jewels of the country's Amazonian parks, get a jarring view of a muddy, cratered moonscape … and then another … and another in what the country boasts is its capital of biodiversity.
While alluvial gold mining in the Amazon is probably older than the Incas, miners using motorized suction equipment, huge floating dredges and backhoes are plowing through the landscape on an unprecedented scale, leaving treeless scars visible from outer space.
Sources close to the Peruvian Environment Ministry say the government is considering declaring an environmental emergency in the region, but emergency measures passed two years ago were not enough to contain the destruction, and some observers doubt that a new decree would have any more impact.
| | |
| --- | --- |
| | Overhead view of the Río Huepetuhue gold mine in Peru. Photo by Rhett A. Butler. |
Meanwhile, on Oct. 1, a government prosecutor in Madre de Dios, the southeastern region that is the epicenter of Peru's illegal or "informal" placer mining, ordered the detention of Congressman Amado Romero, a member of President Ollanta Humala's party, for environmental crimes linked to illegal mining.
As the price of gold has skyrocketed in the past few years, miners have spread out from older mining areas in Madre de Dios, staking claims and beginning operations before they have the necessary environmental permissions. This year, miners have taken over swathes of the buffer zone of the Tambopata Nature Reserve, at the heart of one of the Madre de Dios region's prime ecotourism areas, and some have ventured into the reserve itself.
The gold rush has spread upstream, as well, where backhoe operators are dredging up small mountains of sediment along rivers that plunge through the cloud forest in the Andean foothills, one of the most biodiverse – and least studied – places on the planet.

Diversity unexplored – and under fire

The corridor between the Andean highlands and the Amazonian lowlands has both a high number and diversity of species and a large number of endemics – species found nowhere else, says Kenneth Young, a botanist and biogeographer from the University of Texas at Austin who has spent decades studying the montane forests.
| | |
| --- | --- |
| | Run-off from a mining area in the Peruvian Amazon. Photo by Rhett A. Butler |
"You're coming up the foothills and all of a sudden, between 700 meters and 1,500 meters, you have an area where cloud forest flora can come down and reach its lower limit and Amazon lowland flora can come up and reach its higher limit, and you have unique things in there, too," he says.
The lack of roads makes it difficult – and expensive – to do research in the Andean foothills. The data that exist are from a few rapid assessments in which researchers helicoptered in to remote places or from longer-term studies at field plots closer to the few existing roads.
"This (area) is often blanketed in clouds. It's poorly known to science. There are only a few places where roads exist," says tropical ecologist Gregory Asner of the Carnegie Institution for Science at Stanford University. "We don't know the composition of the ecosystems. We don't know how they're put together."
Ecologists may lose their chance to learn more about important parts of the rain forest. Deforestation has risen as mining has displaced agriculture as the main driver of deforestation in Peru's southeastern Madre de Dios region.
A simple graph of gold prices over the last three decades tells the story. In the mid 1970s, gold sold on international markets at less than $200 an ounce. A sharp increase in the early 1980s – spiking to more than $800 an ounce at one point, before hovering above $600 – drove a gold rush that was accompanied by accusations of child labor in the dirty, dangerous pursuit of the precious metal.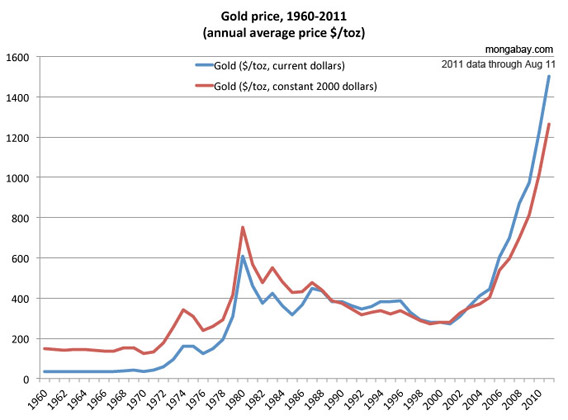 With prices under $400 in the late 1990s and the first years of this century, the gold rush petered out, although areas like Huepetuhue – which shows up as a white blotch on satellite photos – and Laberinto remained mining centers.
Half a dozen years ago, the price of gold began a dizzying climb, from about $400 an ounce in 2005 to a peak of nearly $1,900 in late August 2011, before dipping to the current level of about $1,600.
That makes gold mining more profitable than virtually any other work, especially for unskilled laborers, and some 200 migrants a day have been flooding into Madre de Dios from other parts of Peru, according to regional government officials. Between 1993 and 2007, the region's population grew at an average 3.5 percent annually – the highest rate in the country, according to Peruvian Census data.

Gold prices, deforestation, mercury imports go hand in hand

The rising price of gold and arrival of prospectors have been accompanied by a surge in deforestation and other environmental problems. A study by US, French and Peruvian researchers published in April showed a correlation among gold prices, deforestation and Peru's importation of mercury, which miners use to separate gold it from alluvial sediment.
| | |
| --- | --- |
| | Google Earth satellite image of the Río Huepetuhue gold mine in Peru. |
While gold prices increased by an average of 18 percent annually over the past decade, the researchers found that deforestation in gold-mining areas sextupled, from 292 hectares per year between 2003 and 2006 to 1,915 hectares annually between 2006 and 2009.
Such high deforestation rates could derail Peru's plans to woo more REDD and REDD+ carbon-storage schemes, if the country cannot guarantee that its forests will remain intact.
Palm swamps are favorite mining spots. Although difficult to reach, they provide an ready source of water to operate the high-pressure hoses miners use to blast huge craters in the jungle, exposing old river beds where gold washed from the Andes over millions of years. Across the landscape, swamps are now punctuated by brown smears where miners have blasted pits that can be 20 or 30 feet deep.
Mining palm swamps may be even more serious for Peru's carbon balance, because studies indicate that the peat in the swamps may hold the highest concentrations of carbon. Mining not only removes that from Peru's carbon-storage calculations, but could also emit large quantities of greenhouse gases.

Luis Fernández (right) measures fish in the Puerto Maldonado market before buying them to test for mercury accumulation.


Luis Fernández, left, and Calvin Whitfield install filters to capture and measure mercury emitted when gold is reheated in a shop to vaporize mercury.
Photos by Barbara Fraser.
The region's forests are not the only victims of illegal mining. The study published in April by Jennifer Swenson of Duke University and colleagues from Duke, France's Ecole Nationale des Ingenieurs des Travaux Agricoles de Bordeaux and CESEL Ingenieros in Lima, found that Peru's mercury imports have risen along with gold prices and deforestation rates.
Miners use mercury to amalgamate gold, separating it from sediment. They then heat the amalgam, usually over an open flame, to vaporize the mercury. When they sell the chunk of gold at a shop in Puerto Maldonado or a smaller town, a shop employee heats the gold again, to avoid paying the miner for the weight of residual mercury.
Miners spill mercury onto the ground and into waterways during amalgamation, and miners, gold shop personnel and pedestrians passing by the shops inhale mercury vapor. Luis Fernández, a tropical ecologist at the Carnegie Institution for Science at Stanford University, has found high mercury levels in some fish in the Puerto Maldonado market and in the air inside and outside gold shops in that city.

Lawlessness and weak enforcement

In an effort to safeguard the forests in Madre de Dios, Peru's first environment minister, Antonio Brack, who left office in July when the new administration took office, confronted mining head on, calling the miners "illegal."
Most actually have legal concessions, although only a handful have met all the requirements for operating, which include having approved environmental impact studies. Miners complain – and regional government officials admit – that the impact study approval process is hopelessly backlogged. Instead of waiting months or years for approval, miners begin operating as soon as they have their claims, knowing that the government lacks the means, and perhaps the will, to enforce the law.
The situation is further complicated because the regional government has the power to grant small-scale mining claims, while the national government grants concessions for other activities, such as agriculture, Brazil nut harvesting, timber and ecotourism.
| | |
| --- | --- |
| | Guacamayo mine and nearby pristine forest in the Peruvian Amazon. Photos by Rhett A. Butler. |
The result is a patchwork of overlapping claims that is almost impossible to untangle. Critics have long called for land-use planning in the region, and while zoning plans have existed since the 1970s, they have never been implemented.
Complicating matters further is a frontier-like atmosphere of lawlessness in the Madre de Dios region, where illegal logging, illegal mining, contraband smuggling and drug running converge along the newly paved highway, which makes it easier to transport equipment and contraband.
Brack tried to impose some order on the region's chaos with an "urgent decree" issued in January 2010, which outlawed the huge dredges operating on the region's rivers and limited mining to an area along the Madre de Dios River, where the majority of claims existed.
The decree also suspended the granting of new mining claims for a year. As soon as that prohibition expired, however, miners lined up at the regional mining office in Puerto Maldonado, the capital of Madre de Dios, to stake new claims. One result was the sudden appearance of a new mining zone – a cratered area visible from the air that did not appear on satellite images just 15 months ago.
The new area is a few miles from, and parallel to, another swathe, called Guacamayo, where mining began around 2007. By 2010, Guacamayo's shallow alluvial deposit had played out, leaving a muddy, treeless expanse of water-filled pits, and miners went in search of the next trove. Some moved to the new, parallel deposit, while others crossed the Interoceanic Highway into the Tambopata Reserve buffer zone, along the Malinowsky River.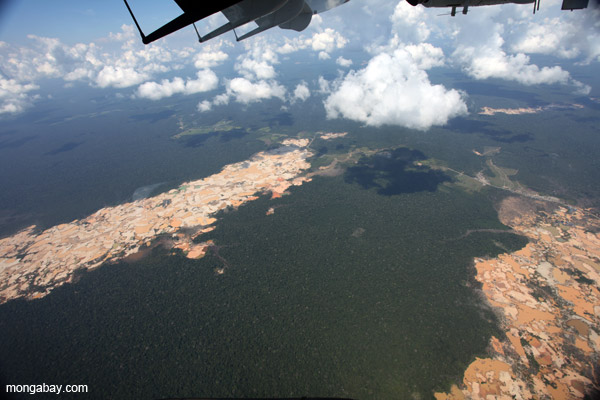 Efforts at crackdown meet resistance

Efforts to evict miners from the protected area have met with limited success. When police or prosecutor's office personnel arrive at mining camps, they find them empty – or find themselves outnumbered by angry miners armed with machetes. If they destroy equipment, the miners simply replace it.
Because mining and the services supporting it – from transportation to food to wire transfers of money to tiny towns in the highlands – drive Madre de Dios' economy, any effort to crack down meets resistance.
That was true even during the last administration, when the government issued a decree limiting the mining area and outlawing large dredges on the rivers. There is likely to be even more resistance now, since the region voted strongly for Peru's new president, Ollanta Humala, who took office July 28.
Before he was elected to Peru's Congress from Madre de Dios in April, Amado Romero was leader of the region's federation of small-scale miners and headed protests against the decree and then-Environment Minister Antonio Brack. In August, Romero introduced legislation in Congress to try to repeal the decree. Several Peruvian news media then reported that Romero operated illegal mining claims in Madre de Dios, taking payment from "guest" miners who paid a percentage of their daily take in exchange for being allowed to mine on his claims.
| | |
| --- | --- |
| | Calvin Whitfield, a technician working with the EPA team, installs filters to capture and measure mercury emissions from a retort in a gold shop in Madre de Dios. Photo by Barbara Fraser. |
Humala's Gana Perú coalition suspended Romero and a congressional ethics commission is investigating him for potential illegal activity and conflicts of interest. On Oct. 1, a special prosecutor in Madre de Dios ordered Romero detained on charges of "environmental crimes" related to his mining claims.
Sources close to the Environment Ministry indicated in late September that the government was considering declaring an environmental emergency in Madre de Dios. Other Amazonian countries – including Bolivia and Ecuador – have sent military troops to evict illegal miners, but Peru's measure, if issued, may not go to that extreme, especially since most of the government's base of support is in regions like Madre de Dios and neighboring Puno, where tens of thousands of people work as wildcat gold miners.
By law, an environmental emergency decree must be accompanied by a plan for solving the problem. Any such plan for Madre de Dios would have to involve a long list of government agencies, including the Environment, Health, Education, Transportation, Labor and Energy and Mines ministries, the police and judiciary, tax authorities and the regional government.
Biologist Ernesto Raez, director of the Environmental Sustainability Center at Cayetano Heredia University in Lima, says an emergency decree would not address the underlying problem of government neglect in Madre de Dios, where tank trucks unload contraband gasoline in mining camps in broad daylight, underage girls are trafficked for sex, and there are no controls on heavy machinery entering the region along the only existing major road.
Instead of issuing an emergency measure, Raez argues, the government should begin by enforcing existing laws, which would require both political will and budget allocations.
"There's no need for any type of legal decree," Raez says. "What is needed is action by authorities, supported by the law."
The author: Barbara Fraser

Barbara Fraser is a freelance journalist based in Lima, Peru. Her work has appeared in EcoAmericas, The Daily Climate, The Lancet, Environmental Science & Technology, Environmental Health News, Science World, National Catholic Reporter, Catholic News Service and other publications. She also worked for seven years as director and English-language editor of Latinamerica Press, a bilingual bulletin of news and analysis from Latin America and the Caribbean. She won the Eileen Egan Award for reporting on humanitarian issues, national circulation category, in 2004, 2007 and 2010. Barbara is a member of the Society of Environmental Journalists, the National Association of Science Writers and the Foreign Press Association of Peru.
Cited study: Swenson JJ, Carter CE, Domec J-C, Delgado CI (2011) Gold Mining in the Peruvian Amazon: Global Prices, Deforestation, and Mercury Imports. PLoSONE 6(4): e18875. doi:10.1371/journal.pone.0018875
Related articles
Picture of the day: the high price of gold for the Amazon rainforest
(08/11/2011) The surging price of gold is impacting some of the world's most important ecosystems: tropical forests.
Demand for gold pushing deforestation in Peruvian Amazon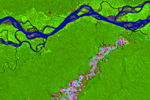 (04/19/2011) Deforestation is on the rise in Peru's Madre de Dios region from illegal, small-scale, and dangerous gold mining. In some areas forest loss has increased up to six times. But the loss of forest is only the beginning; the unregulated mining is likely leaching mercury into the air, soil, and water, contaminating the region and imperiling its people. Using satellite imagery from NASA, researchers were able to follow rising deforestation due to artisanal gold mining in Peru. According the study, published in PLoS ONE, Two large mining sites saw the loss of 7,000 hectares of forest (15,200 acres)—an area larger than Bermuda—between 2003 and 2009.
First strike against illegal gold mining in Peru: military destroys miners' boats
(02/21/2011) Around a thousand Peruvian soldiers and police officers destroyed seven and seized thirteen boats used by illegal gold miners in the Peruvian Amazon, reports the AFP. The move is seen as a first strike against the environmentally destructive mining. Used to pump silt up from the river-bed, the boats are essential tools of the illegal gold mining trade which is booming in parts of the Amazon.
Guyana bans gold mining in the 'Land of the Giants'

(03/01/2010) Guyana has banned gold dredging in the Rewa Head region of the South American country after pressure from Amerindian communities in the area. A recent expedition to Rewa Head turned up unspoiled wilderness and mind-boggling biodiversity. The researchers, in just six weeks, stumbled on the world's largest snake (anaconda), spider (the aptly named goliath bird-eating spider), armadillo (the giant armadillo), anteater (the giant anteater), and otter (the giant otter), leading them to dub the area 'the Land of the Giants'. "During our brief survey we had encounters with wildlife that tropical biologists can spend years in the field waiting for. On a single day we had two tapirs paddle alongside our boat, we were swooped on by a crested eagle and then later charged by a group of giant otters."
High gold prices, army collaboration, play role in mining invasion in southern Venezuela
(11/25/2009) Illegal gold mining involving wildcat miners, the Venezuelan army, and indigenous groups is threatening one of the country's most biodiverse river basins, according to local sources.
Largely unexplored rainforest slated to be leveled for gold mining in Colombia
(08/13/2009) Serrania de San Luca is a rainforest-covered massif rising to 2,300 meters (7,500 feet) in northern Colombia. Despite being little-explored and containing several endangered species, the forest is threatened by industrial gold mining operations, according to the local conservation group ProAves. Already the forest has been reduced to 10 percent of its original 2.5 million acres due to agriculture, small-scale mining, and other human impacts. Now, the Colombian government has granted large concessions to AngloGold Ashanti, a gold mining company out of South Africa which has been criticized by the Human Rights Watch for allegedly aligning itself with locally armed gangs in the Democratic Republic of Congo.
High mineral prices drive rainforest destruction
(08/13/2008) The surging price of minerals is contributing to degradation and destruction of rainforests worldwide, warns a researcher writing in the current issue of New Scientist.
Future threats to the Amazon rainforest
(07/31/2008) Between June 2000 and June 2008, more than 150,000 square kilometers of rainforest were cleared in the Brazilian Amazon. While deforestation rates have slowed since 2004, forest loss is expected to continue for the foreseeable future. This is a look at past, current and potential future drivers of deforestation in the Brazilian Amazon.
Scientists call for mining ban, new protected areas in Suriname
(06/20/2008) In a resolution set forth at their annual meeting in Paramaribo, Suriname, the largest group of tropical biologists called upon the Surinamese government to evict informal gold miners from three ecologically important areas in the South American country. Miners have been blamed for a number of environmental problems including over-hunting of wildlife, deforestation and destruction of riparian habitats, erosion, and mercury pollution in waterways.
France blocks controversial rainforest gold mine in French Guiana
(02/06/2008) Environmentalists declared victory after the French government blocked approval of a controversial gold mine bordering the Kaw wetland, an ecologically rich site in French Guiana. The decision was handed down last week following an environmental assessment by the Ministry of Ecology and Sustainable Development based on work by local scientists.
Gold mining in Guyana damages environment, threatens Amerindians

(03/06/2007) Informal gold mining is causing environmental harm and human rights abuses in Guyana says a new report from the International Human Rights Clinic (IHRC) of Harvard Law School's Human Rights Program. Wildcat gold mining has been a serious problem in the Guiana shield countries of Brazil, Venezuela, Guyana, Suriname and French Guiana. Rising gold prices in recent years have only worsened the problem, as illegal miners have flooded the region clearing forest, polluting rivers, and making threats against indigenous people.
Europe's largest tropical rainforest invaded by gold miners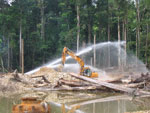 (12/19/2006) As Europe frets over climate change and deforestation, threats to "Europe's largest tropical rainforest" are mounting, according to reports from French Guiana. While French Guiana is best known for its infamous Devil's Island penal colony and as the main launch site for the European Space Agency, which is responsible for more than 50% of the state's economy activity, most of the territory is covered with lowland tropical rainforest. French Guiana's forests are biologically rich with some 1,064 known species of amphibians, birds, mammals and reptiles, and 5,625 species of vascular plants according to figures from the World conservation Monitoring Center.
Mining in Venezuelan Amazon threatens biodiversity, indigenous people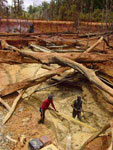 (11/09/2006) Troubles are mounting in one of Earth's most beautiful landscapes. Deep in the Venezuelan Amazon, among ancient forested tabletop mountains known as tepuis, crystalline rivers, and breathtaking waterfalls, illegal gold miners are threatening one of world's largest remaining blocks of wilderness, one that is home to indigenous people and strikingly high levels of biological diversity. As the situation worsens — a series of attacks have counted both miners and indigenous people as victims — a leading scientific organization has called for the Venezuelan government to take action.