U.S. government sources characterized the ruler of Malaysia's Sarawak as "highly corrupt" and plagued with conflicts of interest, according to secret cables released today by Wikileaks.
The cables show that U.S. State Department officials have been well aware of corruption allegations surrounding Sarawak Chief Minister Abdul Taib Mahmud since at least 2006.
"Taib and his relatives are widely thought to extract a percentage from most major commercial contracts – including those for logging – awarded in the state (Sarawak)," reads a cable to the State Department dated October 13, 2006. "Embassy sources outside the government uniformly characterize him (Taib) as highly corrupt."
"The Sarawak state government remains highly corrupt and firmly in the hands of its chief minister."
The cable cited the construction of an opulent state assembly building as "perhaps the most obvious and extreme example of the self-enrichment of the state's chief minister and other senior government officials."
The leaked correspondence further noted that Taib relies on a patronage system to reward "compliant local leaders" and stifle potential opposition. Taib in turn is rewarded with development funds by the Barisan Nasional (BN), the country's ruling coalition, for delivering votes in national elections, according to a Sarawak official who met with embassy staff.
The U.S. embassy cables also highlighted concerns over the plight of indigenous people in Sarawak. Officials were informed by SUHAKAM, Malaysia's government-funded national human rights commission, that "the government largely ignores SUHAKAM's recommendations" to protect the indigenous peoples' rights.
| | |
| --- | --- |
| | Deforestation by a logging company around a Penan village in the Middle Baram region in Sarawak. Image courtesy of the Bruno Manser Fund |
Dr. Mohammad Herman Titom Abdullah, Suhakam Commissioner for Sarawak, told embassy officials that "15,000 Penan tribe members… lack electricity, water treatment and schools."
He "criticized the federal and state governments for not fulfilling their promises to provide access to primary education for all citizens," according to the Wikileaks cables, which come as NGOs have stepped up campaigns to expose Taib's corruption and force him from power.
The Bruno Manser Fund, a group that advocates on behalf of Sarawak's forest people, says the new revelations should press foreign governments and institutions to investigate properties held overseas by Taib's family, including real estate in the United States and Canada. The Bruno Manser Fund recently launched a campaign targeting the FBI, which leases a building owned by Wallysons Inc., a company linked to Taib.
"The US embassy cables are showing clearly that the US government has for years been well and accurately informed on the Taib family's corruption and abuse of power," stated the Bruno Manser Fund in a press release. "The latest Wikileaks exposures are thus putting the American federal police, the FBI, in an uncomfortable position. The FBI, which is supposed to 'combat public corruption at all levels,' is renting its Seattle Division office from Wallysons Inc., a property company owned by the Malaysian Taib family."
The Bruno Manser Fund, together with the California-based Borneo Project, last week asked the FBI to break its lease with Wallysons and investigate the U.S. companies owned by the Taib family for money-laundering.
Reached by mongabay.com, a FBI spokesperson said that most rental agreements for the FBI are handled by General Services Administration (GSA), rather than the FBI itself.
Taib is presently under investigation by the Malaysian Anti-Corruption Commission (MACC) for alleged timber corruption during his 30 years in office. NGOs allege Taib and his family may have amassed billions of dollars in wealth during his reign.
Related articles
Rainforest tribe forcibly removed from dam area to palm oil plantation
(06/23/2011) A thousand Penan indigenous people have been forcibly moved from their rainforest home to monoculture plantations, reports Survival International. To make way for the Murum dam, the Malaysian state government of Sarawak is moving a thousand Penan from their traditional homes, but as apart of the deal the government promised to move the Penan to another part of their ancestral land. The government has since sold that land to a palm oil company, which is currently clearcutting the forests for plantations.
Embattled Malaysian minister denies secret Swiss accounts, but not other holdings
(06/22/2011) Abdul Taib Mahmud, chief minister of Sarawak, on Wednesday denied charges that he holds secret Swiss bank accounts containing wealth attained through close ties with logging companies and palm oil firms operating in the Malaysian Borneo state, reports the Associated Press.
Sarawak's leader under investigation for corruption linked to logging
(06/10/2011) After months of heavy campaigning by human rights organizations and environmental group, the Malaysian Anti-Corruption Commission's (MACC) announced it is investigating Sarawak Chief Minister Abdul Taib Mahmud for corruption.
Indigenous community takes court ruling into own hands and seizes oil palm plantation
(03/31/2011) A community in Malaysian Borneo seized an oil palm plantation belonging to the IOI Group after the palm oil giant failed to respect the terms of a court ruling that the plantation was established on native customary land, reports the Rainforest Action Network (RAN).
Google Earth reveals stark contrast between Sarawak's damaged forests and those in neighboring Borneo states
(03/28/2011) Images from Google Earth show a sharp contract between forest cover in Sarawak, a state in Malaysian Borneo, and the neighboring countries of Brunei and Indonesia at a time when Sarawak's Chief Minister Pehin Sri Abdul Taib Mahmud is claiming that 70 percent of Sarawak's forest cover is intact.
Report: corruption in Sarawak led to widespread deforestation, violations of indigenous rights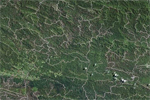 (03/10/2011) At the end of this month it will be 30 years since Abdul Taib Mahmud came to power in the Malaysian state of Sarawak. Environmentalists are using the occasion, along with new revelations, to highlight corruption and nepotism they say have characterized his regime. Chief Minister Taib and his decades-long administration are no strangers to such allegations, but a new report from the indigenous-rights group Bruno Manser Fund (BMF)—amid criticism from independent media sources, such as Sarawak Report and Radio Free Sarawak—are adding fuel to the fire. Most recently, the report describes in great detail how the tropical timber trade in Sarawak has undercut indigenous groups while toppling some of the world's greatest rainforests, all at the expense of the Sarawak people.