Next Tuesday, four Brazilian judges will hear an appeal from a rancher convicted of organizing the 2005 murder of Dorothy Stang, an elderly American nun who worked with small farmers in the Amazon rainforest state of Pará.
The rancher, Regivaldo Galvão, is expected to claim he had nothing to do with the murder. While Galvão did not pull the trigger, he was convicted by a jury in 2010 of ordering and organizing Sister Dorothy's assassination.
Editor's note: Dorothy Stang, an American nun who spent more than 30 years fighting for land rights for poor settlers in the Amazon, was murdered by a contract killer in February 2005 in the Brazilian state of Para. Stang, 73, was shot six times with a revolver as she read from the Bible.



Stang, a member of the Order of the Sisters of Notre Dame de Namur, was working with the Pastoral Land Commission, a Catholic Church group that lobbies for land reform in Brazil and fights for land rights for the poor, when she was gunned down.

Stang's murder was a tipping point in the heated battle between the rural poor and large landowners in the state of Para. The federal government responded to her killing by sending several thousand armed troops into the state. Later Brazil established several protected areas in contested forests and proposed a land-use permit system for selling concession to loggers who agreed to set side land for settlers and indigenous groups.
In her quest to bring environmental sustainability and social justice to small farmers along the Transamazonian Highway, Sister Dorothy uncovered Regivaldo Galvão's illicit activities, according to published accounts. Galvão held illegal titles to several plots of land, received undue benefits from the government agency SUDAM, and allegedly used slave labor (still present in the Amazon) to clear and burn the rainforest.
Dorothy Stang was 73 when Vitalmiro Bida and Amair Tato murdered her on February 12, 2005. After five years of proceedings, a jury convicted Regivaldo Galvão of homicide on May 1, 2010. Galvão allegedly paid the two gunmen, now convicted, to "put an end to that woman,"—and they murdered Dorothy Stang in cold blood. Galvão attempted to cover up his association with the gunmen and their two partners, denying any involvement with Stang's murder. But the court found Galvão guilty of orchestrating and financing the assassination of an elderly American nun. After presenting false documents to Brazil's Federal Supreme Court in 2006, Galvão was also prosecuted for falsifying documents, embezzlement, and swindling public lands.
Stang's family and the Sisters of Notre Dame de Namur hope the May 1 decision will stand, but fear the four judges hearing the appeal behind closed doors will annul the 2010 trial. If this is the case, there are two possibilities. Should there be another public trial, Galvão may receive a second conviction. However, Galvão would likely appeal to Brazil's Supreme Court—and receive another closed trial. The trial, originally set for August 30, has already been postponed.
Related articles
Suspects named for assassination of husband and wife activists in Brazil
(07/21/2011) Brazilian authorities have fingered three men for the killing of environmental activist, José Cláudio Ribeiro da Silva, and his wife, Maria do Espírito Santo da Silva, in May. The grisly murders received international attention, since José da Silva was a well known activist against illegal logging in Pará, a state in Brazil that is rife with deforestation and violence.
Bloody June: fifth rural activist assassinated in Brazil this month
(06/16/2011) A rural worker who confronted illegal loggers operating in the Brazilian state of Pará was found murdered near his home, reports the Associated Press. Murdered on the Esperanca landless settlement, his death is likely related to ongoing conflicts between loggers and farmers in the Esperanca community. The victim, Obede Souza, is the fifth person to be murdered this month after standing up to illegal loggers.
Rash of murders threatens to silence environmental and social activism in Brazil
(06/10/2011) Authorities in Brazil have sent an elite police force consisting of 60 officers to offer protection to environmental activists in the Amazon after a series of killings, reports the Associated Press. The move comes 10 days after Brazil's Vice President Michel Temer announced the creation of a working group on Amazon violence following the assassinations of three activists in the region in late May. The Brazilian Amazon is no stranger to systemic violence against environmental activists, yet the response from the federal government in the past two weeks is the most significant to date.
Assassinations of environmentalists continue in Brazil's Amazon, deforestation rises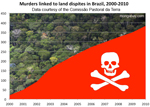 (05/28/2011) A community leader in the Brazilian Amazon was slain Friday just three days after two environmentalists were killed in a neighboring state, reports Reuters. Adelino "Dinho" Ramos, the president of the Movimento Camponeses Corumbiara e da Associação dos Camponeses do Amazonas, a small farmers association, was gunned down front of his family Friday morning in Rondônia. Brazil's Special Secretariat for Human Rights, an office of the president, said it was unclear who killed Ramos, who had received death threats from loggers.
Killing in the name of deforestation: Amazon activist and wife assassinated
(05/24/2011) José Cláudio Ribeiro da Silva and his wife, Maria do Espírito Santo da Silva, were gunned down last night in an ambush near their home in the Brazilian state of Pará. Da Silva was known as a community leader and an outspoken critic of deforestation in the region. Police believe the da Silvas were killed by hired assassins because both victims had an ear cut off, which is a common token for hired gunmen to prove their victims had been slain, according to local police investigator, Marcos Augusto Cruz, who spoke to Al Jazeera. Suspicion immediately fell on illegal loggers linked to the charcoal trade that supplies pig iron smelters in the region.
Second rancher sentenced for contract killing of American nun in the Brazilian Amazon
(05/02/2010) A second rancher has been sentenced for his role in the murder of Dorothy Stang, an American nun who was gunned down in 2005 for her efforts on behalf of poor farmers in the Amazon rainforest, reports Reuters.
Amazon nun-killer found guilty in Brazil
(04/13/2010) The Brazilian rancher accused of ordering the murder of an American missionary has been sentenced to 30 years in prison, reports the Associated Press (AP).
Peru fails to investigate murder of Amazon environmental leader
(04/22/2008) Peruvian authorities failed to respond to requests for protection from Julio Garcia Agapito, the environmental leader who was gunned down in southeastern Peru in late February, according to a new petition which calls for an investigation into his murder. Julio Garcia's killing at the hands of an illegal logger set off international outcry and highlighted rising tensions over the paving of a highway in the Amazon rainforest.
Amazon environmentalist gunned down in Peru
(03/14/2008) After reporting a truck loaded with mahogany illegally logged from the Amazon rainforest, Don Julio Garcia Agapito, a Peruvian environmentalist was gunned down by unknown assailants on February 26th, 2008. He is survived by his family.
Dorothy Stang fought for social equity in the Amazon
(06/07/2007) Murder is not a pleasant place to start an article. Destruction of enormous amounts of virgin forest also does not help improve ones feelings and thoughts. Leaving out millions of people and talking about only the rights of thousands is pretty discouraging if you wish to be transparent, progressive and see a future for a beautiful country with enormous potential.