Oil palm plantation in Malaysia. Photo by Jeremy Hance.
Members of the European Parliament have voted in favor of listing specific vegetable oils — including palm oil — on product labels, reports the Clear Labels, Not Forests initiative which pushed for the measure.
The new agreement requires all vegetable oils to be labeled individually by 2015. Presently different oils are typically label under the generic term "vegetable oil."
Conservation groups pushed for the measure as a means to make consumers aware of whether the products they use contain palm oil, which environmental campaigners have linked to deforestation in Indonesia and Malaysia. Conservationists are hoping palm oil labeling could encourage consumer products companies to use more eco-certified palm oil, which is generally produced without conversion of biologically-rich rainforests and peatlands. The Roundtable on Sustainable Palm Oil (RSPO) is the leading certification standard.
"Consumers want to know if products contain palm oil, and where that palm oil comes from," said Helen Buckland, UK Director of the Sumatran Orangutan Society, one of the supporters of the Clear Labels, Not Forests initiative. "This new regulation will make palm oil visible on ingredients lists, enabling consumer choice and ultimately providing leverage for European companies to clean up their supply chains and only use certified sustainable palm oil."
"It is time for retailers and manufacturers to play their role in supporting the transformation of the industry."
The labeling measure has been strongly opposed by the Malaysian palm oil lobby, which fears that listing palm oil as an ingredient could result in discrimination against palm oil-containing products in the marketplace.
"Malaysia is of the view that labeling palm oil purely from the perspective of sustainable production is discriminatory," said Y.B. Tan Sri Bernard Dompok, Malaysia's Minister of Plantation Industries and Commodities, in a statement issued last month after Australia passed a similar labeling rule.
Palm oil is used widely in processed food products and cosmetics. Its high yield makes it a cheap source of oil.
Related articles
Australia's Senate passes palm oil labeling bill
(06/27/2011) Just days after being rejected by the the Senate Community Affairs Committee, Australia's Senate passed the Amended Truth in Labeling – Palm Oil Bill.
RSPO: Labeling palm oil as an ingredient is fine, provided other oils are labeled too
(04/21/2011) The Roundtable on Sustainable Palm Oil (RSPO), a body that sets criteria for social and environmental certification of palm oil, weighed in on the debate on Australia's proposal to require listing of palm oil as an ingredient on package labels. At the same time the RSPO announced its own labeling initiative to distinguish products that use RSPO-certified palm oil from those that do not.
Breakthrough? Controversial palm oil company signs rainforest pact
(02/09/2011) One of the world's highest profile and most controversial palm oil companies, Golden Agri-Resources Limited (GAR), has signed an agreement committing it to protect tropical forests and peatlands in Indonesia. The deal—signed with The Forest Trust, an environmental group that works with companies to improve their supply chains—could have significant ramifications for how palm oil is produced in the country, which is the world's largest producer of palm oil.
Greening the world with palm oil?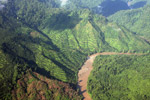 (01/26/2011) The commercial shows a typical office setting. A worker sits drearily at a desk, shredding papers and watching minutes tick by on the clock. When his break comes, he takes out a Nestle KitKat bar. As he tears into the package, the viewer, but not the office worker, notices something is amiss—what should be chocolate has been replaced by the dark hairy finger of an orangutan. With the jarring crunch of teeth breaking through bone, the worker bites into the "bar." Drops of blood fall on the keyboard and run down his face. His officemates stare, horrified. The advertisement cuts to a solitary tree standing amid a deforested landscape. A chainsaw whines. The message: Palm oil—an ingredient in many Nestle products—is killing orangutans by destroying their habitat, the rainforests of Borneo and Sumatra.
Sales of RSPO-certified palm oil surge 225%
(01/10/2011) Sales of palm oil certified under the leading sustainability standard surged 225 percent in 2010, suggesting growing consumer interest in more responsibly-sourced palm oil.
Lack of price premium for certified palm oil endangers sustainability initiative
(12/19/2010) The palm oil industry's sustainability initiative is making considerable progress toward improving its environmental performance, but needs to do more to accelerate the adoption of responsible practices, argue researchers writing in mongabay.com's open access journal Tropical Conservation Science.
U.S. companies should help drive push toward sustainable palm oil
(11/09/2010) U.S. companies should take a leadership role in helping ensure that palm oil production is sustainable and does not come at the cost of forests, climate, and communities, argues a new report published ahead of the annual meeting of the Roundtable on Sustainable Palm Oil (RSPO). The report, published by the National Wildlife Federation (NWF), says that while the U.S. is only a minor consumer of palm oil, its demand for the vegetable oil is fast rising, increasing four-fold since 2006. Palm oil, which is among the cheapest of vegetables owing to its high yield, is now found in up to 50 percent of packaged retail food products.
Consumers should help pay the bill for 'greener' palm oil
(01/12/2010) Palm oil is one of the world's most traded and versatile agricultural commodities. It can be used as edible vegetable oil, industrial lubricant, raw material in cosmetic and skincare products and feedstock for biofuel production. Growing global demand for palm oil and the ensuing cropland expansion has been blamed for a wide range of environmental ills, including tropical deforestation, peatland degradation, biodiversity loss and CO2 emissions. In response to these concerns, a group of stakeholders—including activists, investors, producers and retailers—formed the Roundtable on Sustainable Palm Oil (RSPO) to develop a certification scheme for palm oil produced through environmentally- and socially-responsible ways. It is widely anticipated that the creation of a premium market for RSPO-certified sustainable palm oil (CSPO) would incentivize palm oil producers to improve their management practices.