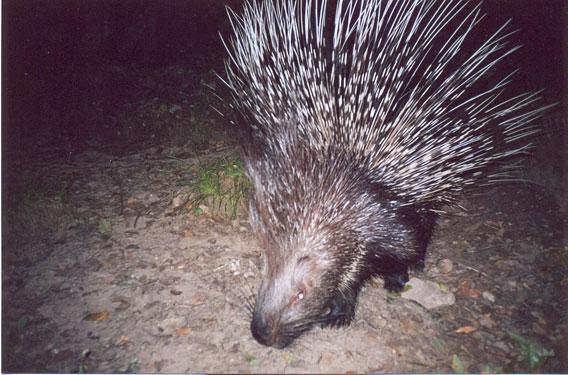 Crested porcupine. Credit: WCS-Afghanistan
Despite ongoing warfare and strife, wildlife is surviving in Afghanistan, reports a new study published in the journal Oryx.
The research is based on camera-trap surveys, transect surveys, and DNA identification of wildlife scat in the eastern province of Nuristan from 2006-2009. It is the first wildlife census of the war-torn province since 1977.
The work — conducted by Wildlife Conservation Society (WCS) scientists — confirmed the presence of several important species, including the first documented sighting of the common palm civet in Afghanistan, in the region's montane deciduous and coniferous forests. Other wildlife included crested porcupine, leopard cat, Asiatic black bear, Asiatic brown bear, markhor, yellow-throated marten, red fox, and rhesus macaque, as well as unknown wild dogs and cats.


Asiatic black bear.


Leopard cat.


Yellow-throated marten.


Palm civet. Credits: WCS-Afghanistan
"Afghanistan's environment – like the Afghan people – has shown incredible resilience in the face of decades of instability," said lead author Kara Stevens of Michigan State University in a statement. "However, future support is necessary to ensure that communities can sustainably manage these resources for generations to come."
Most wildlife work in Afghanistan is funded by USAID. WCS says the investment in resource management projects in conflict regions is a way to "stabilize areas without military intervention, potentially saving U.S. money and lives."
"About 80 percent of Afghanistan's people depends directly on the country's natural resources for their survival," said Peter Zahler, Deputy Director for the WCS Asia Program. "USAID has shown great insight in recognizing the importance of natural resource management for the country's continued stability and reconstruction."
To date the effortss have resulted in the creation of Afghanistan's first national park – Band-e-Amir – which is now "co-managed by the government and a committee consisting of all 14 communities living around the park," according to WCS.
CITATION: Stevens et al. Large mammals surviving conflict in the eastern forests of Afghanistan. Oryx, 45(2), 265–271.
Related articles
Pictures: Massive natural arch discovered in Afghanistan
(03/31/2011) Researchers in Afghanistan have discovered one of the world's largest natural arches, reports the Wildlife Conservation Society (WCS).
Afghanistan protects 15 additional endangered species
(03/02/2010) Afghanistan's National Environment Protection Agency (NEP) has added 15 species to its Protected Species List, totaling 48 species now under protection. The new species includes the large-billed reed warbler, which was only recently discovered in the Central Asian nation. Fortunately, by law newly discovered species in Afghanistan receive automatic legal protection.
Apple's Snow Leopard helps real-life cats
(09/07/2009) Apple's release of its new operating system, dubbed "Snow Leopard", is helping raise awareness of the plight of one of the world's most endangered big cats, reports the Snow Leopard Trust, a group working to protect the real-life snow leopard in its mountainous habitat across Central Asia.
Photos: snow leopard in Afghanistan
(08/31/2009) Using camera traps, the Wildlife Conservation Society (WCS) has captured the elusive and rare snow leopard on film in Afghanistan for a second time. The feline was caught on film in the Sast Valley in Afghanistan's Wakhan Corridor. The snow leopard is currently listed as Endangered by the IUCN. The cat is also listed as protected under Afghanistan's new endangered species list, which outlaws hunting it. The IUCN estimates that only 100-200 snow leopards still survive in Afghanistan.
Afghanistan announces first national park on Earth Day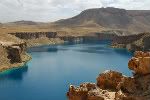 (04/22/2009) War-wearied Afghanis received uplifting news on Earth Day this year. Their nation has announced the creation of the nation's first national park, Band-e-Amir, protecting a one-of-a-kind landscape encompassing six sky-blue lakes separated by natural dams. Announced by Afghanistan's National Environmental Protection Agency (NEPA) at a ceremony in the FAO Building at the Ministry of Agriculture, Irrigation, and Livestock in Kabul this morning, key funding for the park was provided by The United States Agency for International Development (USAID).
Wildlife conservation in Afghanistan?
An interview with Dr. Alex Dehgan, Afghanistan Country Director for the Wildlife Conservation Society
(08/07/2007) Few people associate Afghanistan with wildlife and it would come as a surprise to many that the war-torn, but fledging democracy is home to snow leopards, Persian leopards, five species of canid (wild dog), Marco Polo Sheep, Asiatic Black Bear, Brown Bears, Striped Hyenas, and numerous bird of prey species.