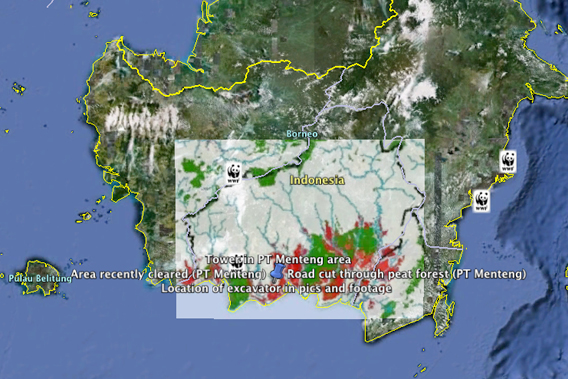 PT Menteng's alleged breach of Indonesia's forest moratorium. The red areas are off-limits to new concessions.
An alleged breach of Indonesia's new moratorium on primary forest and peatlands conversion may prove a test for the Roundtable on Sustainable Palm Oil (RSPO), an eco-certification initiative.
A report published last week alleges that PT Menteng Jaya Sawit Perdana (PT Menteng), an Indonesian subsidiary of Kuala Lumpur Kepong Bernard (KLK), cleared peat forest near Sampit in Indonesia's Central Kalimantan province without securing proper licenses. According to the Environmental Investigation Agency (EIA) and Telapak, which conducted the investigation, PT Menteng had only a Location Permit, not the Plantation Business Permit required under Indonesian plantation law or a permit from the Ministry of Forestry releasing the 7,400-ha (18,300-acre) concession.
The accusation is significant because it represents both a breach of Indonesia's moratorium under its REDD+ program and a violation of RSPO's code of conduct, which requires members to abide by national laws and avoid clearance of high conservation value habitats. KLK is an RSPO member.
The Rainforest Action Network (RAN), an activist group campaigning against forest conversion for oil palm plantations, says the report's finding is a liability for companies that source from KLK. RAN singled out Cargill, which has imported at least 10,000 tons of palm oil from Kepong Edible Oils, a subsidiary of KLK, over the past two-and-a-half years. A separate RAN investigation found questionable labor practices by a KLK subsidiary.


Oil palm plantation in the PT Menteng area.


Peatlands clearance in the PT Menteng area. Images courtesy of EIA/Telapak
"RAN has video recorded interviews, from November of 2010, with two villagers from Northern Sumatra who recount nearly identical stories of being lured by representatives of a KLK subsidiary to work in the company's palm plantations, only to be forced into slave labor conditions for months," said the group in a statement.
"This revelation that Cargill sells KLK palm oil reinforces RAN's demand that Cargill institute basic safeguards on its supply chain to ensure it is not selling palm oil tainted with slave labor to unwitting American consumers," said Lindsey Allen, forest program director for RAN. "Until Cargill commits to global safeguards that exclude egregious palm oil suppliers, it cannot guarantee to American consumers that slave labor is not ending up on store shelves and in household pantries."
"Cargill is buying its oil from companies connected to some of the very worst examples of corporate environmental destruction and human rights abuses. This is yet another of many examples RAN has identified in our three years of campaigning on Cargill that demonstrates the immediate need for the company to adopt a comprehensive palm oil policy."
Cargill told mongabay.com that it is aware of the accusations in the EIA/Telapak report and is "reaching out to KLK to discuss these allegations."
"We are concerned by these allegations and will continue to actively monitor the situation," a Cargill spokesperson told mongabay.com.
But Cargill put the onus for action on the RSPO.
"KLK is a member of the Roundtable on Sustainable Palm Oil. The RSPO requires its members to act in a sustainable manner and meet the RSPO's code of conduct," said the spokesperson. "We fully support the RSPO and agree that allegations of unsustainable practices should be brought to the RSPO to review through its official grievance process. The RSPO grievance panel consists of stakeholders in the palm oil supply chain, including NGOs."
"Cargill is on record that we will abide by the decisions of the RSPO grievance process."
The Indonesian government has said it will investigate the charges in the EIA/Telapak report.
The RSPO
RSPO was formed in 2004 as a response to concerns that palm oil production has driven large-scale destruction of rainforests across southeast Asia over the past two decades. RSPO has created a set of criteria to make palm oil production less damaging to the environment and local communities. These include using natural pests and composting in place of synthetic pesticides and fertilizers whenever possible, implementing no burn policies, sparing high conservation value forests from development, taking measures to reduce air pollution, and creating catchment ponds to prevent palm oil mill effluent from entering waterways where it would damage aquatic habitats. The hope is that CSPO can be sold at a premium to recoup the increased costs that certification entails.
RSPO has at times been criticized for being slow to act when members are found to be operating in violation of productions standards, but the body has recently rebuked IOI Group, a Malaysian producer, and Golden Agri Resources (GAR), a Singapore-based firm, for social and environmental transgressions. GAR has since taken steps to come back into compliance, including establishing a forest policy that is among the strictest of any palm oil major.
Related articles
Indonesia to investigate palm oil company that allegedly breached moratorium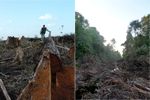 (06/21/2011) Indonesia's REDD+ Task Force will investigate charges that PT Menteng Jaya Sawit Perdana (PT Menteng), a palm oil company owned by Malaysia-based Kuala Lumpur Kepong Berhad (KLK), has cleared peat forest in breach of the country's newly-signed moratorium on the granting of new forestry licenses on peatlands and in primary forest areas. The allegation was levied by the Environmental Investigation Agency, an international NGO, and Telapak, an Indonesian group, after an on-the-ground undercover investigation. EIA and Telapak found that PT Menteng had cleared peat forest near Sampit in Indonesia's Central Kalimantan province without securing proper licenses.
(06/17/2011) World Resource Institute's summary of key elements, and unanswered questions, in Indonesia's recent moratorium on new forest permits.
Malaysian palm oil company violates Indonesia's logging moratorium
(06/16/2011) An undercover investigation has found evidence that a subsidiary of Malaysian palm oil company has illegally cleared forest in breach of the Indonesia's moratorium on new permits in primary forest areas and peatlands.
Indonesia's anti-mafia unit seeks to reopen $115 billion illegal logging case
(06/08/2011) Indonesia's Anti-Mafia Law Task Force asked authorities Tuesday to reopen an investigation into illegal logging that may have cost the Indonesian state $115 billion.
Interview with Indonesian climate official on rainforest logging moratorium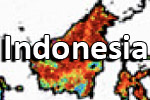 (06/03/2011) In May, Indonesia President Susilo Bambang Yudhoyono issued a presidential instruction laying out the specifications for a two-year moratorium on new concessions in primary forests and peatlands. The moratorium aims to create a window for Indonesia to enact reforms needed to slow deforestation and forest degradation under its Letter of Intent with Norway, which would pay the Southeast Asian nation up to a billion dollars for protecting forests.