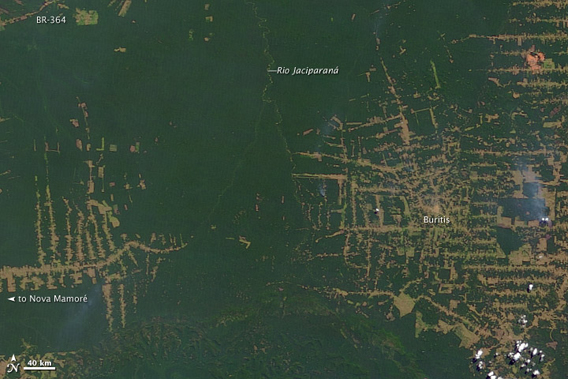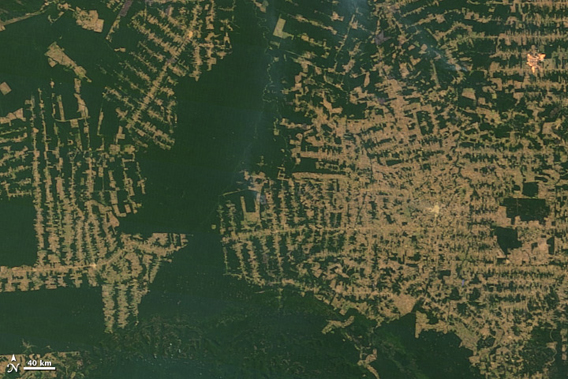 Top image shows deforestation in Brazil's western state of Rondônia in 2000. Bottom image shows deforestation as of 2010. Images courtesy of NASA .
The Brazilian state of Rondônia has undergone tremendous change over the past decade as revealed by the NASA's Moderate Resolution Imaging Spectroradiometer (MODIS) on the Terra satellite (see images above). A hotspot for recent deforestation, Rondônia was once home to over 50 million acres (208,000 square kilometers of forest). By 2003 nearly a third of the rainforest in the state was gone and deforestation continues although at a slower pace. The state has the dubious honor of undergoing the highest percentage of forest loss in the Brazilian Amazon.
Almost the entirety of the forest loss has occurred recently. Up to the mid-1970s only 1.73% of the forest was gone according to data from Brazil's National Statistics Office (IBGE).
Much of the forest loss in Rondônia has been attributed to small-scale farmers leasing land (less than 100 hectares) from the Brazilian government for crops and cattle, according to a recent study based on deforestation data by the National Institute for Space Research (INPE) in Brazil. Small-scale farmers have repeatedly broken the Brazilian Forestry Code by often clearing far more than 20% of the land. According to the Forestry Code, farmers in the Amazon must leave 80% of the land as natural forest.
"The Forestry Code is no longer realistic for [small farmers in] Rondônia [with less than a 100 hectares of land]," says Luciana de Souza Soler, Brazilian PhD student in the Land Dynamics Group at the University of Wageningen, who conducted the study. "It is more realistic to maintain twenty percent of forest within the projects."
CITATION: Luciana de Souza Soler and Peter H. Verburg. Combining remote sensing and household level data for regional scale analysis of land cover change in the Brazilian Amazon. Regional Environmental Change. Volume 10, Number 4, pp. 371-386, 2010.
Related articles
Major Brazilian banks sued for loans linked to deforestation
(04/03/2011) Brazilian prosecutors have filed suit against the state-run Banco do Brasil and Banco da Amazonia for providing loans to companies that illegally cleared Amazon rainforest and used slave-like labor, reports Reuters.
Controversial changes to Brazilian forest law passes first barrier
(07/08/2010) An amendment to undermine protections in Brazil's 1965 forestry code has passed it first legislative barrier, reports the World Wide Fund for Nature-Brasil (WWF). Yesterday the amendment passed a special vote in the Congress's Special Committee on Forest Law Changes.
Deforestation on the rise again in Brazil
(06/14/2010) Deforestation in the Brazilian Amazon may be on the rise again after reaching record-low levels last year, reports Brazil's National Space Research Institute, INPE.