No pictures please: Illegal logger harvesting timber. On a recent trip to Borneo, Rhett Butler caught photographic evidence of illegal logging in Gunung Palung National Park. Photos by Rhett A. Butler, 2011.
A new agreement will work to keep illegal wood from Indonesia out of European Union markets. The Voluntary Partnership Agreement (VPA) will force Indonesia to only ship wood to the EU that has been approved as legal by a national authority, while EU customs workers are set to send any unapproved wood back to Indonesia. The VPA is a step forward in tackling the illegal timber market in Indonesia that is estimated to be worth $1 billion and has been responsible, in part, for leveling rainforests across the Indonesia islands.
The agreement, which will be signed in Jakarta on May 5, comes after four years of negotiations between EU and Indonesian authorities, and a decade of campaigning by the Environmental Investigation Agency (EIA) and its Indonesian partner Telapak.
"This is an incredibly important milestone," said EIA Senior Campaigner Faith Doherty in a press statement. "We took huge risks to tackle a seriously corrupt system which protected violent and extremely powerful businessmen, pressing on even as the many cases of corruption we exposed were met with a wall of silence."
| | |
| --- | --- |
| | Figure 1: Extent of Deforestation in Borneo 1950-2005, Projection to 2020. The island of Borneo is split between Malaysia, Indonesia, and Brunei. |
Doherty knows first-hand the extent of brutality in Indonesia's illegal timber trade. In 2000 she and an Indonesia colleague were kidnapped, beaten, and threatened at gunpoint after taking footage of the timber company, Tanjung Lingga, illegally felling trees in Tanjung Puting National Park in Borneo.
The Indonesian government is progressing toward having all timber production subject to independent auditing through an ISO-accredited (International Organization fro Standardization) system.
Doherty told mongabay.com last year, however, that much work remains to be done: "we still have major challenges. Russia is not part of any agreement nor is China, two major exporters."
Over the last couple decades the forests of Indonesia have become some of the world's most imperiled. Logging, both legal and illegal, palm oil, and pulp and paper plantations have brought many of Indonesia's forests down, threatening its wildlife, local people who depend on the forests, and emitting vast quantities of greenhouse gases, putting Indonesia third of the world's top greenhouse gas emitters, behind industrial juggernauts the US and China.
Related articles
Violence a part of the illegal timber trade, says kidnapped activist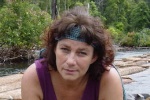 (07/07/2010) The European parliament made a historical move today when it voted overwhelmingly to ban illegal timber from its markets. For activists worldwide the ban on illegal timber in the EU is a reason to celebrate, but for one activist, Faith Doherty of the Environmental Investigation Agency (EIA), the move has special resonance. In early 2000, Doherty and an Indonesian colleague were kidnapped, beaten, and threatened with a gun by illegal loggers in Indonesian Borneo.
Pro-deforestation group calls for weakening of U.S. law against illegal logging
(04/14/2011) A group that lobbies on behalf of forestry conglomerates in Indonesia and Malaysia is calling on the U.S. to roll back legislation intended to fight illegal logging. World Growth International, a Washington D.C.-based group that portrays itself as a humanitarian organization, yet consistently pushes policies that favor industrial forestry interests over those of rural communities, has submitted formal comments to the United States Department of Agriculture, Animal and Plant Health Inspection Service's (APHIS) review of the implementation of the revised Lacey Act provisions that prohibit trade in illegally logged wood products, including timber and paper.
Indonesia implements export ban on non-certified timber
(09/15/2010) Indonesia has begun implementing a ban on exports of illegally harvested timber and wood products, reports The Jakarta Post.