Norway's $550 billion sovereign wealth fund will continue investing in Asian palm oil companies despite criticism from environmental groups, reports Reuters.
Runar Malkenes, Deputy Director of the Information Division at Norway's Ministry of Finance, told Reuters that while the fund will continue to invest in the sector, it may exclude palm oil companies that cause egregious environmental damage.
"Apart from production of certain types of weapons and tobacco, the fund will invest in most industries, including agribusiness and palm oil producers," Malkenes told Reuters via email. "It is what companies do, not their industry per se, which may lead to exclusion."
Last year Norway divested its holdings in Samling, a Malaysian company associated with destructive logging practices and social conflict with indigenous groups in Malaysian Borneo.
| | |
| --- | --- |
| | Palm oil is now found in up to half of packaged processed foods in some markets. By virtue of its high yield, palm oil is a cheaper substitute than other vegetable oils. In an effort to reduce costs, some candy makers are using palm oil in place of cocoa butter in their milk chocolate products. Photo by Rhett A. Butler |
The fund, which invests revenues from the country's oil and gas industry, held 2.4 billion Norwegian crowns ($430 million) worth of palm oil-related stocks as of the end of last year.
Norway's investments are an issue for environmentalists because the country has recently emerged as the global leader in efforts to curb deforestation, which accounts for roughly 10 percent of carbon emissions. Last year Norway pledged a billion dollars to Indonesia provided it meets deforestation and forest degradation targets. Norway has made similar commitments in Brazil, Guyana, Ecuador, Tanzania, and Congo Basin countries.
Norway's statement comes a week after Indonesian activist group Greenomics criticized Norway for continuing to hold stakes in several palm oil companies linked to deforestation, including Golden Agri Resources (GAR), which owns PT Sinar Mas Agro Resources and Technology (SMART], a firm that had been targeted for Greenpeace over destruction of rainforests and peatlands in Borneo.
| | |
| --- | --- |
| | Palm oil is used widely in processed foods, cosmetics, and soaps. It is also increasingly used as a biofuel. But palm oil's emergence as a economic juggernaut in Indonesia and Malaysia has come at a cost. By some estimates, more than half of oil palm expansion since 1990 occurred at the expense of forests, spurring criticism from environmentalists concerned about greenhouse gas emissions and loss of habitat for endangered wildlife—including orangutans, pygmy elephants, Sumatran rhinos and tigers. Oil palm plantation development has also at times exacerbated conflicts over land. |
Golden Agri has since signed an agreement with The Forest Trust, an NGO that helps companies improve their environmental performance. The resulting forest policy, which Greenpeace tentatively supports, restricts oil palm development in high conservation value forest areas and on lands where vegetation stores more than 35 tons of carbon per hectare. The policy also requires free, prior and informed consent (FPIC) for indigenous and local communities as well as compliance with Indonesian laws and rules under the Roundtable on Sustainable Palm Oil (RSPO).
But Golden Agri's moves have not been enough to appease Greenomics, which says a recent Indonesian government audit shows some of the firm's plantation companies converted forest without the proper permits. Greenomics is asking GAR to repay the value of this timber — which it estimates at more than $200 million — to the state.
GAR maintains that it is in compliance with Indonesian law and its new policy will minimize damage to sensitive ecosystems.
Related articles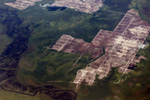 German bank dumps palm oil company stock

(03/25/2011) DWS, a fund management company run by Deutsche Bank, has dropped all Wilmar International stock from its financial products over concerns that the palm oil giant has failed to produce palm oil in a responsible manner despite being a member of the Roundtable on Sustainable Palm Oil (RSPO), a eco-certification initiative. The move follows a campaign by Robin Wood, a German activist group.
Pro-deforestation group criticizes palm oil giant for sustainability pact
(03/24/2011) World Growth International, a group that advocates on behalf of industrial forestry interests, has criticized Golden Agri Resources (GAR), Indonesia's largest palm oil producer, for signing a forest policy that aims to protect high conservation value and high carbon stock forest and requires free, prior informed consent (FPIC) in working with communities potentially affected by oil palm development. In a newsletter published March 10, World Growth International claimed that GAR's agreement "could severely hamper the company's growth" by limiting where it can establish new plantations and says that negotiating with multiple stakeholders "will delay and complicate any investment by the company." World Growth International concludes by implying that GAR may renege on its commitment. But Peter Heng, Managing Director, Communications and Sustainability at GAR, disagreed with World Growth International's assessment.
Breakthrough? Controversial palm oil company signs rainforest pact
(02/09/2011) One of the world's highest profile and most controversial palm oil companies, Golden Agri-Resources Limited (GAR), has signed an agreement committing it to protect tropical forests and peatlands in Indonesia. The deal—signed with The Forest Trust, an environmental group that works with companies to improve their supply chains—could have significant ramifications for how palm oil is produced in the country, which is the world's largest producer of palm oil.
Greening the world with palm oil?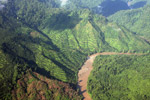 (01/26/2011) The commercial shows a typical office setting. A worker sits drearily at a desk, shredding papers and watching minutes tick by on the clock. When his break comes, he takes out a Nestle KitKat bar. As he tears into the package, the viewer, but not the office worker, notices something is amiss—what should be chocolate has been replaced by the dark hairy finger of an orangutan. With the jarring crunch of teeth breaking through bone, the worker bites into the "bar." Drops of blood fall on the keyboard and run down his face. His officemates stare, horrified. The advertisement cuts to a solitary tree standing amid a deforested landscape. A chainsaw whines. The message: Palm oil—an ingredient in many Nestle products—is killing orangutans by destroying their habitat, the rainforests of Borneo and Sumatra.