Stephen Maturin, if he were not fictional, would be delighted. A new seabird has been discovered by an international expedition headed by one of the world's top seabird-experts, Peter Harrison, after he received photos from vacationing birders of an unusual looking storm petrel off the coast of Chile.
During the expedition, Harrison and his team were successful in photographing hundreds of the unknown species as well as taking measurements and collecting feathers and blood samples from captured birds. The materials are now being analyzed, but Harrison does not doubt the eventual outcome.
"We're waiting on the feather and blood work, but we know we have a new species," he told the Oregonian.
If it is a new species, it's the first new seabird in 55 years, and the first new storm petrel identified in nearly 90.
Sparrow-sized, storm petrels are the smallest of the seabirds. They hover over the water while feeding on fish and plankton, which gives them the name 'Jesus-birds' according to Harrison. The new species is black, white, and gray.
"We believe this is a relic population that was completely missed by Darwin himself, who sailed along that very coast a century ago," Harrison told the LA Times. "And guess what? There are thousands of them in that area, which is plied by cruise ships, cargo vessels and fishing boats, all within sight of crowded beaches."
If the tests determine that it is in fact a species, the only question will be what to name it?
Note: Stephen Maturin is a character from the Aubrey/Maturin novels by Patrick O'Brian (also the novels are the basis for the film Master in Commander where Maturin is protrayed by Paul Bettamy). Maturin is a passionate naturalist with a particular affinity for seabirds.
Related articles
Photos: penguins devastated by oil spill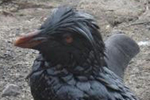 (03/22/2011) Disturbing photos show northern rockhopper penguins (Eudyptes moseleyi) hit hard by an oil spill from a wrecked cargo ship on Nightingale Island in the Southern Atlantic. Already listed as Endangered by the IUCN Red List, the oil spill threatens nearly half of the northern rockhopper population according to BirdLife International. Already conservation workers say 'hundreds' of penguins have been oiled. Located the remote Southern Atlantic, Nightingale Island is a part of the UK's Tristan da Cunha archipelago. The island's are home to a variety of birdlife, including species that survive no-where else but on the archipelago.
Image: new bird discovered in Madagascar
(02/24/2011) The rich and unique biodiversity of Madagascar has a new member: a forest dwelling bird in the rail family, dubbed Mentocrex beankaensis. In 2009 US and Malaygasy scientists conducted a survey in Madagascar's dry Beanka Forest. They discovered several new species, of which the new rail is the first to be described.
The ocean crisis: hope in troubled waters, an interview with Carl Safina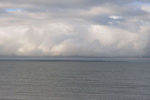 (02/07/2011) Being compared—by more than one reviewer—to Henry Thoreau and Rachel Carson would make any nature writer's day. But add in effusive reviews that compare one to a jazz musician, Ernest Hemingway, and Charles Darwin, and you have a sense of the praise heaped on Carl Safina for his newest work, The View from Lazy Point: A Natural Year in an Unnatural World. Like Safina's other books, The View from Lazy Point focuses on the beauty, poetry, and crisis of the world's oceans and its hundreds-of-thousands of unique inhabitants. Taking the reader on a journey around the world—the Arctic, Antarctic, and the tropics—Safina always returns home to take in the view, and write about the wildlife of his home, i.e. Lazy Point, on Long Island. While Safina's newest book addresses the many ways in which the ocean is being degraded, depleted, and ultimately imperiled as a living ecosystem (such as overfishing and climate change) it also tweezes out stories of hope by focusing on how single animals survive, and in turn how nature survives in an increasingly human world. However, what makes Safina's work different than most nature writing is his ability to move seamlessly from contemporary practical problems to the age-old philosophical underpinnings that got us here. By doing so, he points a way forward.