In Shakespeare's play Macbeth the forest of Birnam Wood fulfills a seemingly impossible prophecy by moving to surround the murderous king (the marching trees are helped, of course, by an army of axe-wielding camouflaged Scots). The Arctic tundra may soon feel much like the doomed Macbeth with an army of trees (and invading species) closing in. In a recent study, researchers found that climate change is likely to push the northern forests of the boreal into the Arctic tundra—a trend that is already being confirmed in Alaska.
Analyzing 16 global climate models starting in 1950 and ending at the close of the 21st Century, researchers found that the tundra of North America, Europe and Asia will be increasingly encroached upon by pine and deciduous forest.
"The response of vegetation usually lags changes in climate. The plants don't have legs, so it takes time for plant seed dispersal, germination and establishment of seedlings," Song Feng, research assistant professor at University of Nebraska-Lincoln's School of Natural Resource, said in a press release.
| | |
| --- | --- |
| | Aerial view of the Tongass Forest. Photo by Rhett A. Butler. |
As temperatures rise regionally by 5.6 to 9.5 degrees Fahrenheit, a quarter to a half of the Arctic could be impacted, according to the study in Climate Dynamics, depending on future greenhouse gas emissions. Tundra vegetation is expected to lessen by 33-44% by 2099.
The ecosystem changes could impact climate as well, eplains Feng: "the expansion of forest may amplify global warming, because the newly forested areas can reduce the surface reflectivity, thereby further warming the Arctic. The shrinkage of tundra and expansion of forest may also impact the habitat for wildlife and local residents."
The models predicted that the tundra would vanish quickest in North America with boreal forest covering most of northern Canada and Alaska's tundra by mid-century.
Happening in real time in Alaska
While Feng's study employed computer models to predict the future, a recent study in Ecology Letter has shown that ecosystems are already shifting in Alaska.
Combining satellite images and tree-ring data, the study found increased growth of boreal forest at the edge of Alaska's tundra.
"The results provide evidence for the initiation of a biome shift in response to climate change, and indicate that some ecosystem models may be missing fundamental changes taking place in the circumpolar region," explained lead author Pieter Beck, a post-doctoral fellow at Wood's Hole Research in a press release.
In addition, the study found that tree growth had actually slowed throughout much of Alaska's forest.
"Recent temperature increases have reduced tree growth over most of central Alaska, and increased growth in places where the temperature used to be too low for optimum growth, such as the Western Alaska tundra margin. Summer temperatures in central Interior Alaska are now almost too warm for white spruce to survive," explained co-author Glenn Juday, professor of forest ecology at the University of Alaska Fairbanks.
CITATIONS: Feng S., C-H. Ho, Q. Hu, R. J. Oglesby and S-J. Jeong (2010).Evaluating observed and projected future climate changes for the Arctic using the Koppen-Trewartha climate classification. Climate Dynamics. DOI: 10.1007/s00382-011-1020-6.
Pieter S. A. Beck, Glenn P. Juday, Claire Alix, Valerie A. Barber, Stephen E. Winslow, Emily E. Sousa, Patricia Heiser, James D. Herriges, Scott J. Goetz. Changes in forest productivity across Alaska consistent with biome shift. Ecology Letters, 2011; DOI: 10.1111/j.1461-0248.2011.01598.x
Related articles
Conservation photography: on shooting and saving the world's largest temperate rainforest, an interview with Amy Gulick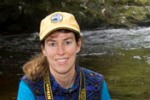 (07/11/2010) Most of the US's large ecosystems are but shadows of their former selves. The old-growth deciduous forests that once covered nearly all of the east and mid-west continental US are gone, reduced to a few fragmented patches that are still being lost. The tall grassy plains that once stretched further than any eye could see have been almost wholly replaced by agriculture and increasing suburbs. Habitats, from deserts to western forests, are largely carved by roads and under heavy impact from resource exploitation to invasive species. Coastal marine systems, once super abundant, have partially collapsed in many places due to overfishing, as well as pollution and development. Despite this, there are still places in the US where the 'wild' in wilderness remains largely true, and one of those is the Tongass temperate rainforest of Southeast Alaska.
Big compromise reached on Canada's Boreal by environmental groups and forestry industry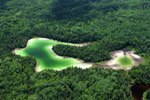 (05/19/2010) In what is being heralded as the 'world's largest conservation agreement' 20 Canadian forestry companies and nine environmental organizations have announced an agreement covering 72 million hectares of the Canadian boreal forest (an area bigger than France). Reaching a major compromise, the agreement essentially ends a long battle between several environmental groups and the companies signing on, all members of the Forest Products Association of Canada (FPAC).
US Eastern forests suffer "substantial" decline: 3.7 million hectares gone
(04/07/2010) The United States' Eastern forests have suffered a "substantial and sustained net loss" over the past few decades, according to a detailed study appearing in BioScience. From 1973 to 2000, Eastern have declined by 4.1 percent or 3.7 million hectares. Deforestation occurred in all Eastern regions, but the loss was most concentrated in the southeastern plains.