Sales of palm oil certified under the leading sustainability standard surged 225 percent in 2010, suggesting growing consumer interest in more responsibly-sourced palm oil.
The Roundtable on Sustainable Palm Oil (RSPO), the body that devised the social and environmental certification initiative, says sales of certified sustainable palm oil (CSPO) reached 1.3 million metric tons in 2010, up from 400,000 tons in 2009.
Roughly 2.3 million tons of CSPO was produced in 2010, indicating that about 56 percent of available palm oil was sold. CSPO production amounted to 1.3 million tons in 2009.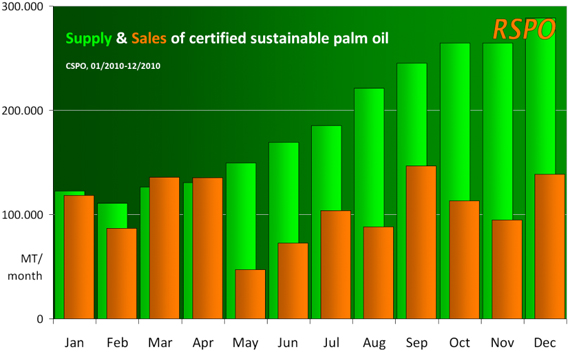 Uptake of certified palm oil is expected to accelerate in coming years. In 2010 the Netherlands—Europe's largest trader of palm oil—announced it would source only CSPO by 2015, a commitment also pledged by Unilever, Walmart, and several other major companies. At the same time, the Brazilian government has unveiled plans to greatly expand CSPO production on non-forest lands in the Amazon Basin. Production could eventually outpace that of Indonesia and Malaysia, presently the world's leading palm oil-producing countries.
Global palm oil consumption stands at nearly 50 million tons per year, about half of which is traded internationally. It is used widely in processed foods, cosmetics, and soaps — WWF estimates that palm oil is found in roughly half of packaged supermarket products. It is also increasingly used as a biofuel.
But while palm oil is a highly efficient crop that generates income in regions where jobs may otherwise be scarce, surging production over the past 20 years has spurred strong backlash from environmentalists who note its expansion has consumed vast areas of rainforest in Malaysia and Indonesia, triggering substantial greenhouse gas emissions and putting endangered wildlife—including orangutans, pygmy elephants, Sumatran rhinos and tigers—at risk. Oil palm plantation development has also exacerbated social conflict in some areas.
The RSPO emerged as a response to these concerns. The body—which includes industry stakeholders as well as environmentalists and other groups—sets sustainability criteria for palm oil production. RSPO criteria include measures to reduce the use of fertilizers and pesticides, cut air and water pollution from palm oil production, establish "no burn" policies, and spare lands of high conservation value from development. The scheme counts more than 500 palm oil growers, processors and traders as members, as well as social and environmental NGOs.
In releasing 2010 production and sales data, the RSPO also announced that Darrel Webber would assume the help of the organization. Webber has previously worked in the private sector and with WWF-International.
Related articles
Converting palm oil companies from forest destroyers into forest protectors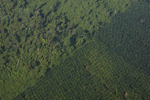 (01/02/2011) In efforts to save the world's remaining rainforests great hopes have been pinned on "degraded lands" — deforested lands that are presently sitting idle in tropical countries. Optimists say shifting agriculture to such lands will help humanity produce enough food to meet growing demand without sacrificing forests and biodiversity and exacerbating social conflict. But to date, degraded lands remain an enigma, especially in Indonesia, where deforestation continues at a rapid pace. Degraded lands are often misclassified by various Indonesian ministries—land in a far-off province may be listed as "wasteland" by Jakarta, but in reality is blanked by verdant forest that sequesters carbon, houses wildlife, and affords communities with food, water, and other essentials. Granting logging and plantation concessions on these lands can result in conflict and environmental degradation.
Lack of price premium for certified palm oil endangers sustainability initiative
(12/19/2010) The palm oil industry's sustainability initiative is making considerable progress toward improving its environmental performance, but needs to do more to accelerate the adoption of responsible practices, argue researchers writing in mongabay.com's open access journal Tropical Conservation Science.
U.S. companies should help drive push toward sustainable palm oil
(11/09/2010) U.S. companies should take a leadership role in helping ensure that palm oil production is sustainable and does not come at the cost of forests, climate, and communities, argues a new report published ahead of the annual meeting of the Roundtable on Sustainable Palm Oil (RSPO). The report, published by the National Wildlife Federation (NWF), says that while the U.S. is only a minor consumer of palm oil, its demand for the vegetable oil is fast rising, increasing four-fold since 2006. Palm oil, which is among the cheapest of vegetables owing to its high yield, is now found in up to 50 percent of packaged retail food products.
Eco-friendly palm oil initiative censures company linked to deforestation
(09/23/2010) The Roundtable On Sustainable Palm Oil (RSPO), a body the sets standards for eco-friendly palm oil production, on Thursday said Indonesian palm oil producer Sinar Mas Agro Resources and Technology (SMART) breached its sustainability criteria and faces expulsion, reports AFP.
Fraud allegations against Indonesian palm oil giant widen, tarnishing auditors and sustainable palm oil initiative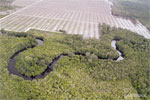 (08/19/2010) Sinar Mas, an Indonesian conglomerate whose holdings include Asia Pulp and Paper, a paper products brand, and PT Smart, a palm oil producer, was sharply rebuked Wednesday over a recent report where it claimed not to have engaged in destruction of forests and peatlands. At least one of its companies, Golden Agri Resources, may now face an investigation for deliberately misleading shareholders in its corporate filings.
Greener palm oil arrives in the United States
(06/29/2010) The first shipment of palm oil certified under sustainability criteria have arrived in the United States, according to the Roundtable on Sustainable Palm Oil (RSPO).
Nestle's palm oil debacle highlights current limitations of certification scheme
(03/26/2010) Last week Nestle, the world's largest food processor, was caught in a firestorm when it attempted to censor a Greenpeace campaign that targeted its use of palm oil sourced from a supplier accused of environmentally-damaging practices. The incident brought the increasingly raucous debate over palm oil into the spotlight and renewed questions over an industry-backed certification scheme that aims to improve the crop's environmental performance.
Consumers should help pay the bill for 'greener' palm oil
(01/12/2010) Palm oil is one of the world's most traded and versatile agricultural commodities. It can be used as edible vegetable oil, industrial lubricant, raw material in cosmetic and skincare products and feedstock for biofuel production. Growing global demand for palm oil and the ensuing cropland expansion has been blamed for a wide range of environmental ills, including tropical deforestation, peatland degradation, biodiversity loss and CO2 emissions. In response to these concerns, a group of stakeholders—including activists, investors, producers and retailers—formed the Roundtable on Sustainable Palm Oil (RSPO) to develop a certification scheme for palm oil produced through environmentally- and socially-responsible ways. It is widely anticipated that the creation of a premium market for RSPO-certified sustainable palm oil (CSPO) would incentivize palm oil producers to improve their management practices.