Google officially launched Earth Engine, a technology platform that enables scientists using the search giant's massive computing infrastructure to monitor and measure environmental changes. A group of scientific partners is already using the Earth Engine to track deforestation; map vegetation, biodiversity and water resources; and analyze fire patterns, but Google will open the platform to scientists around the world.
Rebecca Moore, a senior engineering on the project, said Earth Engine will help efforts to solve some of the world's most pressing environmental problems.
| | |
| --- | --- |
| | Democratic Republic of the Congo Forest Cover Loss, 2000 to 2010. Over 8,000 Landsat images were processed to make this product – more. |
"The images of our planet from space contain a wealth of information, ready to be extracted and applied to many societal challenges," wrote Moore in a post on the official Google blog. "Analysis can transform these images from a mere set of pixels into useful information—such as the locations and extent of global forests, detecting how our forests are changing over time, directing resources for disaster response or water resource mapping."
"The challenge has been to cope with the massive scale of satellite imagery archives, and the computational resources required for their analysis. As a result, many of these images have never been seen, much less analyzed. Now, scientists will be able to build applications to mine this treasure trove of data on Google Earth Engine."
Presenting at a side event at UN climate talks in Cancun, Mexico, Google said highlighted several advantages of Earth Engine, including 25 years of Landsat satellite imagery, tools to remove cloud and haze from pictures, and opportunities for collaboration across a common platform.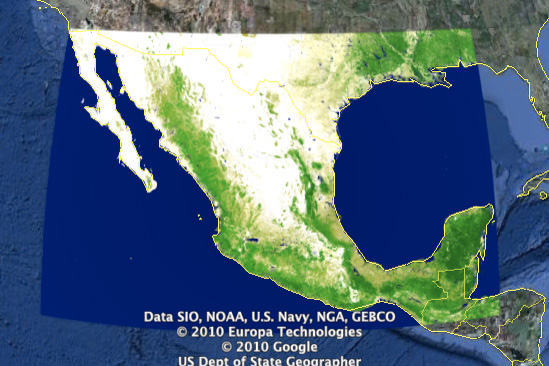 Mexico tree cover – more.
Harnessing Google's computing cloud also greatly accelerates data processing. For example, researchers used Earth Engine to create a detailed forest cover and water map of Mexico in less than a day, a feat that would have taken three years using a single computer. Google plans to donate 10 million CPU-hours a year over the next two years on the Google Earth Engine platform.
So far, Earth Engine is being primarily used to support development of systems to monitor, report and verify (MRV) efforts to stop deforestation, which globally accounts for 12-18 percent of annual greenhouse gas emissions. Google and its partners believe Earth Engine will improve transparency around land use and help developing countries capitalize on the proposed reducing emissions from deforestation and degradation (REDD) program, which could generate billions in funds for conservation and sustainable use of tropical forests.
"If we can't observe, measure and monitor the global environment across different spatial and temporal scales; we will not be able to wisely manage our way out of the global environmental predicament that we've created for ourselves and many other expressions of life in this planet," said Luis Solozano of the Gordon and Betty Moore Foundation, which helped support the initiative. "We have given first priority to enhance the ability to monitor the extent and change of tropical forest. In part, we made that decision to help remove one of the main obstacles to REDD, namely, the lack of unrestricted capacity to baseline, measure and monitor deforestation and forest degradation."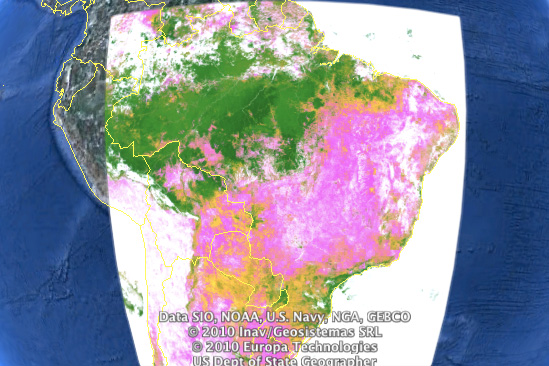 Fractions of green vegetation, soil, and non-photosynthetic vegetation are extracted and then combined into a new index called NDFI, or Normalized Difference Fraction Index. NDFI is designed to detect not only deforestation but also forest degradation and is used in IMAZON'g SAD (Sistema de Alerta de Desmatamento) system for monitoring forest change in near real-time.
Carlos Souza, a senior researcher at Imazon, one of the organizations that piloted-tested Earth Engine, told mongabay.com the new platform will greatly expand the areas monitored in Brazil.
"Now we can monitor all of Brazil's territory, not just what is happening in the Amazon," he said. "We still need a lot of work to calibrate but all the data is there and it is very fast."
"Brazil needs to better monitor biomes outside the Amazon rainforest."
Google's Moore (no relation to the Moore Foundation) said Earth Engine offers opportunities in areas beyond forests.
"We hope that Google Earth Engine will be an important tool to help institutions around the world manage forests more wisely," wrote Moore. "As we fully develop the platform, we hope more scientists will use new Earth Engine API to integrate their applications online—for deforestation, disease mitigation, disaster response, water resource mapping and other beneficial uses."
Related articles
Google Earth now features 3-D trees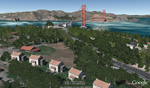 (11/29/2010) With world leaders meeting at climate talks in Cancun to discuss the future of forests, Google has added 3D trees to the latest version of Google Earth. Google has populated several major cities with more than 80 million virtual trees based on an automated process that identifies trees in satellite images. The realistic 3D representations are based on actual tree species found in urban areas. But Google has also extended realistic tree coverage to sites in some of the world's most biologically diverse forests.
Google Earth animation shows Brazilian plans to turn Amazon into 'series of stagnant reservoirs'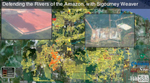 (08/30/2010) The decision last week by the Brazilian government to move forward on the $17 billion Belo Monte Dam on the Xingu river will set in motion a plan to build more than 100 dams across the Amazon basin, potentially turning tributaries of the world's largest river into 'an endless series of stagnant reservoirs', says a new short film released by Amazon Watch and International Rivers.
Biggest private funder of Amazon conservation teams with Google and scientists to develop earth monitoring platform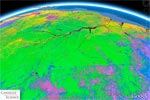 (12/18/2009) The Gordon and Betty Moore Foundation, the largest private funder of Amazon rainforest conservation, is playing an unheralded but integral role in the development of the Earth Engine platform, a system that combines the computing power of Google with advanced monitoring and analysis technologies developed by leading environmental scientists. The platform, which was officially unveiled at climate talks in in Copenhagen, promises to enable near real-time monitoring of the world's forests and carbon at high resolution at selected sites before COP-16 in Mexico.
Ethnographic maps built using cutting-edge technology may help Amazon tribes win forest carbon payments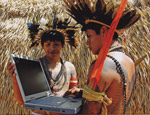 (11/29/2009) A new handbook lays out the methodology for cultural mapping, providing indigenous groups with a powerful tool for defending their land and culture, while enabling them to benefit from some 21st century advancements. Cultural mapping may also facilitate indigenous efforts to win recognition and compensation under a proposed scheme to mitigate climate change through forest conservation. The scheme—known as REDD for reducing emissions from deforestation and degradation—will be a central topic of discussion at next month's climate talks in Copenhagen, but concerns remain that it could fail to deliver benefits to forest dwellers.
How satellites are used in conservation
(04/13/2009) In October 2008 scientists with the Royal Botanical Garden at Kew discovered a host of previously unknown species in a remote highland forest in Mozambique. The find was no accident: three years earlier, conservationist Julian Bayliss identified the site—Mount Mabu—using Google Earth, a tool that's rapidly becoming a critical part of conservation efforts around the world. As the discovery in Mozambique suggests, remote sensing is being used for a bewildering array of applications, from monitoring sea ice to detecting deforestation to tracking wildlife. The number of uses grows as the technology matures and becomes more widely available. Google Earth may represent a critical point, bringing the power of remote sensing to the masses and allowing anyone with an Internet connection to attach data to a geographic representation of Earth.
Development of Google Earth a watershed moment for the environment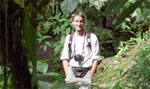 (03/31/2009) Satellites have long been used to detect and monitor environmental change, but capabilities have vastly improved since the early 1970s when Landsat images were first revealed to the public. Today Google Earth has democratized the availability of satellite imagery, putting high resolution images of the planet within reach of anyone with access to the Internet. In the process, Google Earth has emerged as potent tool for conservation, allowing scientists, activists, and even the general public to create compelling presentations that reach and engage the masses. One of the more prolific developers of Google Earth conservation applications is David Tryse. Neither a scientist nor a formal conservationist, Tryse's concern for the welfare of the planet led him develop a KML for the Zoological Society of London's EDGE of Existence program, an initiative to promote awareness of and generating conservation funding for 100 of the world's rarest species. The KML allows people to surf the planet to see photos of endangered species, information about their habitat, and the threats they face. Tryse has since developed a deforestation tracking application, a KML that highlights hydroelectric threats to Borneo's rivers, and oil spills and is working on a new tool that will make it even easier for people to create visualizations on Google Earth. Tryse believes the development of Google Earth is a watershed moment for conservation and the environmental movement.
Photos: Google Earth used to find new species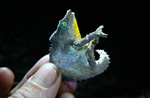 (12/22/2008) Scientists have used Google Earth to find a previously unknown trove of biological diversity in Mozambique, reports the Royal Botanic Gardens in Kew. Scouring satellite images via Google Earth for potential conservation sites at elevations of 1600 meters or more, Julian Bayliss a locally-based conservationist, in 2005 spotted a 7,000-hectare tract of forest on Mount Mabu. The scientifically unexplored forest had previously only been known to villagers. Subsequent expeditions in October and November this year turned up hundreds of species of plants and animals, including some that are new to science.