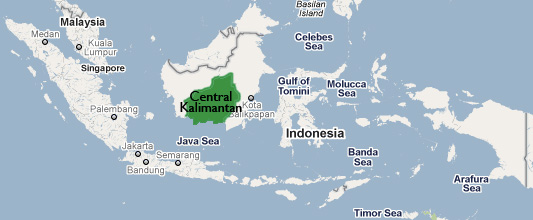 Indonesian President Susilo Bambang Yudhoyono has selected Central Kalimantan as the pilot province for the country's Reducing Emissions from Deforestation and Forest Degradation (REDD+) program, according to the President's office on climate change.
Central Kalimantan was selected over eight other forested provinces, including Aceh, Jambi, Riau, and South Sumatra on the island of Sumatra; West Kalimantan and East Kalimantan on the island of Borneo; and Papua and West Papua in Indonesian New Guinea. Central Kalimantan was chosen due to its high rate of forest conversion, large expanses of peatlands and rainforests, the advanced state of carbon conservation test projects, and political interest in reducing deforestation and degradation, according to Dr. Kuntoro Mangkusubroto, Chairman of Indonesia's REDD+ Task Force, which reports directly to the president.
| | |
| --- | --- |
| | Clearing of peatland in Central Kalimantan. Photo by Rhett A. Butler. |
"The assessment showed that Central Kalimantan is a province with large forest cover and peat land and faces a real threat of deforestation. The level of readiness and commitment of the Governor to implement REDD+ was also considered promising for Central Kalimantan to be successful partner," said Kuntoro in a statement.
Central Kalimantan will now be used as a "laboratory" for testing strategies and approaches for reducing deforestation. These include reforming processes for granting and managing forest concessions, improving transparency and reducing corruption in the bureaucracy, strengthening law enforcement, and ensuring that benefits generated from forest conservation reach local communities. The process promises to be complex and the Indonesian government says it will use the pilot as an opportunity for "trial and error."
"We recognize and fully understand this heavy task, and are prepared to take this on. The current programs, such as low-emissions economic growth, green and clean province, as well as assistance from various NGOs, donor countries and the central government will continue," said Teras Narang, Governor of Central Kalimantan, in a statement. "Kalimantan Tengah is ready to carry out this assignment as instructed by the President."
The pilot province is a stipulation under the partnership signed between Indonesia and Norway this past May. Under the agreement, Norway will provide Indonesia up to $1 billion in performance-linked funds (starting in 2014) for reducing deforestation and forest degradation. Phase II of the partnership, which beings in Januay, will include "the establishment of a national REDD+ agency, continuation of the development of a comprehensive national REDD+ strategy, creation of financing instrument, development of a monitoring, reporting and verification (MRV) framework, and the implementation of a pilot province and a two–year suspension for new concessions on forests and peat lands."
A second province-wide pilot may be chosen by late 2011 and implemented by early 2012.
Deforestation and forest degradation account for the majority of Indonesia's greenhouse gas emissions. The country recently displaced Brazil as the world's largest deforester.
Related articles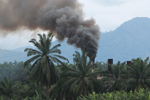 Will Indonesia's big REDD rainforest deal work?

(12/28/2010) Flying in a plane over the Indonesian half of the island of New Guinea, rainforest stretches like a sea of green, broken only by rugged mountain ranges and winding rivers. The broccoli-like canopy shows little sign of human influence. But as you near Jayapura, the provincial capital of Papua, the tree cover becomes patchier—a sign of logging—and red scars from mining appear before giving way to the monotonous dark green of oil palm plantations and finally grasslands and urban areas. The scene is not unique to Indonesian New Guinea; it has been repeated across the world's largest archipelago for decades, partly a consequence of agricultural expansion by small farmers, but increasingly a product of extractive industries, especially the logging, plantation, and mining sectors. Papua, in fact, is Indonesia's last frontier and therefore represents two diverging options for the country's development path: continued deforestation and degradation of forests under a business-as-usual approach or a shift toward a fundamentally different and unproven model based on greater transparency and careful stewardship of its forest resources.