Sarawak plans to double its oil palm estate by 2020, reports The Star.
James Masing, State Land Development Minister, told The Star that Sarawak is planting oil palm faster than any other state in Malaysia and is on track to become country's the largest producer of palm oil by the end of the decade. He said Sarawak's plantation area climbed to 920,000 hectares in June 2010, up from 840,000 hectares a year ago. Sarawak is targeting 2 million hectares by 2020.
Masing told The Star the state would look into "more aggressive development" of native customary rights land, which covers an estimated 1.5 million hectares, but has been a point of conflict between industrial developers and traditional forest users like the Penan. The government has already approved more than 720,000 hectares of NCR land for joint-venture development, according to The Star.
| | |
| --- | --- |
| | Oil palm plantation and logged natural forest, Sabah, Malaysia. Photo: R. Butler/mongabay.com |
Private oil palm plantations make up about 80 percent of the total planted area in Sarawak. According to The Star, the major planters include Rimbunan Hijau Group, Ta Ann Holdings Bhd, Samling Group, Lembaga Tabung Haji and Boustead Group. Sime Darby Bhd and IOI Corp Bhd are also investing in expansion in the state.
Masing said Sarawak's crude and processed palm oil exports were worth 4.56 billion ringgit ($1.4 billion) last year, making it the "third-largest foreign exchange earner after petroleum and liquified natural gas". The state collected 207 million ringgit ($65 million) in tax revenue.
Related articles
Misleading claims from a palm oil lobbyist
(10/23/2010) In an editorial published October 9th in the New Straits Times ("Why does World Bank hate palm oil?"), Alan Oxley, a former Australian diplomat who now serves as a lobbyist for logging and plantation companies, makes erroneous claims in his case against the World Bank and the International Finance Corp (IFC) for establishing stronger social and environmental criteria for lending to palm oil companies. It is important to put Mr. Oxley's editorial in the context of his broader efforts to reduce protections for rural communities and the environment.
Rapid growth of palm oil industry tramples indigenous peoples' rights, says report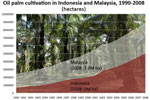 (08/30/2010) Rapid expansion of oil palm plantations across Southeast Asia have run roughshod over customary tenure systems, resulting in exploitation of local communities, conflict, and outright human rights abuses, reports a new assessment of the palm oil sector by the Forest Peoples Programme (FPP), an international indigenous rights group.
New report alleges Sarawak government, police, and loggers "act in collusion to harass and intimidate indigenous communities"

(04/15/2010) A new report by JOANGOHutan, the Malaysian Network of Indigenous Peoples and Non-Governmental Organizations, paints an atmosphere of abuse and ambivalence toward indigenous communities embroiled in land disputes in the Malaysian state of Sarawak on the island of Boreno. According to the report, there are currently 140 land dispute cases in limbo in the Sarawak courts. Indigenous groups are fighting loggers, oil palm plantation developers, and the paper industry for their tribal lands, yet indigenous tribes have not found advocates in state government.
Malaysian palm oil grower loses case over damages to rainforest community
(04/01/2010) IOI group suffered a legal setback this week when the Miri High Court — a court for Miri District in Sarawak, a state in Malaysian Borneo — ruled that the palm oil grower is liable for damages caused by the destruction of land belonging to Long Teran Kanan, a Kayan native community. The legal battle has dragged on for 12-years but now represents an important precedent for forest-dependent communities in Malaysia, reports the Bruno Manser Fund, an NGO that campaigns on behalf of Sarawak's forest people.
Real-life Avatar: court blocks destruction of indigenous community in Borneo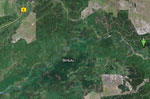 (01/27/2010) A court in the Malaysian state of Sarawak has issued an injunction to block the continued destruction of the Iban village of Sungai Sekabai, reports the Bruno Manser Fund (BMF), an indigenous rights groups. Last week Sarawak state police demolished 39 Iban homes in a dramatic escalation of land dispute between the community and a state-backed palm oil developer.
Indigenous in Borneo win "landmark" court ruling over land rights
(01/21/2010) A Malaysian court has ruled in favor of indigenous communities in a dispute over land rights just two days after authorities "arbitrarily" destroyed 25 Iban homes in the village of Sungai Sekabai in Sarawak (Malaysian Borneo), reports the Bruno Manser Fund, a rights group.
Malaysian police destroy homes in Borneo indigenous community
(01/20/2010) Malaysian authorities yesterday destroyed two dozen homes in an indigenous Iban community near the town of Bintulu in Sarawak, alleges a human rights group.
Malaysia to allow logging in indigenous 'peace park' to proceed
(12/17/2009) Malaysia, the country with the fastest rate of greenhouse gas emissions growth since 1990 among middle and upper income countries, will allow logging to proceed in a contested rainforest area in Sarawak, on the island of Borneo.
Rainforest tribe sues the Malaysian government for enabling deforestation
(12/10/2009) Five Penan rainforest communities are suing the Sarawak state government and the Malaysian timber giant Samling for violation of their native customary rights, reports the Bruno Manser Fund, a group that works on behalf of indigenous groups in Malaysia.
Malaysian land minister attacks credibility of young indigenous rape victims
(12/07/2009) Speaking to the BBC, James Masing, Sarawak Minister for Land Development, dismissed claims by Penan girls and women who said they had been sexually abused and raped by logging workers in a remote jungle area.