Indonesia's push to become the world's largest supplier of palm oil and a major pulp and paper exporter has taken a heavy toll on the rainforests and peatlands of Sumatra, reveals a new assessment of the island's forest cover by WWF.
The assessment, based on analysis of satellite imagery, shows Sumatra has lost nearly half of its natural forest cover since 1985. The island's forests were cleared and converted at a rate of 542,000 hectares, or 2.1 percent, per year. More than 80 percent of forest loss occurred in lowland areas, where the most biodiverse and carbon-dense ecosystems are found.
Forest loss was most extensive in Riau, which lost 63 percent or 4.4 million hectares of its 6.9 million hectares of forest cover between 1985 and 2009, followed by South Sumatra, which lost 2.4 million hectares or 69 percent of its 1985 forest cover; Jambi (1.7 million hectares – 53 percent of its 1985 forest cover), and North Sumatra (1.4 million hectares – 43 percent of its 1985 forest cover). Deforestation accelerated in Riau, Aceh, North Sumatra and West Sumatra during the 2000s, relative to the 1990s. Riau accounted for nearly half of Sumatra's total forest loss between 2000 and 2009.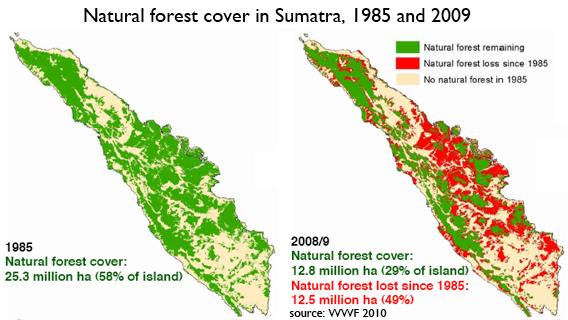 According to the report, industrial oil palm and wood-pulp plantations are major drivers of deforestation in Sumatra. WWF cites continued expansion of pulp and paper plantations under the massive "Mega Pulp Project" as "the top threat" to the island's remaining forests. The group says the project is more destructive than the notorious Mega Rice Project, which laid waste to over 900,000 hectares of peatlands in Central Kalimantan during the 1990s, yet failed to produce rice.
"Already totaling more than 2.2 million ha today, built on much deeper peat, and continuously expanding, Sumatra's 'Mega Pulp Project' is a climate disaster far worse than the ex Mega Rice Project," states the report.
"Sumatra's 'Mega Pulp Project' includes close to two million hectares of >0.5m deep peat, of which at least 850,000 ha are 4 to 8 m deep and an additional 330,000 ha are 2 to 4 m deep (Table 6, Map 9). 65% (1.5 million ha) of the total area have already been deforested for development of severely draining pulpwood plantations. The remaining 35% (0.8 million ha) were still covered by natural forest in 2008/9 but could be converted any time."
WWF notes that all pulp wood concessions in Riau, which accounts for 70 percent of the area converted for the Mega Pulp, supply the mills of the Sinar Mas Group's Asia Pulp & Paper (APP) and APRIL. Both paper products brands have been criticized by environmental groups for deforestation, but APP is currently under intense pressure for its supplier's plan to convert large blocks of natural forests in the Bukit Tigapuluh landscape, an area of forest that supports endangered Sumatran elephants and tigers, and serves as a reintroduction site for Sumatran orangutans. In recent corporate social responsibility reports, APP has tried to downplay the concerns by focusing on the status of Bukit Tigapuluh National Park, an area of protected forest near the concession areas. APP maintains its suppliers operate within the law and do not clear forests within the national park.
In a written response to mongabay.com, APP said it needed more time to analyze the new report's findings, but that it "strongly supports the use of forest land for conservation, community use and development of indigenous species."
Yumiko Uryu et al. Sumatra's Forests, their Wildlife and the Climate Windows in Time: 1985, 1990, 2000 and 2009. WWF-Indonesia. Jakarta, Indonesia, July 2010
*
Related articles
Bad books: US paper products are breaking the law and devastating rainforests
(11/18/2010) Everyone knows books are made of paper, but few think of where that paper comes from. However, two new reports may change that. Both the Rainforest Action Network (RAN) and the World Resources Institute (WRI) have found that some paper used in books, including popular children's books, is linked to forest devastation in Indonesian, even targeting endangered trees that have been harvested illegally.
Scientists call upon Indonesia to recognize value of secondary forests
(11/18/2010) A group of scientists have called upon the governments of Indonesia and Norway to recognize the conservation value of logged-over and "degraded" forests under their partnership on reducing emissions from deforestation and degradation. The letter urges the Indonesian government to extend protection to forest areas that may not be pristine but still serve as important carbon sinks, house endangered wildlife, and provide livelihoods for communities.
Asia Pulp & Paper's emissions from paper production 500 times higher than claimed
(11/04/2010) Asia Pulp & Paper is misrepresenting the greenhouse gas emissions generated through its paper production by several orders of magnitude claims a new analysis of its carbon footprint by the Rainforest Action Network (RAN) and the Japan Tropical Forest Action Network (JATAN).
Nobel Prize winner, anti-poverty group, scientists fire back at logging lobbyist
(11/01/2010) An industrial lobbyist is facing mounting criticism for his campaign to reduce social and environmental safeguards in Indonesia.
Scientists blast greenwashing by front groups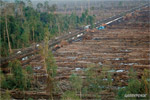 (10/27/2010) A group of prominent scientists has published an open letter challenging the objectivity of World Growth International, an NGO that claims to operate on behalf of the world's poor, and its leader Alan Oxley, a former trade diplomat who also chairs ITS Global, a marketing firm. The letter, published online in several forums, slams World Growth and ITS Global as a front groups for forestry companies. The scientists note that while the groups have not disclosed their sources of funding, they assert ITS receives funding from Sinar Mas, an Indonesian conglomerate that controls Asia Pulp & Paper (APP), a forest products brand, and Sinar Mas Agro Resources & Technology, a palm oil firm, among other companies.
Corporations, conservation, and the green movement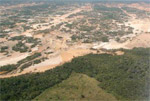 (10/21/2010) The image of rainforests being torn down by giant bulldozers, felled by chainsaw-wielding loggers, and torched by large-scale developers has never been more poignant. Corporations have today replaced small-scale farmers as the prime drivers of deforestation, a shift that has critical implications for conservation. Until recently deforestation has been driven mostly by poverty—poor people in developing countries clearing forests or depleting other natural resources as they struggle to feed their families. Government policies in the '60s, '70s, and '80s had a multiplier effect, subsidizing agricultural expansion through low-interest loans, infrastructure projects, and ambitious colonization schemes, especially in the Amazon and Indonesia. But over the past two decades, this has changed in many countries due to rural depopulation, a decline in state-sponsored development projects, the rise of globalized financial markets, and a worldwide commodity boom. Deforestation, overfishing, and other forms of environmental degradation are now primarily the result of corporations feeding demand from international consumers. While industrial actors exploit resources more efficiently and cause widespread environmental damage, they also are more sensitive to pressure from consumers and environmental groups. Thus in recent years, it has become easier—and more ethical—for green groups to go after corporations than after poor farmers.
Asia Pulp & Paper fumbles response to deforestation allegations by Greenpeace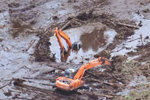 (09/28/2010) A new audit that seems to exonerate Asia Pulp & Paper from damaging logging practices in Indonesia was in fact conducted by the same people that are running its PR efforts, raising questions about the much maligned company's commitment to cleaning up its operations. The audit slams Greenpeace, the activist group that accused Asia Pulp & Paper (APP) of illegal and destructive logging in Sumatra in its July 2010 report, How Sinar Mas is Pulping the Planet. It runs through each of the claims laid out in the Greenpeace report, arguing some are speculative or improperly cited. But the audit doesn't actually deny that APP is clearing forests and peatlands for pulp plantations. In fact, the audit effectively confirms that the company is indeed engaged in conversion of 'deep' peat areas, but argues that this activity isn't illegal under Indonesian law.