A major wood-pulp company is misleading the public over its commitment to reducing greenhouse gas emissions through a carbon conservation project in Sumatra, claims Greenomics, an Indonesian activist group.
Greenomics says Asia Pulp & Paper's carbon conservation project on the Kampar Peninsula—announced with much fanfare in early October—is little more than "an attempt to dupe the public into believing that the company is 'going green.'" Greenomics said PT Putra Riau Perkasa, a supplier of Asia Pulp & Paper (APP), never intended to develop the land for pulp plantations because the company concluded "the land satisfied all the legal requirements for designation as a protected zone." Therefore APP's claim that it is voluntarily setting aside the land for conservation is without merit, according to the group.
Greenomics says APP could face "legal consequences" over its claims.
The charge comes at a difficult time for APP, one of Indonesia's largest pulp and paper suppliers. The APP brand has suffered a wave of customer defections due to complaints over its environmental record in Sumatra, which has lost about half of its natural forest cover since 1985, according to an assessment released this week by WWF. APP has also been criticized for greenwashing, including the use of front groups to launch public attacks on companies that have dropped its products and NGOs that have raised concerns about its environmental conduct.
APP maintains it is committed to cleaning up its operations.
Report: Pulling the wool over the public's eyes: Asia Pulp & Paper deceives public over "Kampar Carbon Reserve" project
Related articles
Asia Pulp & Paper's emissions from paper production 500 times higher than claimed
(11/04/2010) Asia Pulp & Paper is misrepresenting the greenhouse gas emissions generated through its paper production by several orders of magnitude claims a new analysis of its carbon footprint by the Rainforest Action Network (RAN) and the Japan Tropical Forest Action Network (JATAN).
Nobel Prize winner, anti-poverty group, scientists fire back at logging lobbyist
(11/01/2010) An industrial lobbyist is facing mounting criticism for his campaign to reduce social and environmental safeguards in Indonesia.
Scientists blast greenwashing by front groups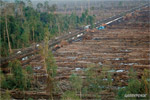 (10/27/2010) A group of prominent scientists has published an open letter challenging the objectivity of World Growth International, an NGO that claims to operate on behalf of the world's poor, and its leader Alan Oxley, a former trade diplomat who also chairs ITS Global, a marketing firm. The letter, published online in several forums, slams World Growth and ITS Global as a front groups for forestry companies. The scientists note that while the groups have not disclosed their sources of funding, they assert ITS receives funding from Sinar Mas, an Indonesian conglomerate that controls Asia Pulp & Paper (APP), a forest products brand, and Sinar Mas Agro Resources & Technology, a palm oil firm, among other companies.
Misleading claims from a palm oil lobbyist
(10/23/2010) In an editorial published October 9th in the New Straits Times ("Why does World Bank hate palm oil?"), Alan Oxley, a former Australian diplomat who now serves as a lobbyist for logging and plantation companies, makes erroneous claims in his case against the World Bank and the International Finance Corp (IFC) for establishing stronger social and environmental criteria for lending to palm oil companies. It is important to put Mr. Oxley's editorial in the context of his broader efforts to reduce protections for rural communities and the environment.
Corporations, conservation, and the green movement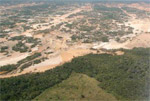 (10/21/2010) The image of rainforests being torn down by giant bulldozers, felled by chainsaw-wielding loggers, and torched by large-scale developers has never been more poignant. Corporations have today replaced small-scale farmers as the prime drivers of deforestation, a shift that has critical implications for conservation. Until recently deforestation has been driven mostly by poverty—poor people in developing countries clearing forests or depleting other natural resources as they struggle to feed their families. Government policies in the '60s, '70s, and '80s had a multiplier effect, subsidizing agricultural expansion through low-interest loans, infrastructure projects, and ambitious colonization schemes, especially in the Amazon and Indonesia. But over the past two decades, this has changed in many countries due to rural depopulation, a decline in state-sponsored development projects, the rise of globalized financial markets, and a worldwide commodity boom. Deforestation, overfishing, and other forms of environmental degradation are now primarily the result of corporations feeding demand from international consumers. While industrial actors exploit resources more efficiently and cause widespread environmental damage, they also are more sensitive to pressure from consumers and environmental groups. Thus in recent years, it has become easier—and more ethical—for green groups to go after corporations than after poor farmers.
Pulp and paper firm signs carbon deal in Sumatra
(10/05/2010) Indonesian pulp and paper firm Asia Pulp and Paper (APP) has signed a deal to protect 15,640 hectares of peat forest in Sumatra in exchange for carbon payments, reports Reuters.